The most beautiful town of Sicily, five years ago, I called tiny Castelmola on the blog. But there are a lot of similar gems on the island, and many questions, that's why today I present to you a subjective guideline "The most beautiful towns, cities, and attractions of Sicily", in which I gathered only my own experience. What qualifications do I have to write such an article? Nine trips to the island with a total length of almost six months over the years 2001-2018. In the spring, summer, autumn, winter. A two-way detour around the island. Sightseeing cities, towns, nature parks, mountain trails. Boat trips along the coast or around the islands. Rushing rivers, lakes, and the wilderness of the interior. But above all, the heart. The heart left on this island already seventeen years ago, when it was not yet fashionable and the journey to it required a lot of effort.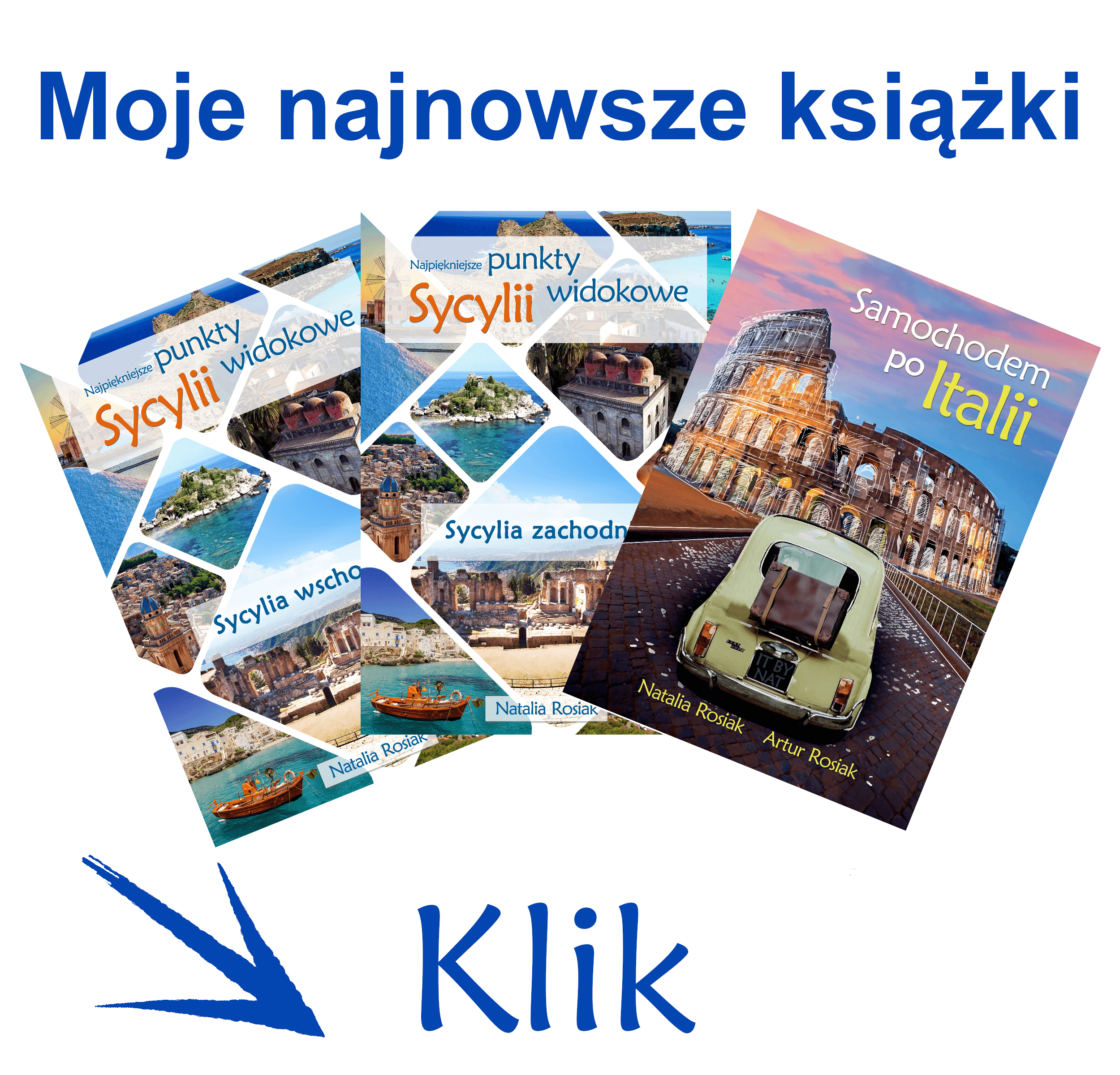 It used to be different or trips to Sicily at the beginning of the century
I traveled to Sicily in a time when it was not fashionable. I traveled when there were no cheap airlines, and traditional tickets cost more or less 1000 euro, and they were out of the reach to most people. I traveled for almost two days by a coach in one direction. I traveled to Sicily at a time when people in Poland, when they heard the name of the Island, saw "The Godfather", exploding bombs and whistling bullets. When the educated and well-educated people in the world said: why do you go to Sicily, people travel there on donkeys, even on the highways! Really? So why are they driving the highway?  … I do not know. Do not go to Sicily, you will be kidnapped by the mafia and sold as a living commodity. Do not go to Sicily, you will be killed by the volcano, this Vesuvius. What?  …  Oh well, Etna? Do not go to Sicily, civilization ends in Rome, there is only a wilderness. In Sicily, I paid in liras as a teenager I watched the changes of the island over the last seventeen years, including the very difficult situation of residents after the introduction currency in euro, when in 2002 prices in this poor region drastically jumped up, one of my friends left Sicily in search of a job but it stick in his gizzard. It has changed a lot and mostly for the better. A lot of people are complaining today about the trash, but if you saw the towns, cities, and attractions of Sicily in the past. My beloved Syracuse has changed so that I rub my eyes in amazement. I remember the cathedral and palaces in Piazza del Duomo before cleaning the facade and the cafes there without high prices. But Taormina has hardly changed at all.
Tourist attractions of Sicily. What to see?
Sicily is a large and very rich region with all kinds of attractions. There are plenty of amateurs of sea bathing, as well as fans of mountain trails on the island. There is no shortage of monuments of antiquity, medieval castles and towns, masterpiece of the Renaissance and the Baroque, especially the Sicilian one, that is, extremely beautiful and intense. Mountain, rivers, gorges, canyons, volcanoes. Yes, volcanoes, because apart from Etna there are also Vulcano and Stromboli. Small islets scattered around Sicily aren't easy to count: Lampedusa, Linosa, Lampione, Pantalleria, Marettimo, Levanzo, Favignana, Ustica, Alicudi, Filicudi, Salina, Vulcano, Lipari, Stromboli, Panarea. Marine reserves and some of the best diving conditions in Europe can be found on the Aegadian Islands, in the waters of Scopello and the Zingaro Reserve or Ustica Island. What about the beaches? Optional. Long, sandy, and from yellow to almost white to gray and black. Small beaches are hidden in bays, rocky, gravel. Well, wine and kitchen, but its riches and traditions cannot be described in a few sentences. It's a book-size topic.
Map of Sicily – division into provinces
The region is administratively divided into nine provinces of various sizes, and this division was decided to use to rank the described towns, cities and attractions of Sicily. I decided that this will be the most readable way for you.
Trips to Sicily – how to organize your vacation today?
We have September 2018, and Sicily is better for Poles than ever before. First of all, cheap flights. Wizzair flies to Catania on the east coast, Ryanair to Palermo in the north-west, and the fate of flights to Trapani, from which Ryanair withdrew a year ago is on. I keep my fingers crossed for their restoration because the drama of people living in tourism is growing and getting more and more acute. You can come to Palermo by ferry from Naples, Genoa or Livorno or you can come by car. This travel lasts – depending on the place from which you set off – about three days one way. You can travel without stops changing the driver, but believe me, it's a hassle. But beautiful one (I experienced it twice by car, twice by coach both sides!), because the scenery is breathtaking, especially those in Calabria. Most drivers revile the "Calabrian", the famous A3 Naples – Reggio di Calabria motorway, but I love it for the great views. Before that, there are Vesuvius and panoramas of Campania, Basilica, Tuscany, and Trentino.
Such views can be seen from the window of an airplane taking off from Falcone-Borsellino Airport in Palermo.
Sicily by public transport – train and bus
Public transport in Sicily exists and is getting better every year. This is what I conclude on the basis of both my May experience this year and the readers' relation to Facebook's blog group WŁOCHY – podróże & styl życia. For eight or six years ago, it was not unusual in smaller towns, when the bus – and even the train – did not come, when the ticket-buyer was sent from one place to another, where no one was able to provide information, and disastrous websites shared schedules to date. The situation is improving, so for those who consider the first journey by public transport in Sicily, I toss up some important info. We have trains and buses at our disposal, the network and the number of connections is better and richer. Why? The railway network in Sicily is quite poor, there is only one track on many sections of the route, which prevents frequent trains.
by train in Sicily – trenitalia.com;
by bus in Sicily (eastern part of the island) – interbus.it;
bus in Sicily (western part of the island and connections between large cities and airports) – segesta.it.
Sicily by car from the rental. Car rental without credit card and deposit
Samochód bez karty kredytowej i depozytu na Sycylii. Jak i gdzie wynająć?
How not to plan a trip around Sicily?
Do not try to see all of Sicily during one trip, especially short one. This is a totally bad idea and the simplest way to the failure. Sicily diagonally has over 300 km, from Messina to Trapani the highway has more than 330 km, from Messina to Modica is 220 km. I always advise you to spread Sicily for at least two two-week trips and focus on the first time either on the east or on the west side and visit the rest the next time. Cities like Catania, Palermo, and Trapani are ideal for separate trips and are worth spending a few days on. It's a good base for exploring the area only by public transport, which should be noticed by those traveling with a limited budget. A record of the crazy pace of sightseeing – if you can call it a tour at all – one of my readers set up about four years ago. He intended to tour whole the island around in three days, landing on Thursday evening in Trapani, and departing on Sunday. I must also mention, that there is no motorway on the Modica – Agrigento section and that the regular single carriageway passing through the city takes a very long time.
Your travel schedule around Sicily and other regions
Reader! If you do not have a flair to organize your own trip on the basis of even such posts or time to take care of it, please contact me. I arrange individual schedules of visiting Sicily, Tuscany, Central Puglia, Basilica, Campania, or Lake Garda and the surrounding area. I use only my own, verified information, which is why there is no whole Italy in my offer. I accept a maximum of five orders per month, because I devote a lot of time to each client and I approach each client individually, and this is only one of the profiles of my work. I issue VAT invoices for my services, and I pay taxes in Poland – I live here and run a company here. If you are interested, I invite you to read  your travel schedule tab.
How much does a trip to Sicily cost and what does it depend on?
Sicily is a region, that can be visited without having a thick wallet. In recent years, prices have gone up significantly, but still – with a good organization – you are able to spend a wonderful vacatoin there spending no more than at the Baltic Sea. How to do it?
The date of travel to Sicily, or how not to be bummer
First and most important. Forget about the peak of the high season I mean August. July is not so bad, but prices are already high. Why? We Poles take vacations more or less in mid-July and August, and more often we start thinking about it June or September. About 90% of Italians leaving for vacation do it in August. Some companies impose deadlines on their employees because in August they simply plan a summer break in their activities. Where does it come from? From the highest annual temperatures falling just in August, when in general opinion it is impossible to work efficiently. "If the Sicilian worked diligently during one of these summer months, he would lose energy for three," said Prince Fabrizio Salina in "Il Gattopardo" by Giuseppe Tomasi di Lampedusa, a novel from the canon of Italian literature, which I highly recommend to you. This is one of my favorite books about Sicily. You can also read about the best dates for a Sicilian trip later in the post.
Accommodation in Sicily
The hotel is a great thing. They will serve breakfast, clean the room, make linens and often have a swimming pool. But you have to pay for it, that's why dear reader if you have to reckon with costs in travel, forget about the hotel and choose an apartment. Apartment not in the sense of luxury, only functionality. This is what we call rooms with a bathroom and a kitchenette, often also with a seating area. Just small apartments. In such apartments you usually have to clean up by yourself during your stay, there is no breakfast included, except in an additional option, but there is a kitchen. And the kitchen means less spending on meals. And forget about the laboriously everyday cooking, because in Italy it is only fun.
Food and shopping in Sicily
Once, I also preferred a hotel, but when I discovered the charms of shopping at Italian fairs and small shops, and then self-catering, I change my mind. It's best to avoid shops near tourist attractions, as I wrote in the post "How Italians cheat tourists or what to watch out for when going to Italy ". On the other hand, supermarkets and network discount stores offer cheap food at local prices, and you can always get something cool in the promotion. However, my beloved place of shopping in Sicily is bazaars and small markets, including fish markets. This is just an attraction. You will find the fair on selected days of the week in almost every town. In big cities, they take place every day except Sunday, but not always. The largest and most colourful bazaars can be found in Catania, Syracuse, and Palermo. Especially Palermo, there – in the very center – there are three historical bazaars with thousands of years of history. How to buy at the fish market to save money? The fish fair ends around 1:00 pm, when the ice cooling the fish on the stalls melts, the sun begins to heat up and the watch indicates the time of lunch. From roughly noon, prices are going down sharply. Not on price plates, they remain the same, but with this information, you can haggle fiercely. A guy (a woman seller at a fish market is a very rare sight) already knows that if he does not sell it he will have a problem with the management of the product. That's why he will willingly push you for half the price. Because the next day will sell fresh fish.
Cheap traveling in Sicily
In summary, if you want to travel relatively cheaply to Sicily, avoid the peak season, choose accommodation with a kitchen, do independent shopping using promotions, as well as avoid paid attractions. Well, two more sentences to it. More and more attractions in Sicily are becoming payable. Here are a few euros, there are a few euros for admission and a good sum is made. Therefore, if you count money very much, give up museums and facilities that require admission tickets. Do you know what is the biggest attraction of Sicily? Beautiful cities and their ambience, strolling along the streets and absorbing the unique ambience. It is free, as are beaches. The last point is moving around the island. Usually, public transport is cheaper than renting a car, but this must always be considered. If you travel hand in hand, then the train and bus will always be the winner in the balance of costs. But if you have a larger group, you have to count and set up expenses. It may turn out that the car rented outside the peak season costs the same or less than the group trips. But one thing is certain. By public communication, unfortunately, you will not get everywhere.
The most beautiful towns, cities and Sicily attractions. Province of Trapani
Trapani, western Sicily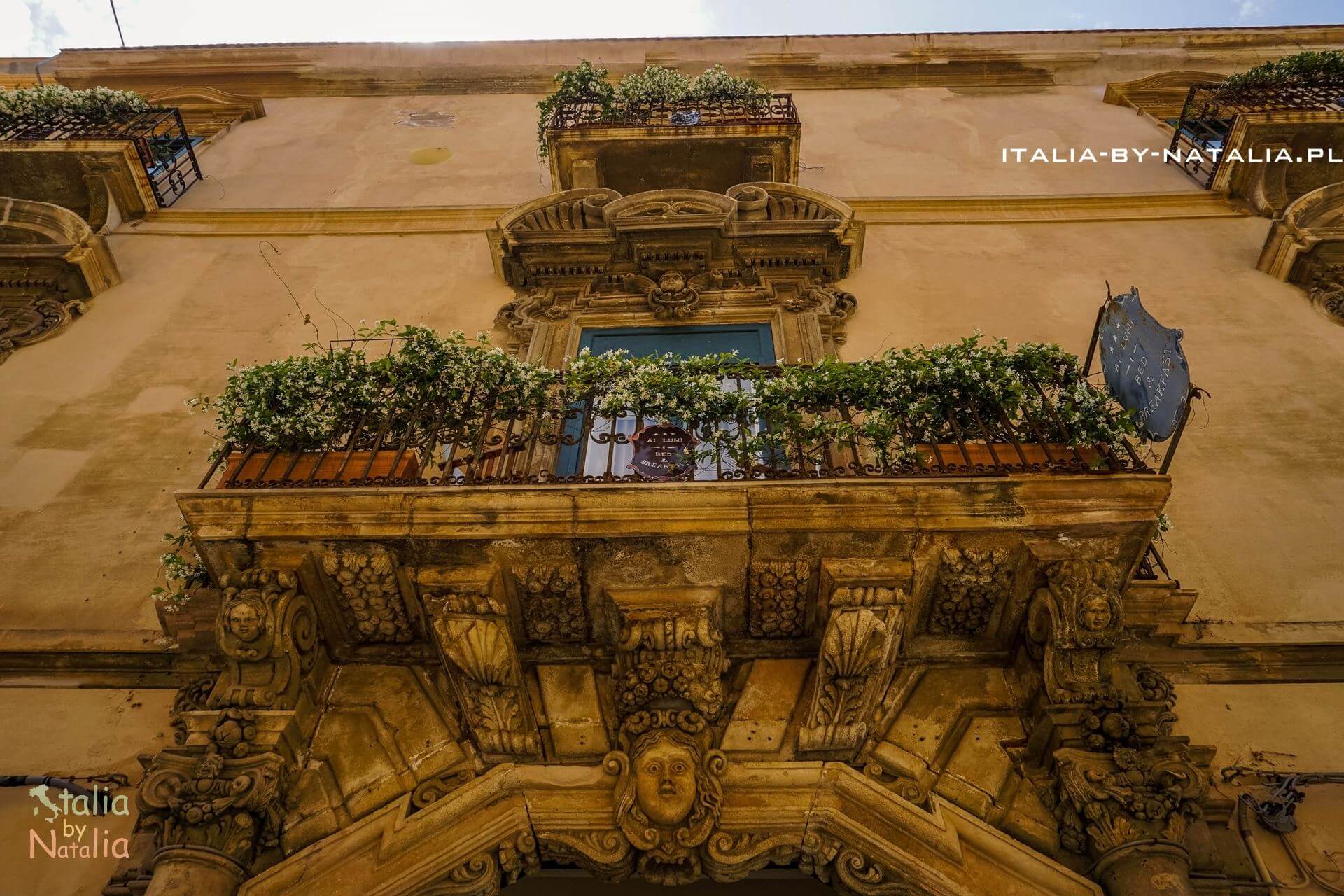 Trapani is a real pearl of western Sicily. A beautiful old town situated on a promontory on three sides surrounded by two seas. It is here, at Torre di Ligny, that the Mediterranean and the Tyrrhenian Sea merge. What about sunsets? The most beautiful one in Sicily are just here in the Province of Trapani. I won't write about the city here, because I've done it more than once in older posts. Take a look at Trapani with the heart, Angelo Apartments , Trapani and the surrounding area – what is worth to see in three days? I would like to add that Trapani is a great base for exploring Western Sicily, especially if you are dependent on trains and buses. Below you can see Trapani and Saline di Nubia, seen from a bird's eye view.
Marsala, western Sicily
Marsala is less popular than Trapani, which is a pity because the city has a lot to offer. You can get here by train, which is a big pros. The old town of Marsala is very well-kept and charming. There are many wine shops in the streets because Marsala is famous for its wine. Just like in Tuscany you can disgust your interesting liquor, but even a better idea is to visit one of the local vineyards. The prices are very affordable. I especially recommend you Alagna Vini, where I did a lot of shopping in May 2018. A bottle of excellent wine costs about 7 euros, which compared to Tuscan prices is much lower. Between Marsala and Trapani, there are salinas, places for natural salt extraction by evaporation of sea water. There you can admire the most beautiful sunsets in Sicily when the fireball sinks into the sea above the Aegadian Islands.
Mazara del Vallo, western Sicily
One of the most underrated cities in Sicily. Mazara del Vallo offers interesting architecture and a unique, oriental ambience. This city is not waiting for tourists and it works perfectly without them. The port is one of the largest fishing ports in Italy, work in it mostly immigrants from Africa who have been in Mazara for many years. It is worth taking a look at the Arabian Kasbah district located in the vicinity of the port.
Erice, western Sicily
One of the most beautiful small towns in Sicily and even all of Italy. A trip to Erice is like a journey back to the Middle Ages, so I even called my first article about Erice. Who likes empty streets and unique atmosphere, should spend the night in Erice. I have spent the night twice, each time in the same, absolutely stylish and phenomenal former monastery of Il Carmine. Located quietly off the beaten path, it has a courtyard, a chapel and austere walls, and guest quarters are the former cells of the monks. Erice is beautiful in the morning, in the middle of the day, at sunset and after dark. Sometimes, it is covered with thick fog, which gives the streets a dark character. On a clear day, the views from the top are breathtaking. When you come to Erice, you should have warm clothing with you. Even if in Trapani, heat is pouring from the sky, it is much colder in Erice, often even cold.
Attention! This place is on the list of borghi piu belli di Italia, the most beautiful small towns in Italy.
Salemi, western Sicily
Salemi is the second of the most underrated cities of the Province of Trapani after Mazara del Vallo. I didn't meet other tourists here, although I used to walk the streets for two hours. There's no-one around. What can you see there? Castle on the hill, although only from the outside, destroyed church also, several baroque churches and a mafia museum, very interesting, but only for adults. A lot of drastic scenes and staging of the famous killings made by the mafia. In addition, Salemi has a beautiful view of the area. Nearby you should see the Greek temple and theater in Segesta, and take a bath for free at the thermal spa of Terme Segestane near Segesta.
Attention! This place is on the list of borghi piu belli di Italia, the most beautiful small towns in Italy.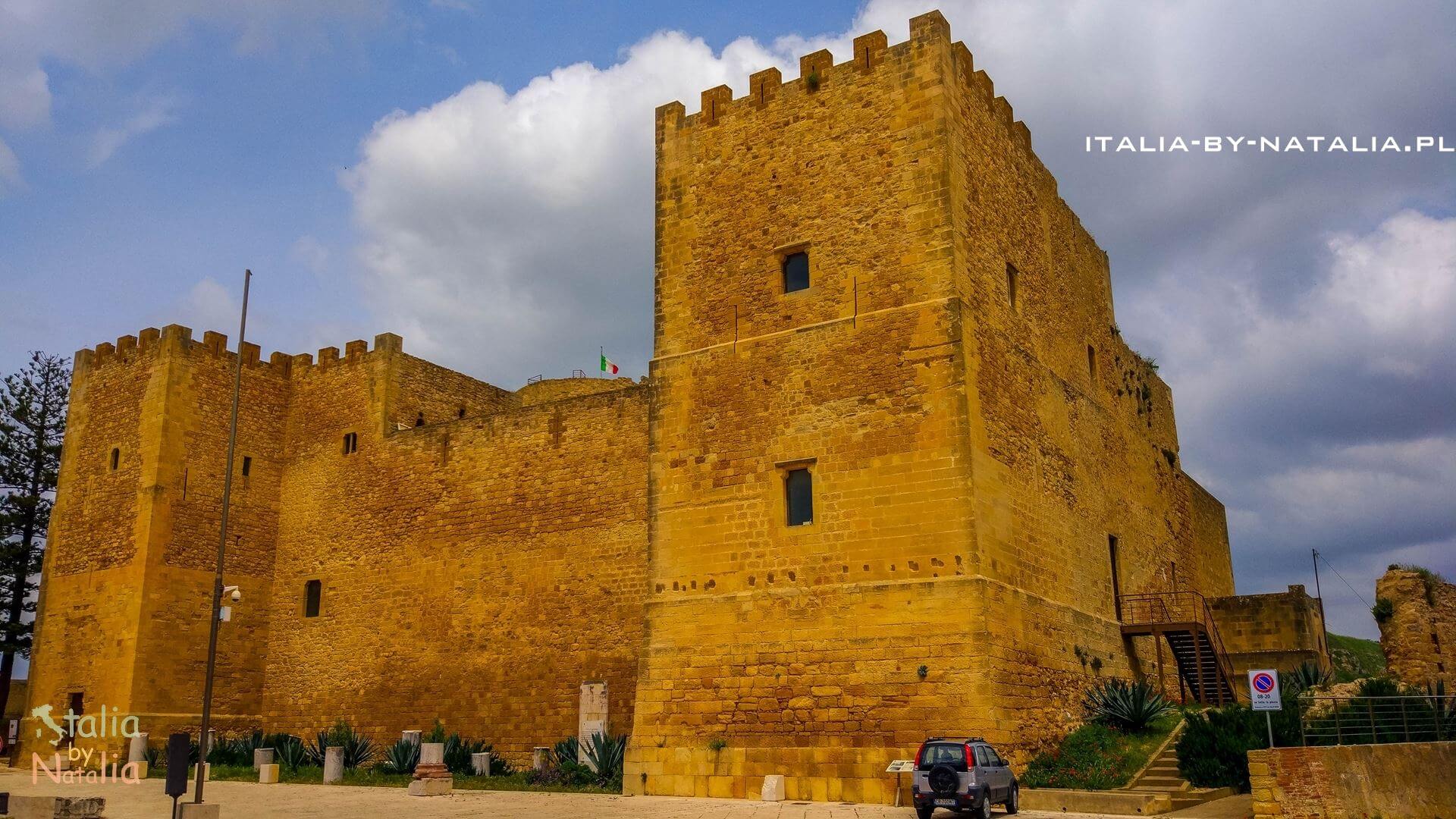 San Vito lo Capo, western Sicily
A town that is not very interesting in itself, but the beach is one of the most beautiful in Sicily, compensates for everything. Accommodation prices here are rather higher than in other coastal resorts, maybe not counting Taormina in the list and the surrounding area, but many attractions nearby makes San Vito a good choice for lovers of lazing on the beach. You can take a bus to Trapani, cruises to the Zingaro Reserve, however you can also walk around the Reserve on foot. On the last weekend of May, the Kite Festival is organized in San Vito.
Scopello, western Sicily
First of all Scopello is famous for the incredibly picturesque tonnara – old tuna, transformed with time into a hotel and providing for a small fee its charming, rocky beach. Unfortunately, for a few months there is a vague game about this property, apparently it was taken by a bailiff and someone is particularly interested in buying. In any case, the most important information for us is that the beach is no longer available, and the bodyguard is guarding the area and there is not even a possibility to take a picture at close range. But tonnara is not everything, because there is a small settlement somewhere higher, from which there are beautiful views of the surrounding area. Just behind Scopello is the second, southern entrance to the Zingaro Reserve. I passed twice the northern entrance and once south, I recommend northern, because in my opinion that part of the reserve is more interesting.
Castellammare del Gofo, western Sicily
Castellammare del Golfo is picturesque and has an ambience. Located between a high hill and the sea, with a castle and an old town on a promontory, it attracts tourists like a magnet. It is a charming, but tourist town, visible at every turn. I recommend this town of course if you don't mind a little bit higher prices and kitsch souvenirs on stalls, and if you have a car. Because Castellammare del Golfo is not a good base for exploring western Sicily by public transport. There is no train here, and buses run poorly and rarely. It is close to Scopello, the Zingaro Reserve, Trapani, Segesta, and Palermo.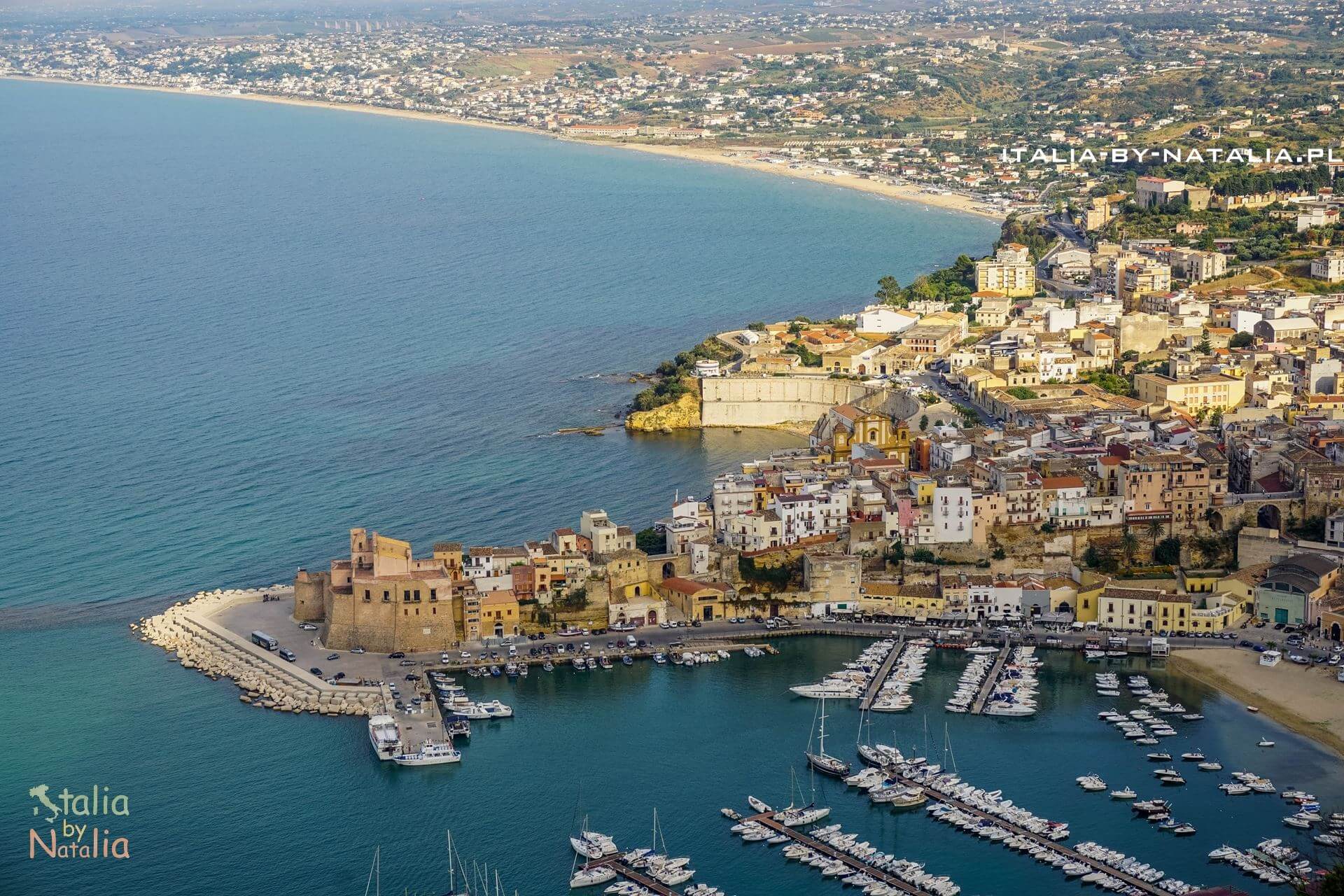 Levanzo Island, Aegadian, western Sicily
A small fishing village on the Island of Levanzo is a real gem. Colorful, small boats swaying on the turquoise waves have delighted me more than two years ago. This year I returned to Levanzo to take more pictures and film the Island from a bird's eye view. Levanzo from the drone can be seen on the video below, and I wrote a separate post about the island. Come and see!
Marettimo Island, Aegadian, western Sicily
Marettimo is the sweet secret that I have kept for myself for a very long time. Read the post to the end, see the last movie. This little village is a real paradise, whose secrets I will tell you soon.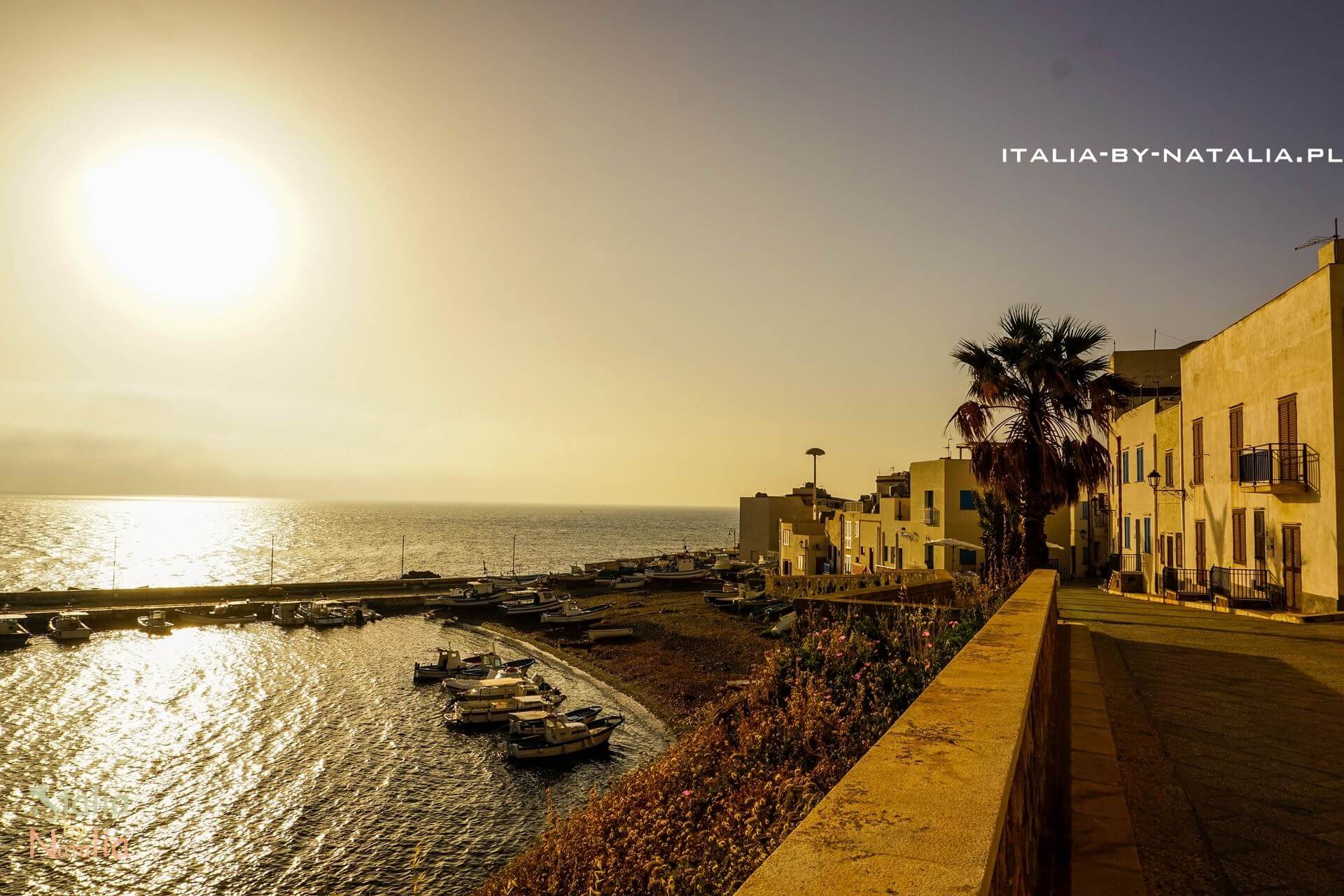 Island of Favignana, Aegadian, western Sicily
Favignana is the largest and most visited of the Aegadian Islands. It delights with turquoise bays, several beautiful beaches with almost white sand, and a charming town. It is not as picturesque as it is on Levanzo, but it has a very nice atmosphere and delicious food. And the views? See for yourself. It is worth coming to Favignana for a few days and feels the ambience of life on a small island. In the town, you will find a huge number of rental bicycles and scooters, on which you can tour the Island. I highly recommend this form of visiting Favignana.
The most beautiful towns, cities, and attractions of Sicily. Province of Palermo
Palermo – the capital of Sicily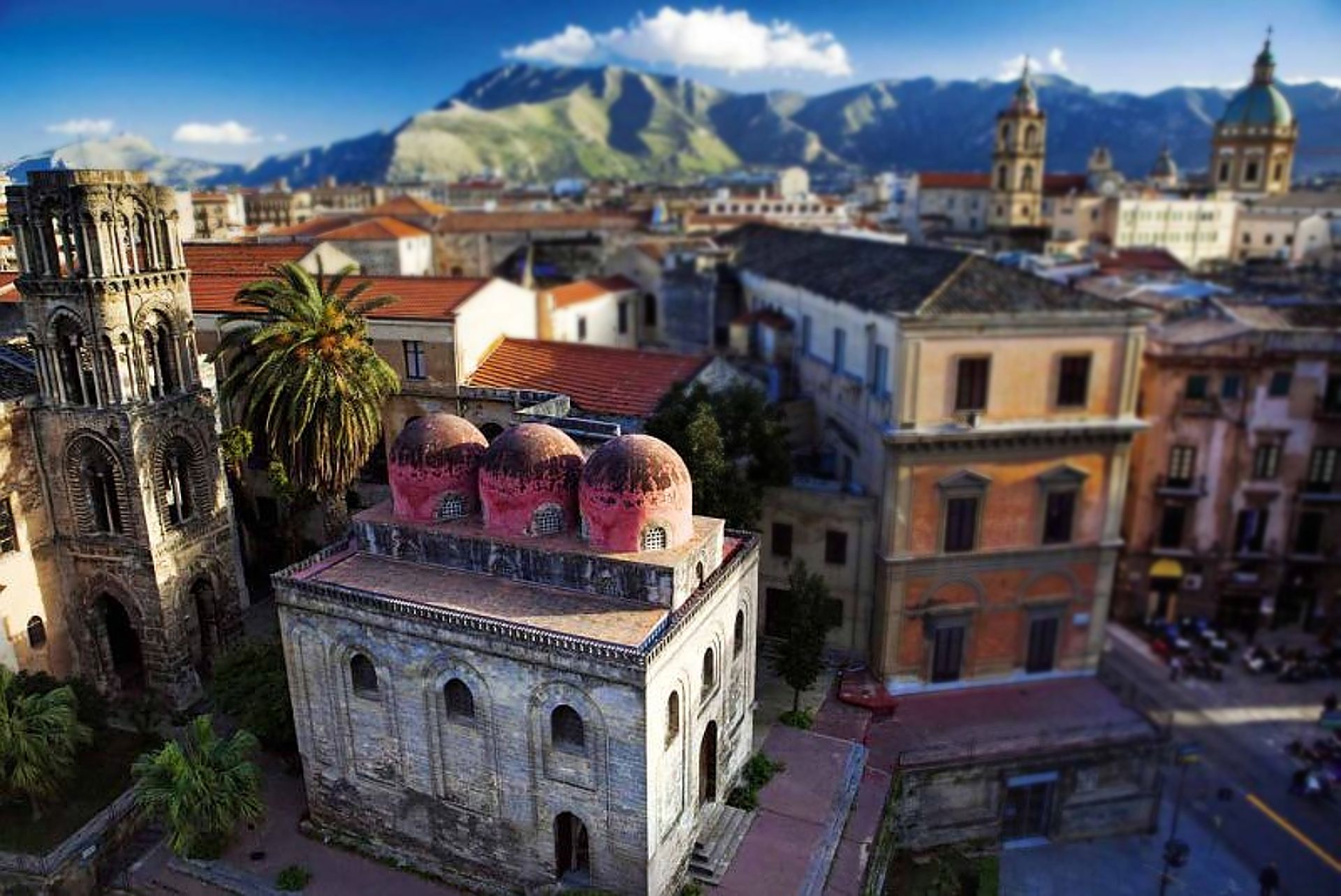 Palermo is a city of contrasts and the largest mixture of cultures in modern Europe. It's controversial. In the last year, I wrote four extensive posts about the capital of Sicily, including a guidebook. I'm a big fan of Palermo. Take a look here:
Below Palermo, filmed from a drone over 100 m above sea level.
Mondello, northern Sicily
On the other side of Monte Pellegrino, the top-symbol of Palermo, on top of which is the Sanctuary of St. Rosalie, the patron of the city, stretches a beautiful beach. The old, stylish pier in the climate of Belle Epoque remembers the times when their villas in this Palermo bedroom district were famous and rich. Because Mondello is something like an exclusive district, although administratively a separate town. Here it is quieter than in Palermo, so if someone gets tired of the noise of a big city, it's enough to take the city bus. In the high season, unfortunately, the beach is very crowded, in a low season a real fairy tale.
Sferracavallo, northern Sicily
The Capo Gallo Reserve is the next one counting Monte Pellegrino to the west, a high mountain rising directly from the sea. Behind is the town of Sferracavallo, to which the Permian's also come willingly. You can eat here in restaurants with tables set right next to the sea, you can rent a boat or take advantage of organized trips along the coast. I recommend it's a fantastic adventure. Below I show a movie from such a cruise, a separate post on the blog will appear in the winter, and you can ask now, here I gave the detail information.
Cefalu, northern Sicily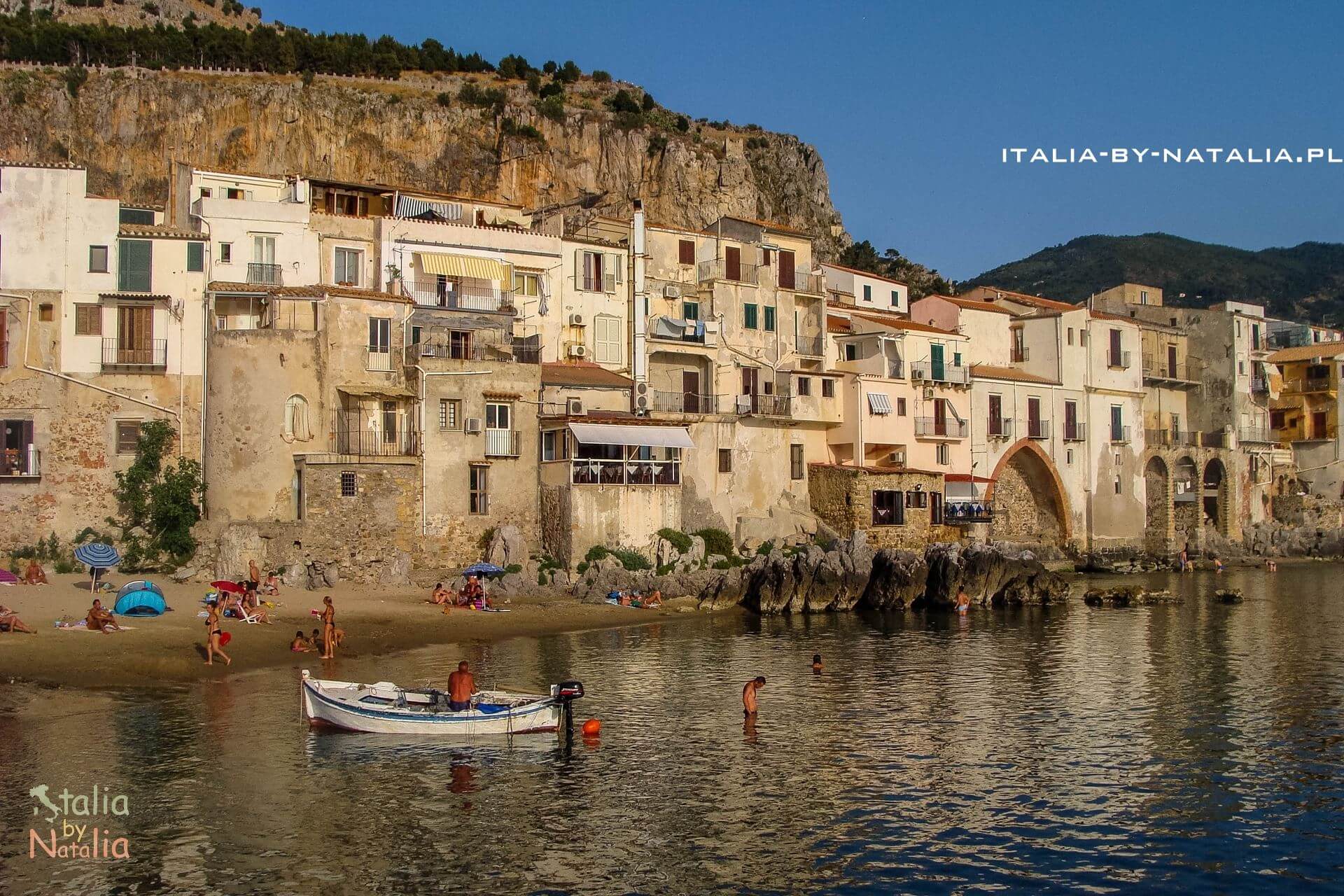 Cefalu is undoubtedly one of the most beautiful towns in Sicily. Already its location between the high rock and the blue sea would make it unique. However, what characterizes Cefalu are old tenement houses that fall almost directly into the water and leave only a piece of the beach. These tenements usually have restaurants with terraces facing the sea or apartments with the same view. In the high season very expensive, in the low season quite affordable. For example this object. Is there anyone who would not sit on this balcony? I doubt it. Another terrace with a stunning view is only available for a couple of euros, which must be spent on the admission ticket. A little effort and the summit of Rocca di Cefalu shows the fantastic panorama of the city below and a large part of the northern coast of Sicily.
Attention! This place is on the list of borghi piu belli di Italia, the most beautiful small towns in Italy.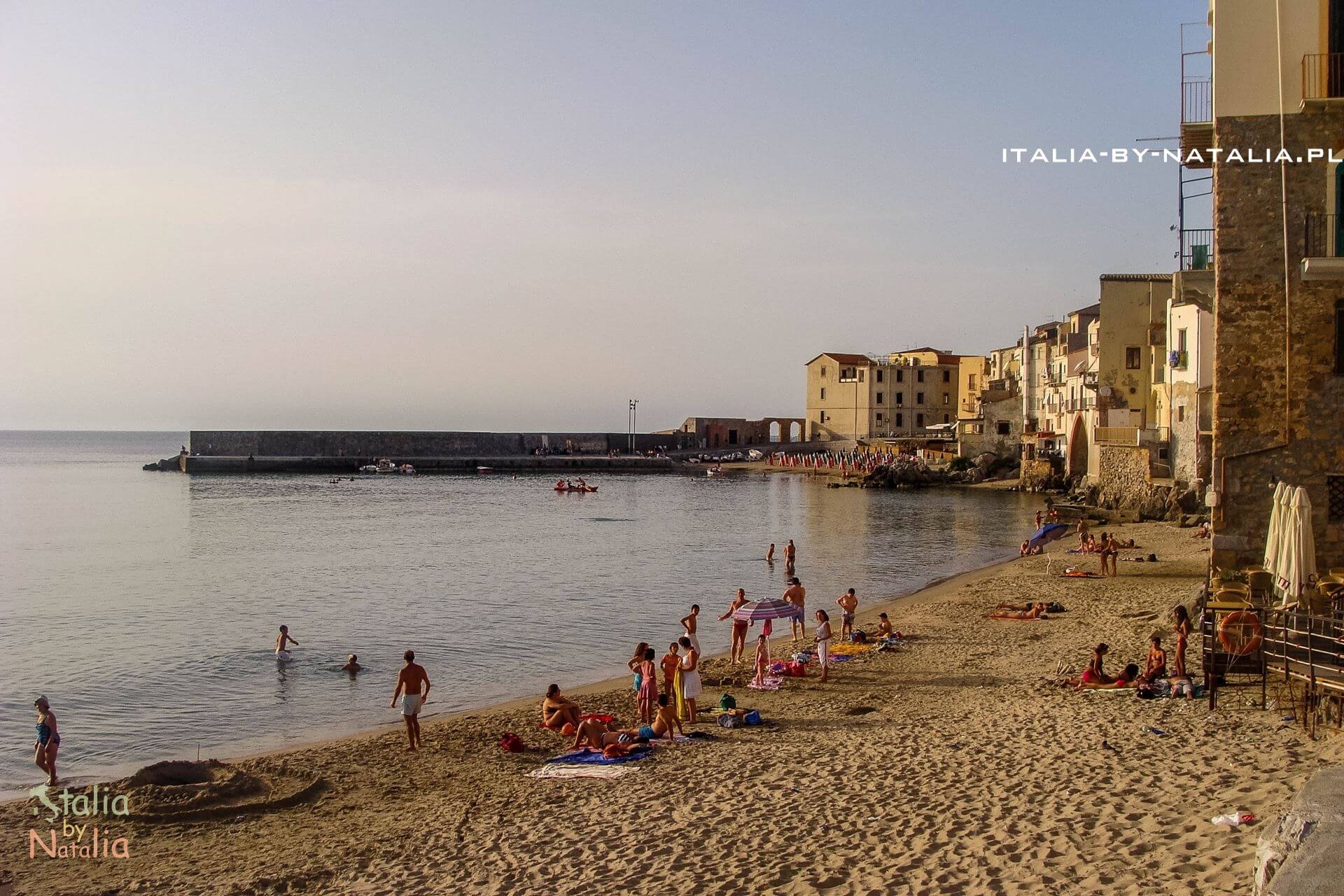 Gangi, central Sicily
Gangi delights with its characteristic location, cascading down from one of the hills of central Sicily. I couldn't see the Gangi in such a scenario as it is usually depicted in the pictures. A blue sky, snow-covered Mount Etna in the background. The weather wasn't good, it was cloudy. But the town is doing considerable impression, oh it's do. Old, crumbling buildings are intertwined with new tenement houses. Gangi became famous a few years ago in foreign media when the city authorities announced the distribution of previously abandoned and requiring comprehensive renovation houses will be sold for only 1 euro. The condition was to settle in Gangi because the population is decreasing year by year and the town is more and more empty.
Attention! This place is on the list of borghi piu belli di Italia, the most beautiful small towns in Italy.
The most beautiful towns, cities,and attractions of Sicily. Messina Province
Taormina, eastern Sicily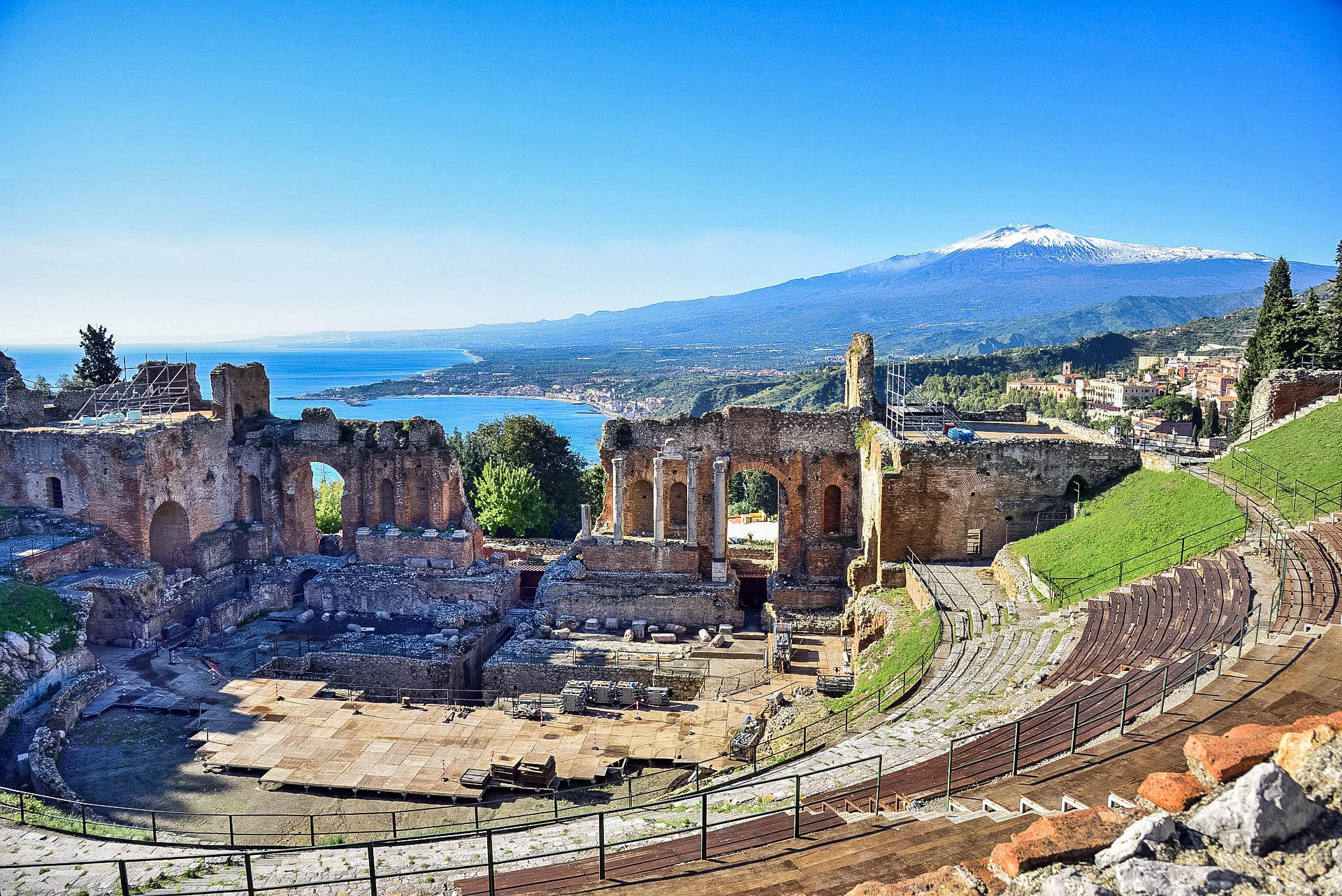 Taormina is undoubtedly a city with the most beautiful view of Sicily and at the same time one of the most beautiful in Europe. Ruins of the Greco-Roman theater, Etna and the sea in the background. Taormina was admired by writers, poets, and painters. It is well-deserved delight. As for the buildings, I have mixed feelings. A few old, historic buildings are impressive, but not all. A walk along Corso Umberto promenade is an unforgettable experience, as the beautiful Piazza IX Aprile and the exceptionally small Romanesque cathedral in the Piazza del Duomo. oh, Taormina, we met seventeen years ago, and then, you threw me on my knees, but years later appeared on my way a town that bet you, at least in my eyes.
Taormina is a good base to explore the area if you have a car, which in this town is a little bit problematic. It's best to look for accommodation with private parking because the public are is located in the distance from the city center. Accommodation with a car park offers, for example, a very nice Hotel Condor, where we spent a week on our honeymoon ten years ago. What can you see around Taormina? First of all, the Queen Etna, and the magnificent Gorge of Alcantara.
Castelmola, eastern Sicily
While the view from Taormina delights with limitlessness, the view from the town hung several hundred meters upright above Taormina must be better, right? Yes, yes, yes! Here is my Castelmola, announced on the blog the most beautiful town of Sicily five years ago and became a must-see for my readers visiting eastern Sicily. And how many of them slept in Villa Regina and admired exactly the view from the same balcony? The owners have stopped counting, and I'm very happy because you are coming back delighted. And that's what it's all about. The above view isn't the only one you can enjoy your eyes at Castelmola. Just look from another place of the town towards Etna to have a volcano almost at your fingertips. Being in Castelmola you have the opportunity to experience a peculiar attraction, but this option is only for the dedes. . See the one-of-a-kind the Bar Turrisi.
Attention! This place is on the list of borghi piu belli di Italia, the most beautiful small towns in Italy.
Savoca, eastern Sicily
Savoca is a beautiful small town, which F.F.Coppola chose to appear in the "Godfather" as a film Corleone. This is where Bar Vitelli is located today, in which Michael Corleone asked for permission to courtship for Apolloni. You can sit there in the shade and drink coffee listening to the film music streaming from the speakers. And inside the souvenirs of the plan. Savoca and traces of "The Godfather" is the perfect place for a short trip from Taormina.
Forza d'Agro, eastern Sicily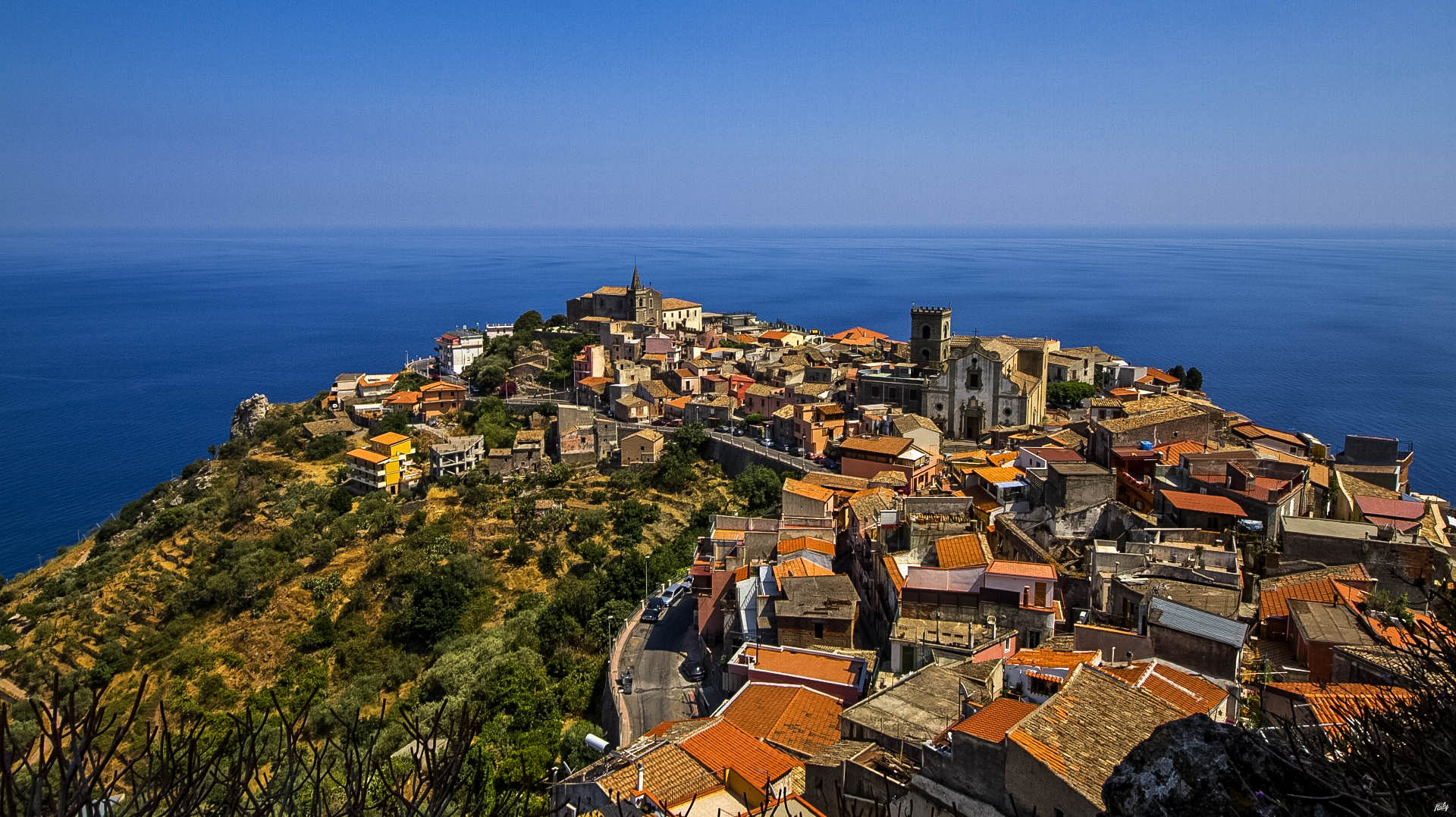 © italycarservice.com
The town of Forza d'Agro also had its part in the Godfather, but hardly anyone remembers it because the cult of Bar Vitelli in Savoca dominates the minds of tourists looking for mafia traces. And this is where the villa of Michael and Apolonia is located, currently behind a high fence without the ability to look inside. Forza d'Agro is a pleasant town, although its location is the most impressive, the driveway is very winding and the view of the sea is amazing.
Stromboli Island, Aeolian Islands, northern Sicily
Stromboli is the most amazing among the islands surrounding Sicily, probably even among all the islands of Italy. It's an active volcano in constant activity, spitting with lava and blowing out smoke. It is not dangerous unless you break the law and listen to specialists working on the island, monitoring activity. Trips to the top being held under good conditions only in organized groups with an authorized guide, climbing on their own are prohibited. The town – because there is also the fishing village of Ginostra on the other side of the island – belongs to the exceptionally picturesque. White houses decorated with colorful flowers on black earth, intertwined with greenery growing in the bottom of the volcano. An amazing experience, I highly recommend arriving to Stromboli for a few days. This is the only option if you want to climb to the top. The reason why the trip end at this time is you cannot catch last hydrofoil. Tourism is the only way of earning money for residents who, although living in a beautiful place, are struggling with many problems, such as the lack of fresh water and the need to supply it from Sicily. There's also something amazing. Water in the sea at Stromboli is always much warmer because it's heated by a volcano. It's the perfect place for a Sicilian trip before the season.
Lipari Island, Aeolian Islands, northern Sicily
Lipari is the main island of the Aeolian Islands archipelago and at the same time one of the most-visited areas of one-day trips. The town on Lipari is picturesque and has a nice climate, although in comparison with Stromboli, in my opinion, must give way to Stromboli. Street with ambience, churches, a castle, souvenir shops, and numerous cafes, as well as beautiful views in many places of the Island. You can rent a scooter here and successfully make a trip through local roads and viewpoints in one day.
The most beautiful towns, cities, and attractions of Sicily. Province of Catania
Catania, eastern Sicily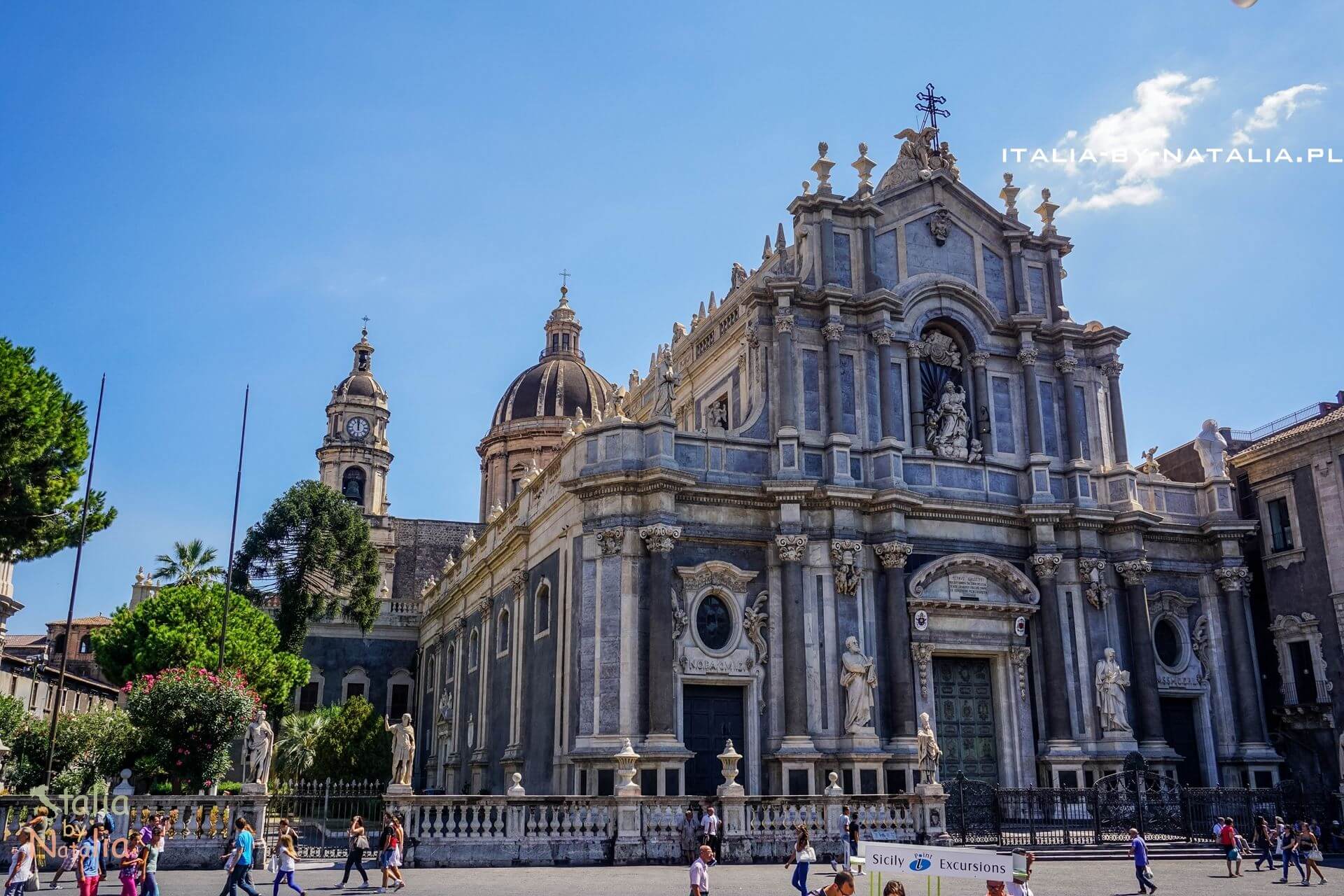 Opinions about Catania are divided, just like the rest in case of Palermo, but I have many warm words for this city. Flooded partly with lava during the Etna eruption in 1669, and then destroyed during the earthquake of 1693, it has risen and used the lava's material as the building material of many of the monuments admired today. Catania is amazing, in its own way beautiful and captivating climate. Its symbol is the lava elephant decorating the fountain in the main square. Give Catania a chance, it's really worth spending some time here. For a coffee and delicious cake, I recommend the cult – open at the end of the nineteenth century – Pasticeria Savia on via Etnea 302/304, that is on the main street, just opposite the Villa Bellini park. It's worth to bet on cake with a peculiar name – La cassatella di Sant'Agata (minnuzzi ri Sant'Àjita), meaning tits of Saint Agnes. A local delicacy typical of the Catanian cuisine, the genesis of its name is brutal. It is enough to juxtapose breasts and the fact that the woman is considered Saint, and the answer itself is at your fingertips.
Holy tit of Sant'Agata eaten in Pasticceria Savia in September 2014, with granita. Yum, definitely worth it 🙂
Acireale, eastern Sicily
While Mazara del Vallo and Salemi are underrated cities in western Sicily, Acireale is the first of their counterparts in the east. A beautiful city with stunning architecture, located on the shores of the sea, only three railway stations or 17km by car north of Catania. You should definitely see this city, crowds of tourists are not seen in Acireale. What can you see in the area? Probably your attention will be attracted by Aci Castello – the castle is situated on a promontory entering the sea and Aci Trezza, a village famous for the Riviera dei Ciclopi. It's a group of rocks with bizarre shapes protruding from the sea and called Isole dei Ciclopi. The locals would probably be offended, but to me, cyclopic rocks did not speak, I remember the bad smell there. But I will give them another chance on the next occasion.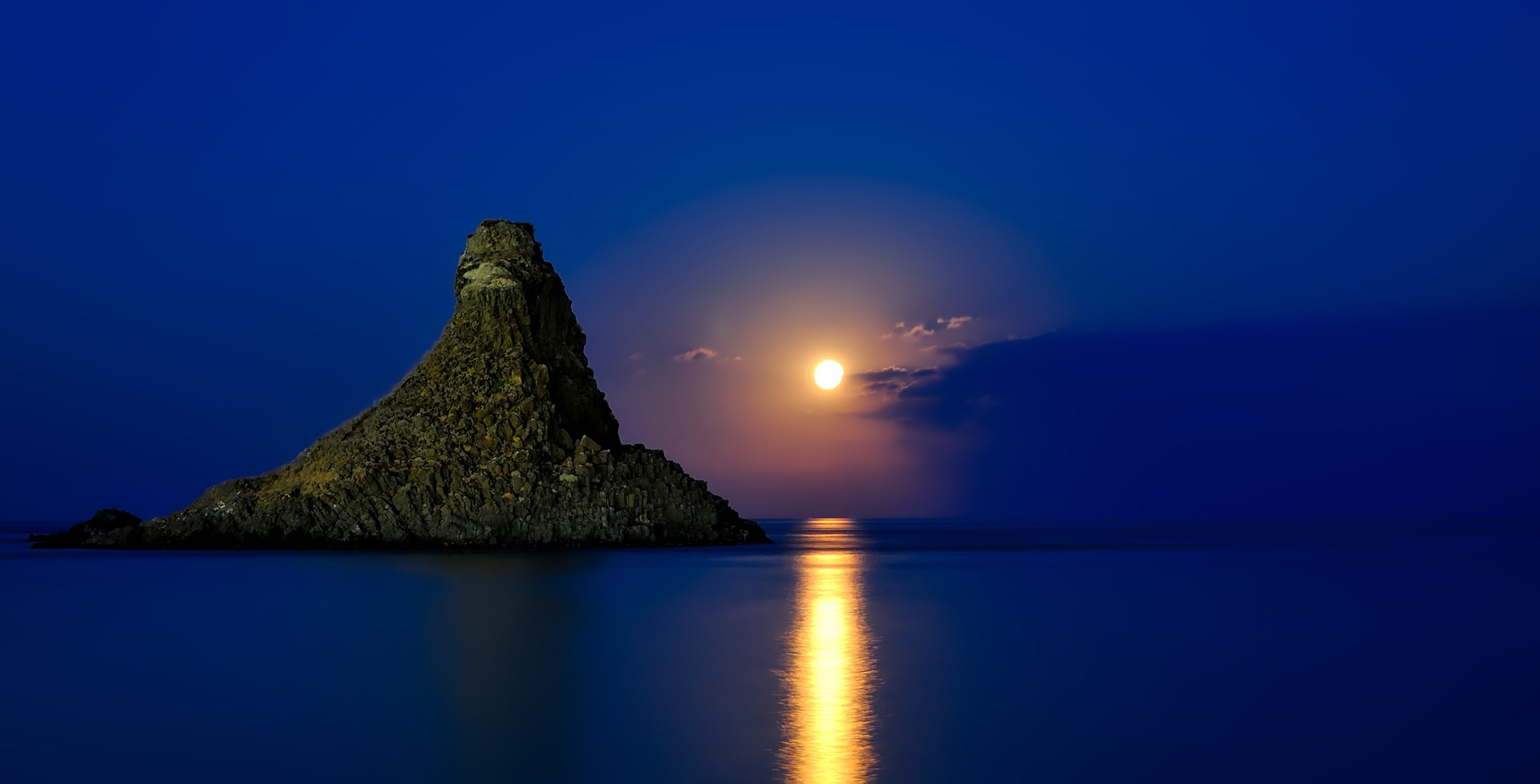 Isole dei Ciclopi
Randazzo, eastern Sicily
A city built with lava and on lava at the foot of a volcano cannot fail to impress. Randazzo lies on the panoramic road surrounding Etna, which you can go on great trip, whether by a car on the SS284 and then SS120, or the Circumetnea panoramic train. Nearby, it's worth visiting the city of Bronte, famous for the cultivation of some of the best pistachios in the world. I have my favorite bar there, look at the post about travel around Etna.
Castiglione di Sicilia, eastern Sicily
© Alberto Forlai
Does the location of the small Castiglione di Sicilia in the background of the mighty Mount Etna and a small distance from the banks of the River Alcantara can leave someone indifferent? On the way to the popular Gorge of Alcantara you only have several kilometers here. Look, you won't regret it.
Attention! This place is on the list of borghi piu belli di Italia, the most beautiful small towns in Italy.
Caltagirone, central Sicily
The town of Caltagirone is famous for its hand-painted pottery and monumental stairs, whose risers are the ceramics decorated. The impression is great, but the stairs aren't the only things worth to see in Caltagirone. The town itself is very nice, full of atmosphere corners and narrow streets.
The most beautiful towns, cities, and attractions of Sicily. Province of Syracuse
Syracuse (Ortigia), eastern Sicily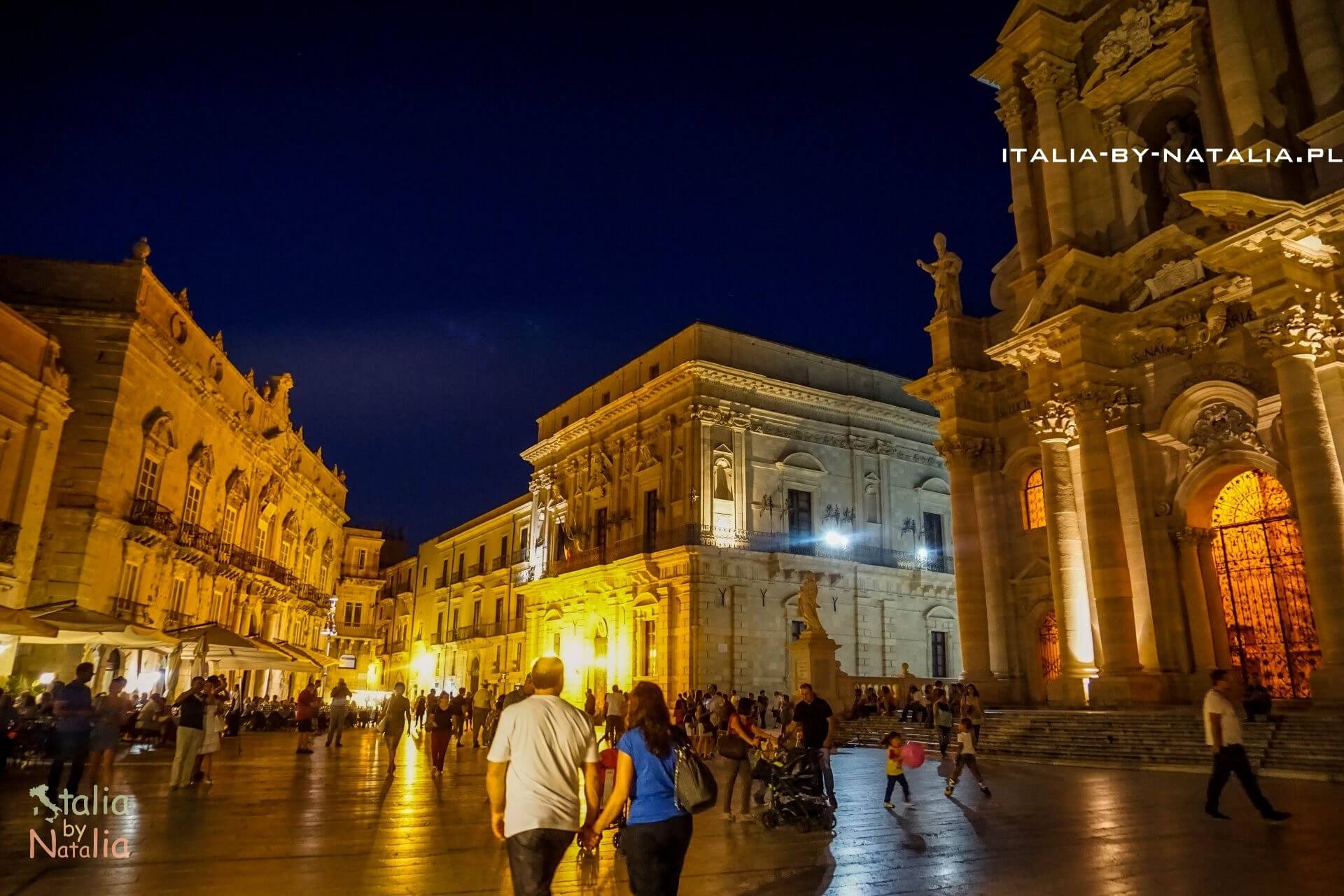 Syracuse, it's all started in it. I came here as a teenager. After the first evening in Piazza del Duomo and in the streets of the old town located on the Ortigia Island, I knew that Sicily has come into my life with impetus and something will arise, question in what direction will go. Now I know. This small fragment of land similar in shape to a clenched hand with a thumb pointing downwards is the quintessential Syracuse, a place totally beautiful and absolutely unique in many ways. It's on Ortigia that the social life of the city takes place, in the summer evenings on the streets, people meet with friends, and in Porto Grande moor the luxury yachts of the world's nobles people. Here you can also try the best almond granita in Sicily. Granita di mandorla, order at Antico Caffe Minerva (via Roma 58) or at Caffe La Piazza with a view of the cathedral. Phenomenal one. Syracuse is a good base for exploring the surrounding area. Beautiful sandy beaches can be found south of the city, inter alia in the towns of Arenella and Fontane Bianche, , further in Marina di Avola and Marina di Noto. Real rarity of south-eastern Sicily awaits for lovers of wild nature and mountain climbing – the Cavagrande del Cassibile Canyon with freshwater lakes connected by waterfalls.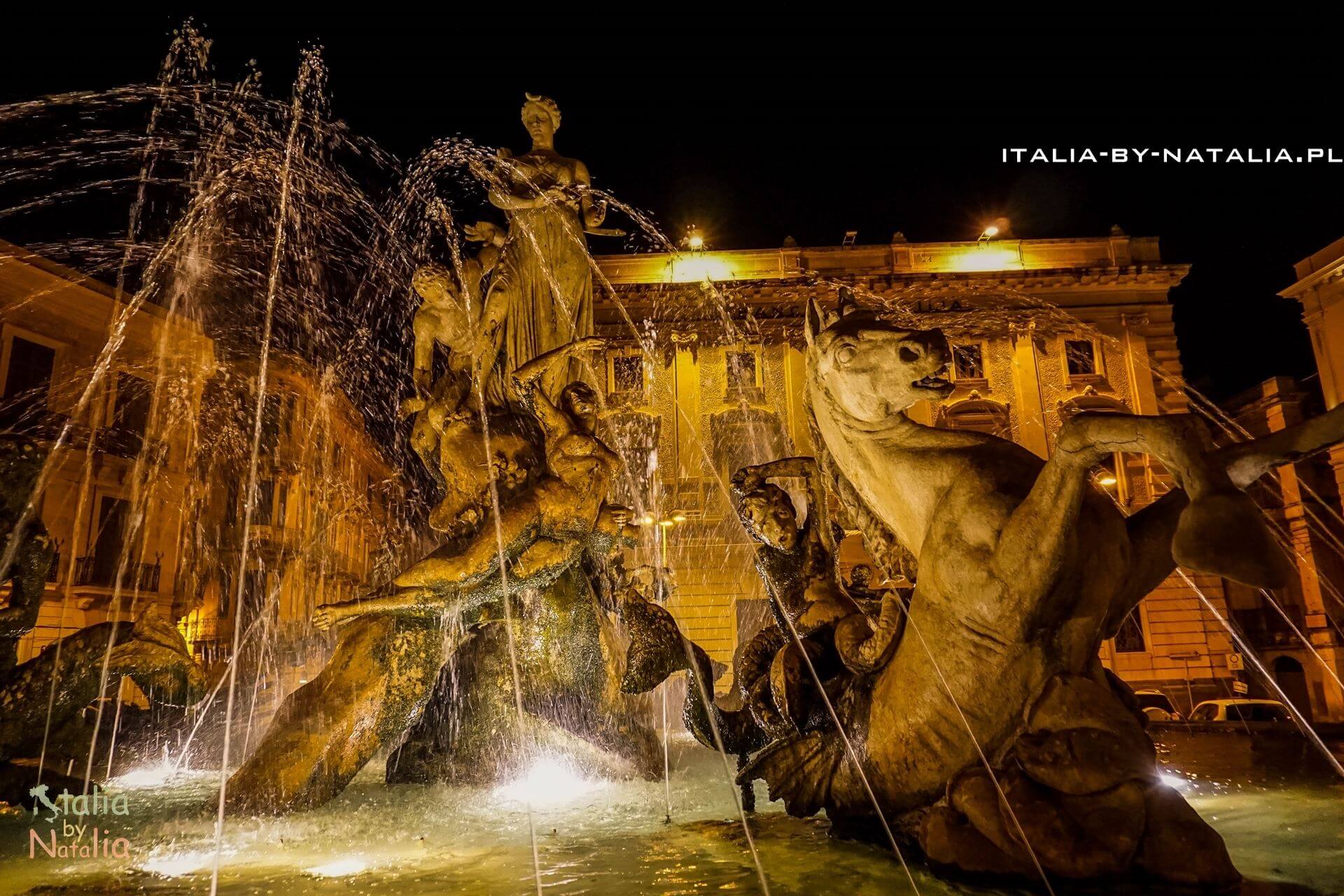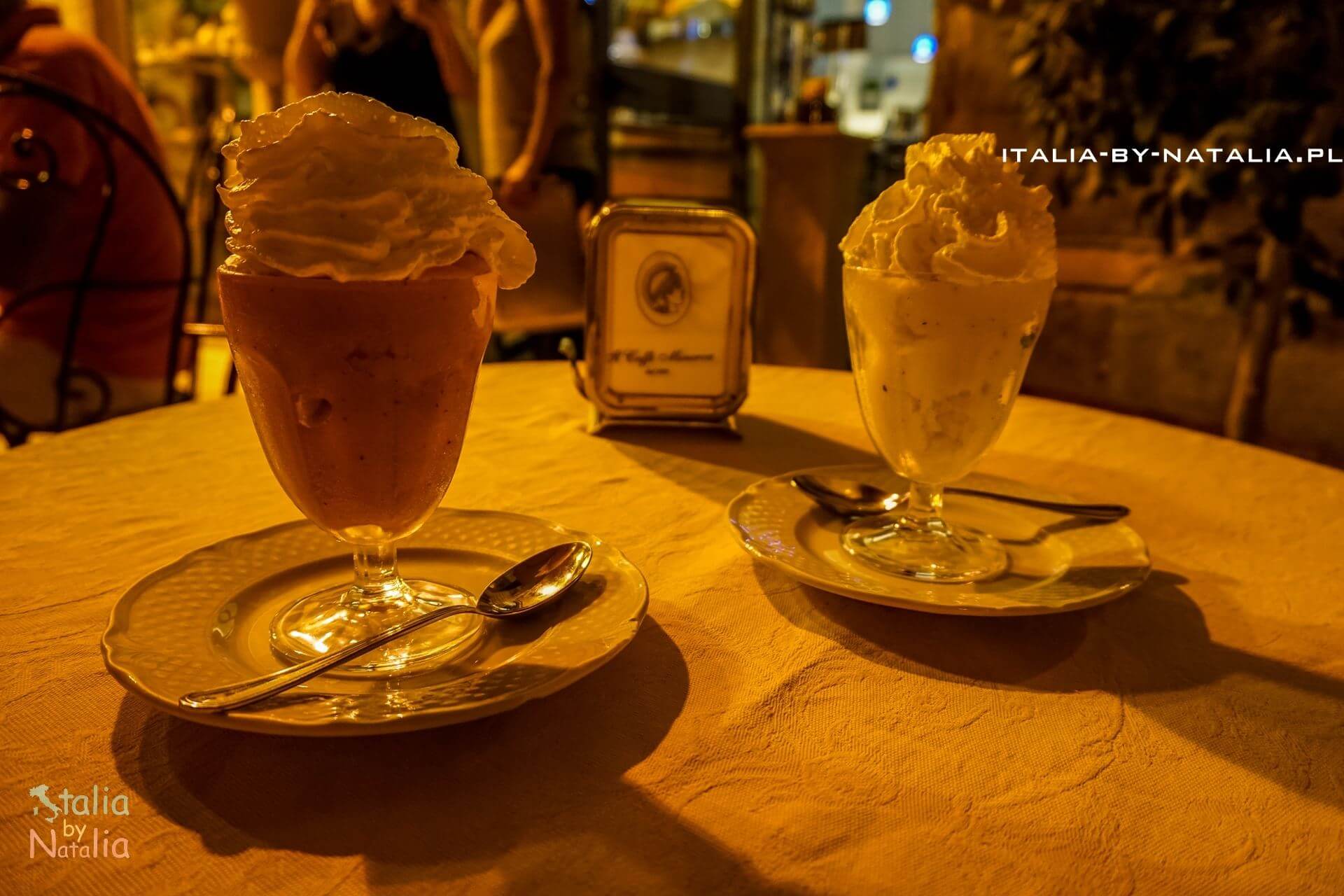 Grantia with whipped cream at Antico Caffe Minerva, September 2014.
Noto, eastern Sicily
The town of Noto was the first of the small towns of Sicily that I visited in 2001 while staying in Syracuse. I learned about it from a textbook of history of architecture, because in architectural terms Noto is unusual. At the end of the 17th century, a terrible earthquake took place in the Noto Valley, as a result of which the ancient Noto, known today as the ruins of Noto Antica, was completely destroyed. Other cities in this area also suffered great damage, including Modica, Ragusa, and Scicli. They were rebuilt in the Baroque style, which in those days was in effect in architecture. Noto itself being built around 10km from the ruins. The entire city was built in the Baroque, which makes it a unique and the most impressive example of this style in Sicily.
Marzamemi, eastern Sicily
Small and colorful, beautiful and unique. Take a look at the post of Marzamemi – the pearl of south-east Sicily.
Palazzolo Acreide, eastern Sicily
© Tongiu
I fill that no one is looking to Palazzolo Acreide, but this is a beautiful Baroque town. The second one after Acireale from the cities of eastern Sicily, which is notoriously overlooked by tourists. What can you see at Palazzolo Acreide? The town itself is very nice and interesting, a few Baroque churches delight, and charming squares encourage to sit in cafe. Near the town is also located small Greek theater, completely eclipsed by a large theater in Syracuse. I was here so long ago that I do not have any pictures in electronic version. Maybe next time, for sure.
Attention! This place is on the list of borghi piu belli di Italia, the most beautiful small towns in Italy.
© Sergio Tumminello
The most beautiful towns, cities, and attractions of Sicily. Ragusa Province
Ragusa, southern Sicily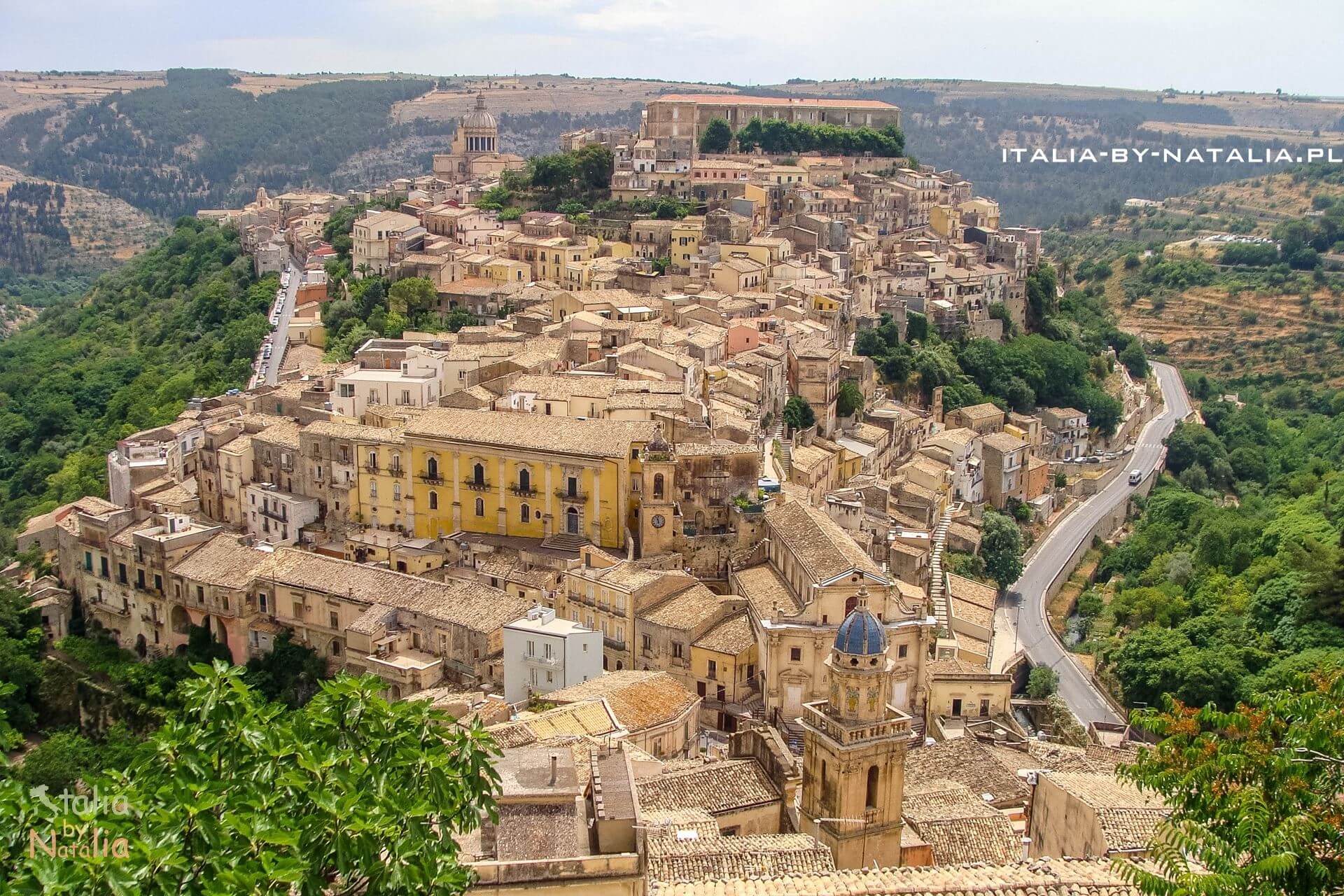 I spent less than a day in Ragusa, but the city, or more precisely, its old, picturesque part called Ibla, made a great impression on me and was important place in the history of my Sicilian journeys. What exactly, I will tell you next time. Anyway, I cannot imagine traveling in south-east Sicily without sacrificing at least a few hours to Ragusa Ibaba. Furthermore it's best to stay here for the night as I did. Great place to stay in Ragusa Ibla is Griadino di Pietra with a terrace overlooking the roofs of Ibla. That was the key to my stay in Ragusa.
Modica, southern Sicily
Often you ask me: "Natalia, which cities to choose – Ragusa or Modica, because we have time only for one only, and they seem identical." Well, it's just an illusion, because apart from a small distance from each other and many beautiful churches and palaces in the Baroque style, Ragusa and Modica are completely different. It's difficult to judge which is more beautiful, for me Ragusa has grip my heart more, though Modica certainly has at least one advantage. Nowhere have I eaten so good cannoli, as here, in the confectionery Antica Dolceria Bonajuto, famous for the production of specific chocolate from Modica. There, in the back room of the confectionery, cannoli is made, you just have to order it. There are classic versions with cream based on ricotta cheese and with pistachio cream. Both delicious, but the second one is rarely found in other parts of Sicily.
Cannoli with pistachio cream in Antica Dolceria Bonajuto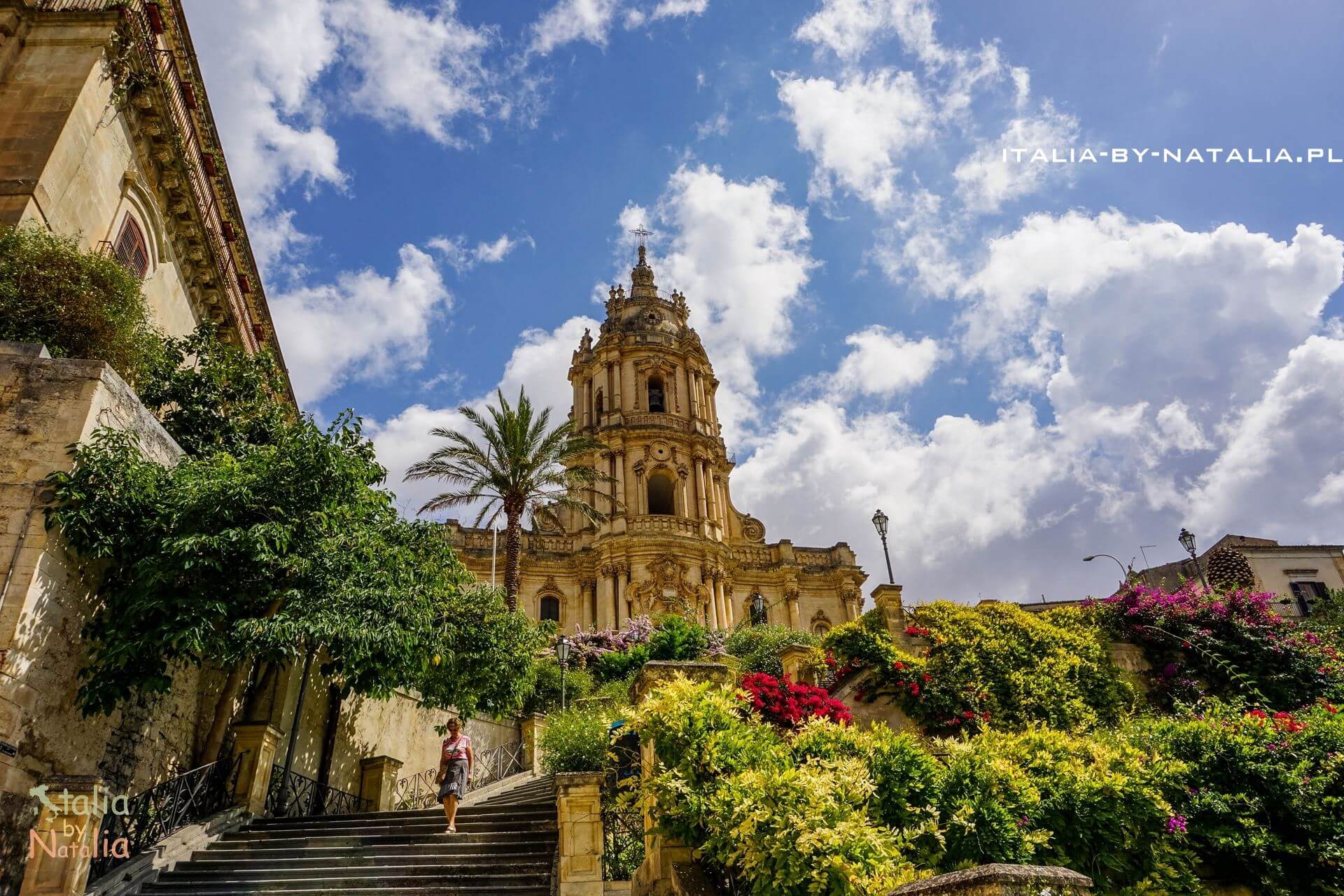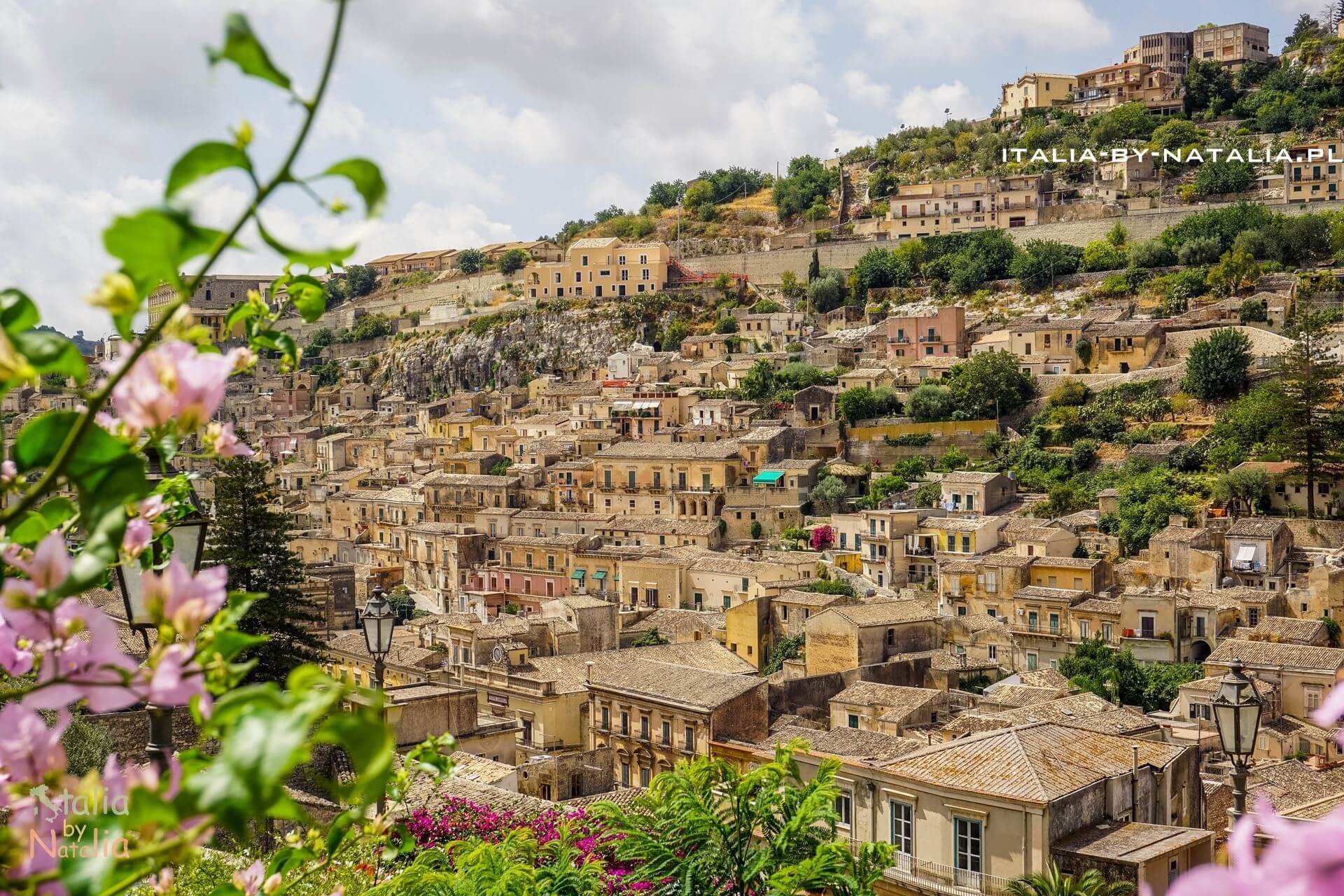 Scicli, southern Sicily
© hitsicily.com
If we compare the cities of this part of Sicily to the fairy tale about Cinderella, then Ragusa and Modica, beautiful and delightful on the guides' cards, would be perfect for the main character's sisters. Scicili is just such a Cinderella, in addition, Baroque, hardly anyone looks here, but as soon as looks it will succumb to the charm. Pay attention please to your GPS car navigation, their capability in Sicily is useless. This is one of those Sicilian cities where driving is a real navigational feat. In Scicili I was once and definitely too short, but enough to want to come back.
The most beautiful towns, cities and attractions of Sicily. Province of Enna
Enna, central Sicily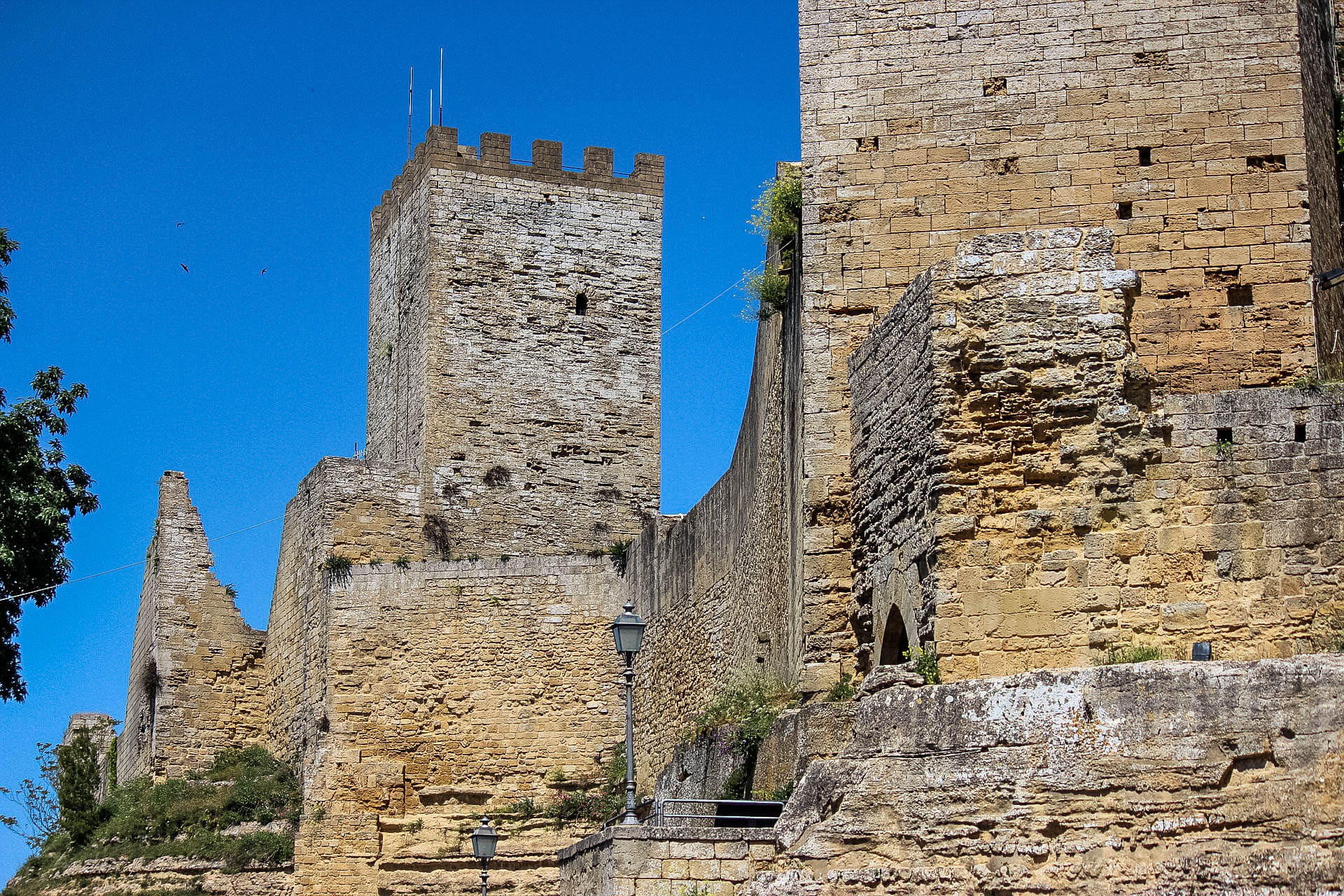 I've mixed feelings about Enna, called the navel of Sicily. This city has at least a few faces, and in my opinion, it wins with a beautiful location high on the hill and with wonderful views of the surrounding area. For the building itself, it doesn't knock me down, although doesn't mean it isn't worth to see. Certainly, the obligatory point of Enna is the castle of Castello di Lombardia, from which the tower can admire the panoramas of the area. Located at the highest point of the city has a parking lot under the walls. If you were to see only one place in Enna, it's necessary to put a lock on it.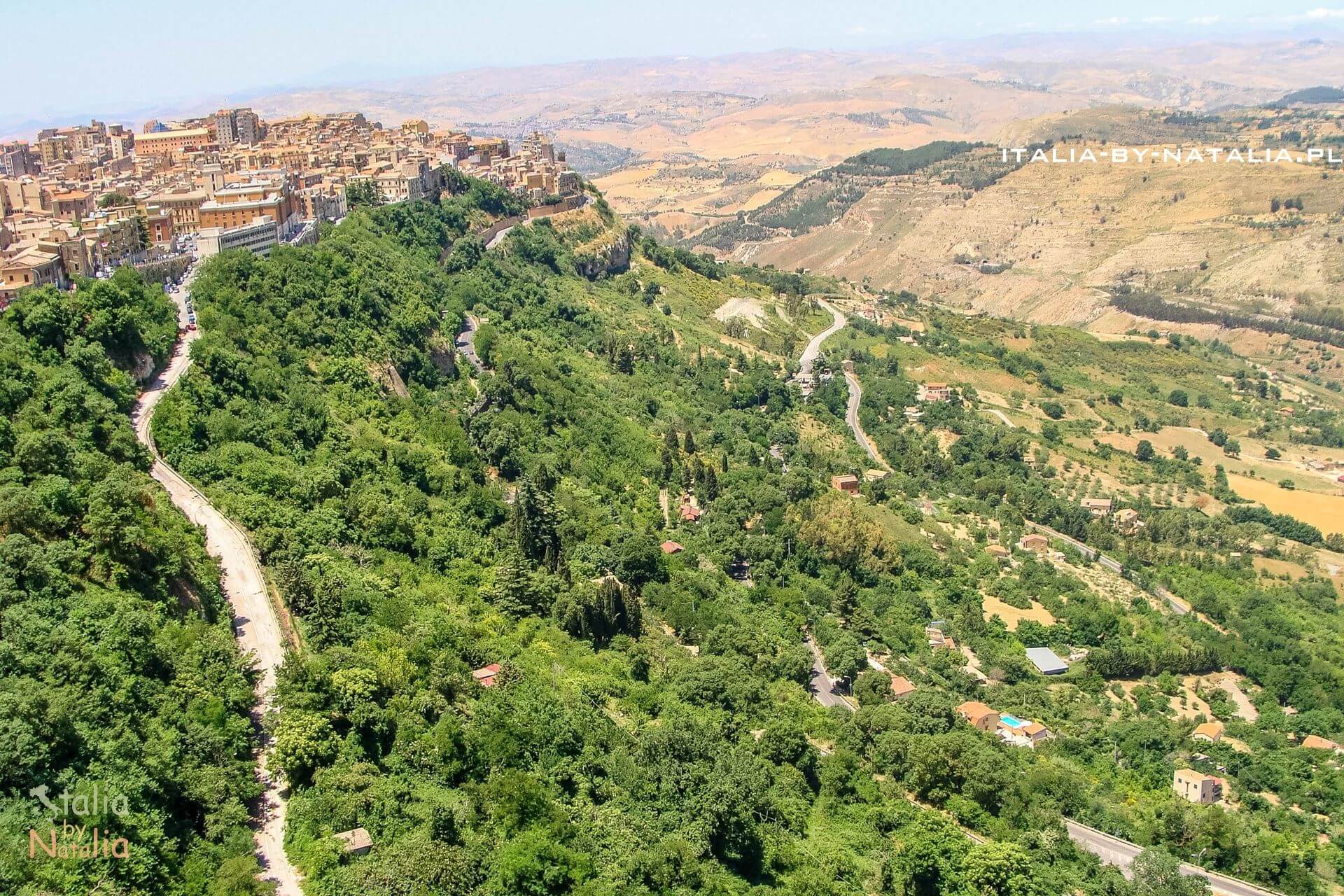 Calascibetta, central Sicily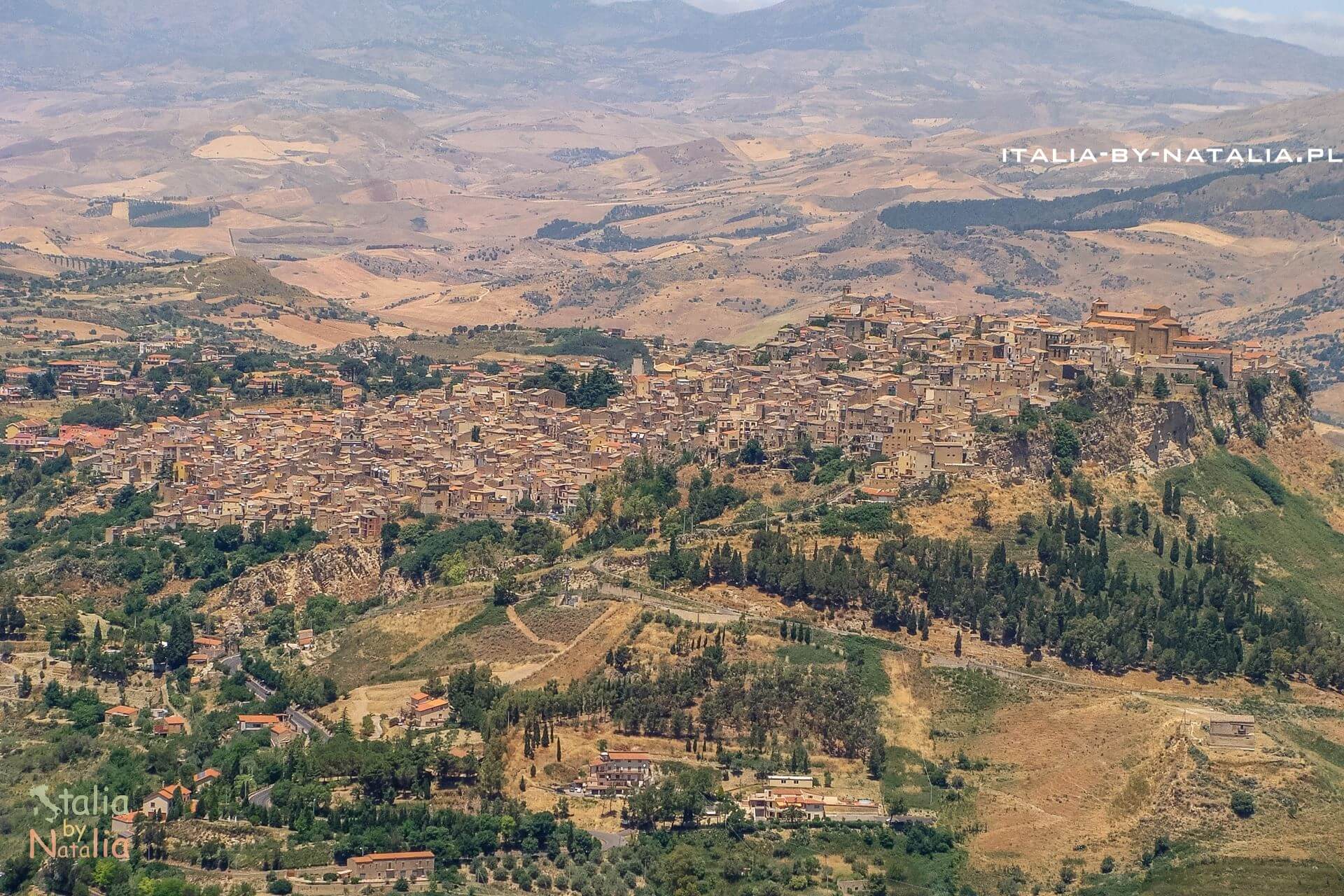 Calascibetta, like Enna, is the most enchanting of its location, and the best viewpoint of the town extends from the tower of Castello di Lombardia in Enna. This panorama is the most memorable. However, the town itself is more charming in my opinion than in the case of Enny. A tourist in Calascibetta provokes considerable surprise. I was too short, I'll definitely come back for longer stay.
Piazza Armerina, central Sicily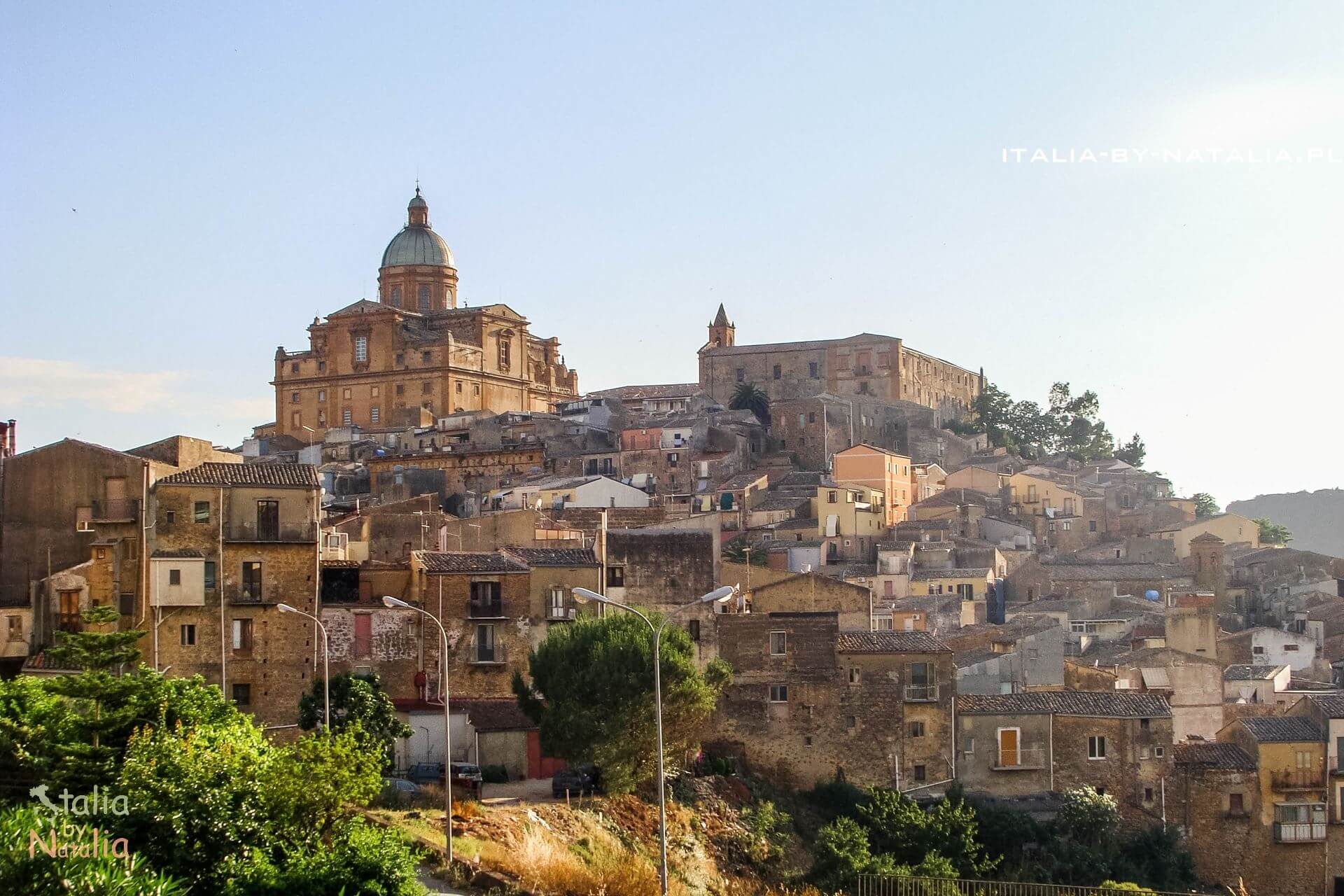 Almost everyone who comes to Piazza Armerina Almost everyone who comes to Piazza Armerina is interested in the greatest attraction of this area, i.e. a UNESCO Roman villa in the Villa Romana del Casale. Meanwhile, the town of Piazza Armerina is definitely worth a visit. This is another place where a foreigner on the street brings a stir. I'll never forget our adventure in June 2012. Wanting to leave Piazza Armerina before noon and guided by GPS navigation, we entered a small street that was closed on the day because the market run there. This is normal in small towns when there is no square on which such a bazaar can be organized. Well, we are entering a one-way street and we are helpless because it is impossible to cross it. When the old lady saw us she turned around from the stall and starts shouting, raises her cane and waves it in the air, then moves towards us. She probably never saw strangers (stranieri), and strangers are aliens, regardless of whether from Poland or from Mars, as disturbing peace, there is an opportunity to chase them. Fearing for the bonnet of the rented car, we withdrew in the opposite direction. A bit further, just past the town towards Caltagirone, stand on the side a ragged tricycle and grandpa sells cherries. Believe me, what a taste it was! If you only see a guy selling fruit from a tricycle, do not hesitate and buy it. Such people always sell delicious fruits and have very attractive prices. The joy after he earned 5 euros. Priceless.
The most beautiful towns, cities and attractions of Sicily. Agrigento Province
Agrigento, southern Sicily
Similarly to Piazza Armerina, also to Agrigento tourists come to see another Sicilian monument from the UNESCO list such as – Valley of the Temples, to do that mostly just bypass the city itself. That's a mistake. Agrigento is cool and has an ambience, food and accommodation don't sweep us off our feet with their prices, some nice churches and palaces enjoy the eye walking on the main street of the old town, and people are so nice. We stayed in Agrigento in June 2012, exactly on the day when our soccer team played with Russia during the soccer tournament Euro 2012 in Poland. In someone's apartment on the ground floor, at the street level, on TV just played the match, not yet so important, because the tournament just started. We stopped to see the result, and then the owner noticed us. He asked do we want to go inside and see it with him. We replied no, thank you, we are coming back to our room to watch the match between Poland and Russia because we are Poles. The reaction of this man was amazing he encouraged me to stay with him, and at the end wished good luck to our players and said he would support them. Another guy, seeing we wanted to enter a closed church, suggested he would arrange it for us because the churchman is his buddy. This is Agrigento. Few kilometers outside the city another town from the UNESCO list is located – Scala dei Turchi, or Turkish Stairs.
Sciacca, southern Sicily
© Gerard Vonk
Nice, colorful, undervalued. Also because of me, for which I'm punching my tits and chest today. We spent the whole afternoon and night there, instead of  visiting Sciacca we fled to the beach outside the city and then we went to Caltabellotta. But I'll be back there. Fantastic in taste and cheap ice creams, as well as cool and inexpensive Bed & Breakfast, are just a few of the nice experiences of this short stay. If someone asks, here also the car GPS navigation is useless. Typical of the towns of southern Sicily, where time has stopped a long time ago, but it has its own unique charm. What about the beaches? You will not find such long, sandy beaches in other parts of the Island. For example, my beloved Rezerwat Torre Salsa, where the beaches are clean and virgin, protected by the WWF.
Caltabellotta, southern Sicily
Ah, Caltabellotta! I visited it twice: in June 2012 and in September 2014 and it wasn't possible to confirm or disprove one of the main myths about the town. Apparently, in exceptionally nice weather from the walls of the ruined Castello Luna on the top of the lonely Monte Rocca Mountain, you can see Etna. I haven't seen pictures confirming this myth, I don't want to believe, because the logic tells me that it's impossible. Too far. The first time the entrance to the rock was closed due to the renovation of the stairs. In 2014, I was skeptical, after all only two years for minor construction works, it's not much in the south of Sicily. The entrance was already open, but I don't know what renovation it was, because the steps haven't changed since the Middle Ages. In any case, the weather was beautiful and only minutes separated me from confirming or overthrowing the myth until suddenly, when the last steps separated me from the top, clouds suddenly came and everything spoiled. Some say we have third time's a charm. We'll see. Pizza we eat here is astonish? Superb! Take a look at the paragraph with checked pubs a little bit further.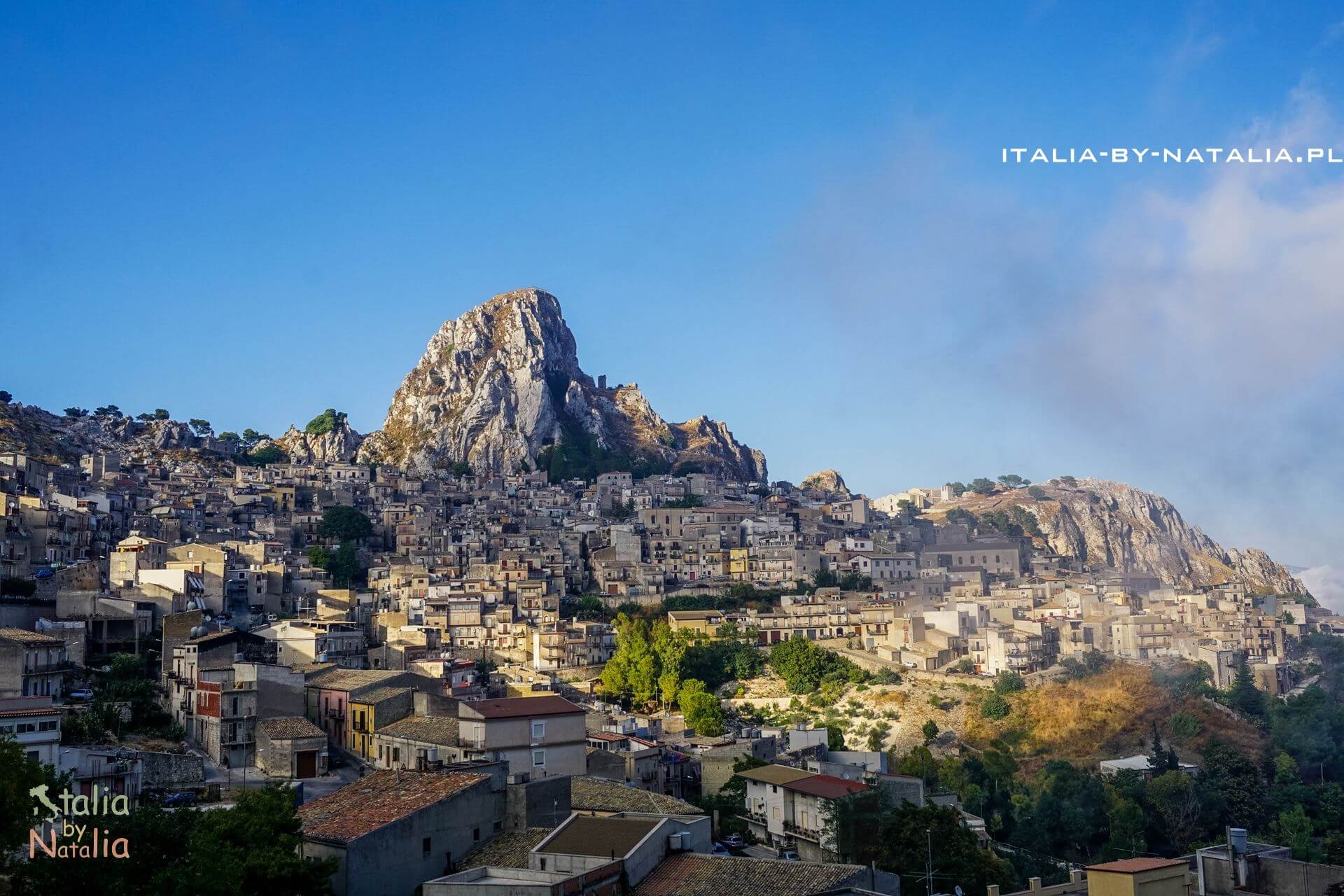 The most beautiful towns, cities, and attractions of Sicily. Province of Caltanissetta
This is the place where I could use one of the two actual top practices recently use among some bloggers, or rather pseudo bloggers: write or copy / paste information from someone else's blog or ask their readers to write for me. Why bloggers do is this? Because they want people to click. People click links to affiliate programs, although the blogger has nothing to say about the topic. The rest – including people looking at blogs search of the author's authentic experiences – is not important in that case. This is how entire guidebook arises, even about regions where the author has never been or only spent a few hours. That means he was – with his finger on the map or reading other people's memories! Why does spend money on travel, if you can write a guidebook anyway, bet website statistics and create an expert? What about photos? Pictures can be bought or downloaded for free and quite legally, you just need to know where. Does people's pictures bad? No, sometimes I use such websites because I miss a shot or my old photo is poor one, or I was in at a time when I didn't have a digital camera. But on my page, such photos are less than 5% of all photos on the blog, not a 50% or 90%.
Do you just wink at your eyes? It's very good, it's about time to talk about it loud. Because quietly, among honest bloggers, has been said for a long time. Fortunately, the practice of writing about places where the author wasn't, in other words transforming a blog into a portal, are slowly beginning to see those on whom pseudo bloggers depend so much. Conclusions. It's about time that the readers also begin to see. Perceive and avoid, do not click.
Returning to Caltanissetta. Several times I traveled through the province, whether driving along the south coast or through the middle of the island, but I haven't yet had the opportunity to visit this part of Sicily, with the rest of the least popular. When I finally get there I will complete the paragraph with my experience.
Best time to visit Sicily?
When is the best time to visit Sicily? When is rain the most, and when least? What type of seasonal fruits can be expected in individual months? How long is the season for sunbathing, and the water in the sea is warm enough to be able to bathe with pleasure? I answer these questions in the post. Best time to visit Sicily, See for yourself.
Checked accommodation in Sicilian cities and towns
Dozens of different nights: apartments, hotels from 2 up to 4 *, B & B, each personally tested and honestly assessed. Most in Sicily, but not only.  Take a look at my accommodation base in Italy.
Where to eat in Sicily?
Below I give you posts with nice addresses, where you can eat well in Sicily.
Where to eat in Taormina?
Where to eat in Taormina? My verified addresses and the best granita
Where to eat in Castelmola?
Deliciously overlooking the volcano at Taverna dell'Etna
Laughing in the Barze Turrisi (only for people with chill out in their mind)
Where to eat in Savoca?
Snacks in the famous Bar Vitelli known from "The Godfather"
Where to eat in Palermo?
The whole range of addresses you will find in the post Palermo a city of contrasts. A subjective guidebook to the capital of Sicily, also look at the post Eat, pray, love, or how to visit Palermo?
Where to eat in Trapani?
Take a look at the Where to eat in Trapani  na based on a journey in 2016. After this year's stay, I can recommend two great restaurants, which I wrote about in the post about Angelo Apartments.
Where to eat in Syracuse?
The best almond granita in Sicily (granita di mandorla) is on Ortigia!
Where to eat in Marzamemi?
Ristorante L'Acquario – in 2014 I had a great dinner there, now I see that the reviews of the place have gone bad. If somebody went to eat there, they would ask for feedback.
Where to eat in Caltabellotta?
Pizzeria Le Caprice. This pizza made for the locals is dreaming at night.
"Aegadian Islands – unknown Sicily"!
If you follow the blog Instagram or fanpage na Facebooku, you probably already know. If not, then you will definitely need to take a look at this short film announcing the first of my two lectures at the Warsaw Travelers Festival. The event takes place as part of the tourist fair at the Ptak Warsaw Expo in Nadarzyn on October 19th-21st. In two lectures I will show you two completely different faces of Italy. On Saturday, October 20, from 12:00 to 13:00 I will talk about the Aegadian Islands (Levanzo, Favignana, Marettimo), an unknown corner of Sicily, which is extremely close to my heart. I visited each of the islands thoroughly, experienced fantastic emotions and made a lot of beautiful pictures. I spent a total of two weeks on the Egadi, one in May 2016, the second in late May and June 2018. I will inform you soon about the topic of the second Sunday's lecture. After each of them, the organizer anticipates a meeting with the audience in the "Fan Zone" located near the stage. There we can talk and take pictures. Whoever uses Facebook can join the event, there are already several hundred people interested in my performance.
If you have any questions, please, ask them in the comments below this post, I will try to answer and advise everyone. I would also like to read about your experiences from traveling to Italy, do not hesitate to share information, they will definitely help those who are just planning a trip.
I invite all new readers to like Italia by Natalia on Facebooku and follow Instagram's profile. It will also be very nice if you add a comment or share this post with your friends.
All the best
Natalia