I had a beautiful dream today. On a small island I was walking around the little town, the snow-white houses decorated with intense blue shutters emerged straight from the sea and the turquoise waves rocked on their crests colorful boats. Local fishermen, who returned from the morning catch, mending their nets in the harbor, and from the nearby bar was spreading of the aroma of freshly brewed coffee and warm cornetti. My dream, the memory of reality, another world in which I found myself in 25 minutes for less than 9 euros, boarded on a hydrofoil in Trapani. Come and see Levanzo.
Egadi Island, in which the largest and most well-known is Favignana, most remote and most wild is Marettimo, the smallest and closest to Trapani – Levanzo, was my dream for a long time. In recent years I traveled around Sicily either by my own car or by a rental one. So the idea of an expedition to Aegadian never seemed to be good, well must say, because if I have a car on vacation, I have to take advantage of this facility and visit places, which using public transport is very difficult or even impossible to reach. In addition, leaving the car in the port for several days would generate unnecessary cost. In Egadi Island you've to stay a few days. How many days? Today I can say, that a week is optimal, which doesn't mean that is enough 😉

The perfect time to trip Egadi arose in May, when I visited Trapani, traveling by plane. After a four-day stay in the city I was going to spend the first three days on Marettimo and next three days on Favignana, finally, I planned stay for four days on Marettimo and two on Favignana. Levanzo I planned to see in one day as a part of a day trip by boat from Trapani. I was figuring like this: if at Favignana I'll be only two days, and I'm going to circle around it by scooter, it will not be time for a boat trip around the island.For this I could no longer afford to stay on Levanzo. I decided, that the ideal solution would be to just a day trip, during which the boat flows around Favignana, leaving passengers in the town for two hours, next the same scheme on Levanzo and returns to Trapani in the evening. The cost of such an event with lunch served on board is approx. 38 – 40 euro per adult. My plans thwarted by the weather, because even though it was very nice and warm, a strong wind prevented the cruisees out to the sea.
Changed my plans. I decided to swim for the day by hydrofoil to Levanzo and explore the island, including to sail it around by a boat caught already in place. It was a great decision and I would recommend anyone such a solution. A better idea is to just stay on Levanzo for a few days.
Levanzo seen from the hydrofoil bow. Here you can not come, but I very nicely asked this gentleman, and he agreed even pose for pictures.
I knew Levanzo is beautiful, I felt that I'll be delighted, but the reality surpassed my expectations. The town is just wonderful, and the water really is that color! I was fine weather, beautiful and strong sun and the temperature perfect for exploring, approx. 23 °C. Ready? Let's start the tour!
Hydrofoils and ferries are moored to the quay slightly away from the town and the port, where fishermen moor their fabulous, colorful boats.
My plan assumed to start with finding the guy who takes me on a boat trip around the island. Still in Trapani I got a bearing for the guy. Polite gentleman in the tourist information told me to asked Salvatore, gave me the flyer and said – relied on Pippo. "The Office" Salvatore – if that can be called a wooden kiosk near the ticket office in the port – was closed. I take the phone and dials. Nobody is answering. Doin another. Nothing. Well, I watch the town and try for some time.
On the other side of the cove are moored fishing boats. In the distance you can see a fragment of Favignana.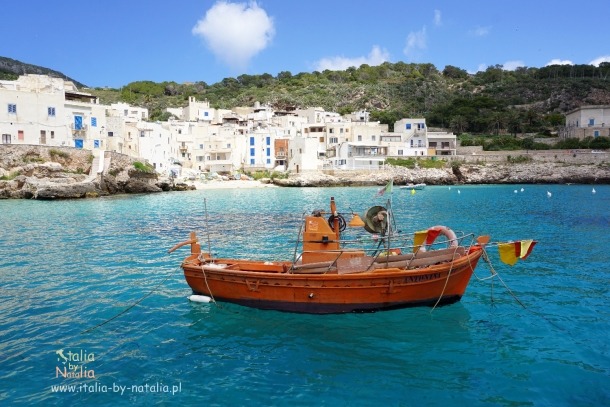 Take a look at this guy in the white hat. It Salvatore wanted my fisherman, but it will take some time before I determine it.

Town in all its glory as seen from the fishing port.
Again, I call Salvatore – standing unaware about 100 m from him – and again, the phone doesn't answer. No wonder, since the guy was repairing the fishnet. Well – I think – I get a bit west of the city, following the road from the fishing port up towards Favignana and Marettimo and coastal rocks faraglioni. The May Nature in Sicily is wonderful, everywhere lush greenery and flowers, still unfired tith summer sun. Vegetation on Levanzo contrasting turquoise sea enchanted me. This island is a paradise, see for yourself.
Hill parking level MASTER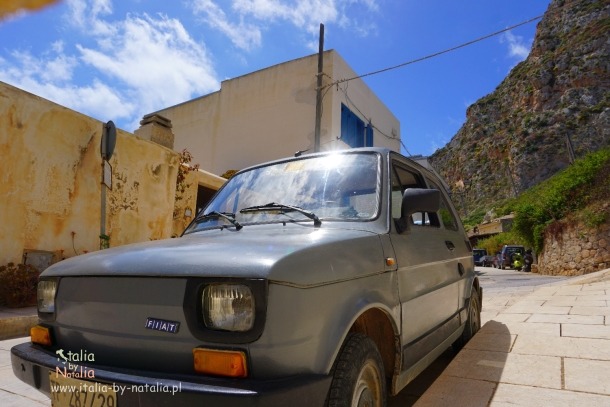 The good old man, so familiar! On the island, on which it moves only a few dozen cars.
Road to faraglioni. I would recommend it, be sure to choose this place for visit, the walk is easy and pleasant, and the views are spectacular.
In the distance – faraglioni and in the shadow on the background is Marettimo.
Obviously could not miss the lizard, everywhere full of them.
Favignana in all its glory. Right part is high and left barely visible over a sea.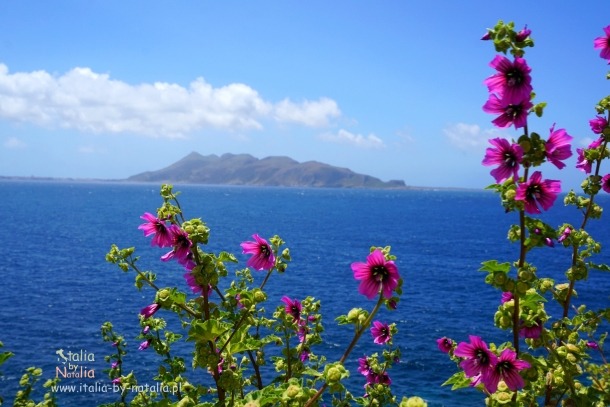 Sadly, I must admit, that at that moment I made a mistake turning back to town. So much I wanted to find Salvatore and sailed around Levanzo (the last hydrofoil back to Trapani was about 17) that I gave up a further walk to farglioni. It was a bad decision, as I found out after seeing pictures of the beautiful small beach littered with small stones. Next time for sure I get there.
Cala del Faraglione photo: wiaggiare.com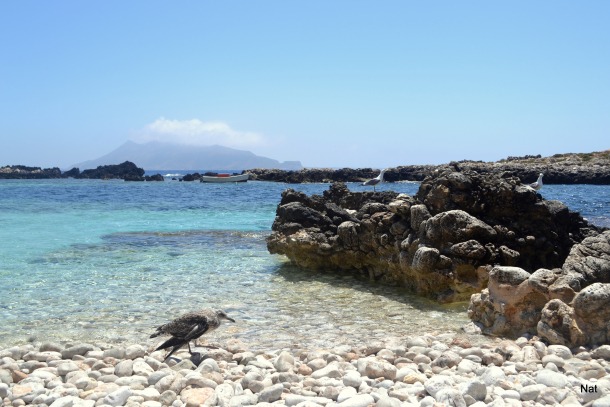 Cala del Faraglione photo: wiaggiare.com
I went back to town, I called again and again without any result, so I went to the harbor for ferries and hydrofoils hoping I can get some information at the ticket office Ustica Lines. Unfortunately. Polite lady directed me to port security, and even more polite gentlemen decided to call Salvatore, but he also call without any result. Resigned, I turned back toward the fishing harbor, stopping at the bar, from which the spreading of the wonderful aroma of coffee and fresh pastries. When ordering espresso and lemon granita I asked about Salvatore. No, he was not there. So I sat on the terrace suspended directly above the turquoise sea and enjoying the wonderful view I thought I could just spend the whole day. This incredible silence broken only by the sound of waves breaking on coastal rocks and squawking seagulls looking out for a meal in the crystal clear water was the music for my soul. What an incredible feeling! Like I'm in 25 minutes from boarding the hydrofoil in Trapani moved to another world. After a few minutes the bartender came up to me and says, you see this guy in a white cap, down there in the harbor? It's Salvatore!
errace in bar Romano and my espresso with a beautiful view.
Unfortunately, when I finally found him, my fisherman informed me, that the sea around the island is too rough for the boat trip. Suddenly, I have a lot of time, so I went for a walk in the opposite direction than before, towards Cala Minnola, with the intention of practicing dolce far niente on the beach. For those interested in tours organized by Salvatore I added below the scan of his offer.
Cemetery on Levanzo located east of town.
Cala Fredda
The way to Cala Fredda & Cala Minnola.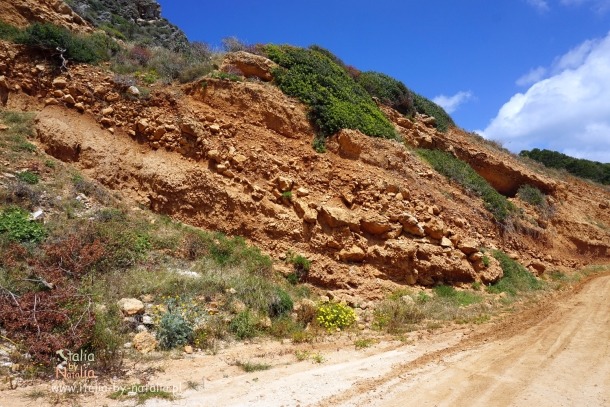 Cala Fredda. I found an empty beach, so instead of going to Cala Minnola I decided to stay here and enjoy the silence.
Here's a view that I admire for the next few hours glancing from time to time while reading the book. All this time I had the beach just for me.
An hour before the outflow I gathered my things and went a bit toward to the cove Cala Minnola admiring the beauty of Levanzo. This place is a haven for those seeking respite from the hustle and bustle of everyday life. In addition to the walks along the coast, sunbathing and boat trips around the island, you can also take a trip into the depths, to go up and enjoy even more beautiful views. I would recommend you Levanzo, I definitely will come back there!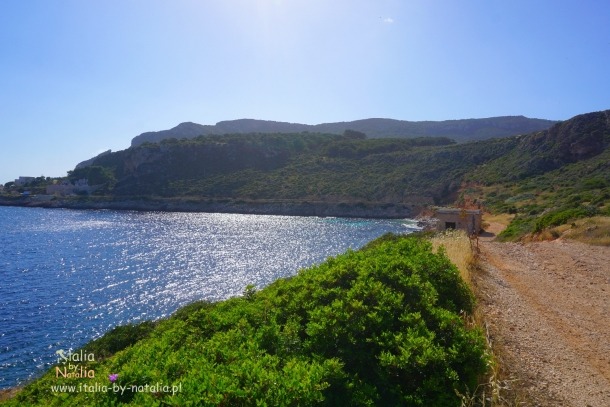 Here the road leaves the path for Cala Minnola. The trails are well marked.
Cala Minnola, in the distance you can see Sicily. Photo: panoramico.com
The last moments on Levanzo, hydrofoil is approaching.
Na koniec pamiątkowa fotka własnego wyrobu. Tym razem podróżowałam sama i nie było innego wyjścia. W trzydziestym trzecim roku życia zaczęłam robić sobie selfie, sama jeszcze w to nie wierzę 😉
At the end of my trip I shot souvenir – selfie. This time I traveled alone and there was no alternative. In the thirty-third year, I started doing a selfie, I still cann't believe it;)
Additional information::
Ticket for hydrofoil Trapani – Levanzo cost in May 2016 years of 8.60 euros each way (17.20 return), a cruise lasts 25 minutes;
Hydrofoils run around the year from the port at Via Ammiraglio Staiti in Trapani, but during the low-season (May is not the high-season) there are less frequencies than in summer;
Bar prices didn't differ from those in Trapani. For espresso and granita I paid a total of 3 Euro;
Website Salvatore Levanzo in Barca.
All new readers I invite to like my page Italia by Natalia on Facebook and follow me on Instagram. I'll also proud if you add a comment or you share this post with your friends.
Natalia
Post is the result of cooperation with the company Sposa Mediterranea, on the invitation of which we stayed for ten days on the Amalfi Coast and Cilento Coast in March 2016.
The copyright to the text belong to Italia by Natalia. Copy text or fragment, as well as rewriting with the change of the individual words in accordance with the blog regulations will result in law – financial consequence to the thief and also with stigmatization on the internet.