In the previous post I showed you Trapani, which, although I visited three times – until now I had a chance to get to know and feel. this time I'll tell you about three checked places where you can eat delicious and inexpensive. Excellent ice cream parlor, the original pizzeria and an amazing bar with fast food. What? I'll recommend fast food? In Sicily? Yes! How it's possible?
Gelateria Panna & Co

Passed it several times just passing by. Because modern decor, because somehow didn't speak to me, because there's nothing like a good, old ice-cream parlor with tradition. Finally I paid attention, that among many tourists inside are also locals, which always gives me the best recommendation of every kind of point of gastronomic. I went inside. Among many flavors of ice cream my attention immediately was attracted the beloved, invariably desirable and seen rarely – fragoline, wild strawberry (don't confuse with fragole – strawberry), as well as my new discovery – mandorle siciliane, or Sicilian almonds of which I'm a big amateur. Aditionally I chose the classic chocolate, or chocolate. Three spoons of goodies, two euros,  priceless experience, quoting the classic commercial (which I'm a big fun) – for everything else there's a MasterCard? …. um … well, not necessarily … cash only 😉 Simply delicious. I returned here several times.
Pizzeria Da Calvino

This place is hardly to call discovery, because about Da Calvino had read few times, pizzeria was recommended usually by Slawa z Jedziemy na Sycylię. I knew, that pizza made by Da Calvino is unusual, namely the dough is much thicker, than the traditional one, moreover, is always a lot of local people in here and it's difficult for a table. To Da Calvino, operating since since 1946, I went on a Friday night. It was already quite late, I went inside a few minutes after 21. It turned out, that the queue is waiting for a table, and the guy has a notebook with a recorded of all the names of queuing clients. Immediately, I remembered the beloved Naples and calling the numbers or queue names patiently awaiting for a table at the best pizzerias in the city. So, when I type on the list had plenty of time to study the menu on the wall and see the place, a kitchen, to which I was invited.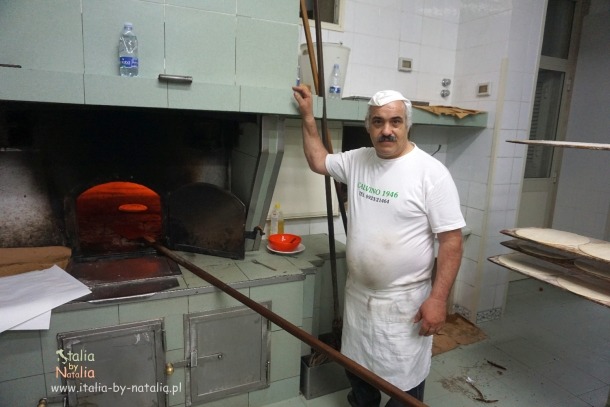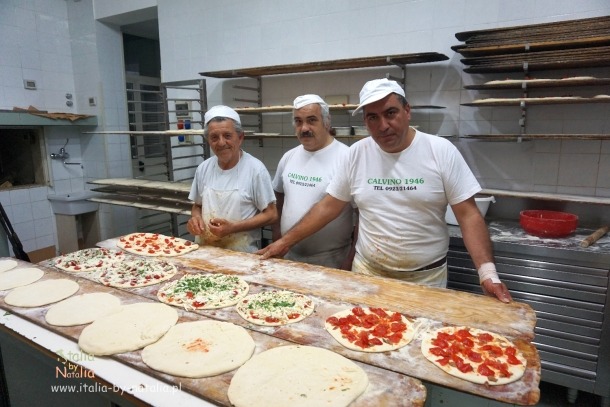 After more or less 30 minutes waiting I got a table. I chose a small pizza with eggplant and tomatoes. Taste surprised me. Thick and crispy crust turned out to be quite greasy, and this is due to watering it with olive oil before placing in the oven, which I had the opportunity to see the kitchen. My thoughts immediately went directly to Neapolitan pizza fritta, a pizza which is fried in a deep fat. Of course, these two pizzas have nothing in common, that pizza from Da Calvino – like fritta – sated me very fast and can't imagine eating larger portions. Now, when I recall that evening I come to the conclusion, that pizza crust from Da Calvino is more like a focaccia. One more think, for me, very positive. I got a pizza cut into small pieces, which make it easier to eat. Was it worth it? Definitely yes, and I recommend you visit Da Calvino even once. As for prices, here's my associations with Naples unfortunately come to an end. For my small pizza with coperto had to pay 8.50€, but the nice gentleman, at the till from 10€ gave me a wink 2€ rest (this time I traveled alone) 😉
Moja pizza z pomidorami i bakłażanem
La Tapas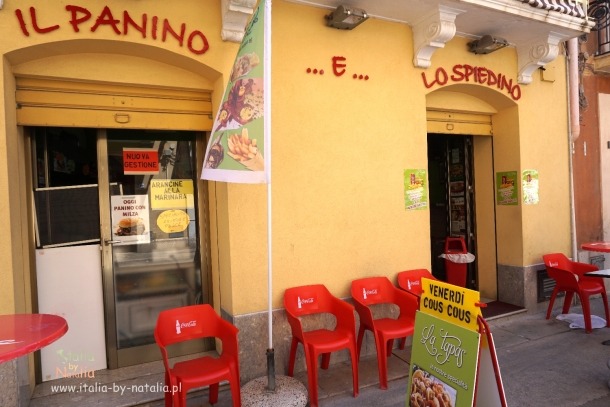 It's definitely my gastronomic discovery of this trip, at least in Trapani. Here's La Tapas, fast food based on seafood. Here, I have not met a single tourist, and I ate twice, with the second one I took a table/place on the day of my departure back home, after the arrival of Favignana, instead of being at the bus stop right on the harbor, I trudged laden with luggage in full sun passed half of the Old Town to eat just in here the last meal. And what we can eat inside? See for yourself.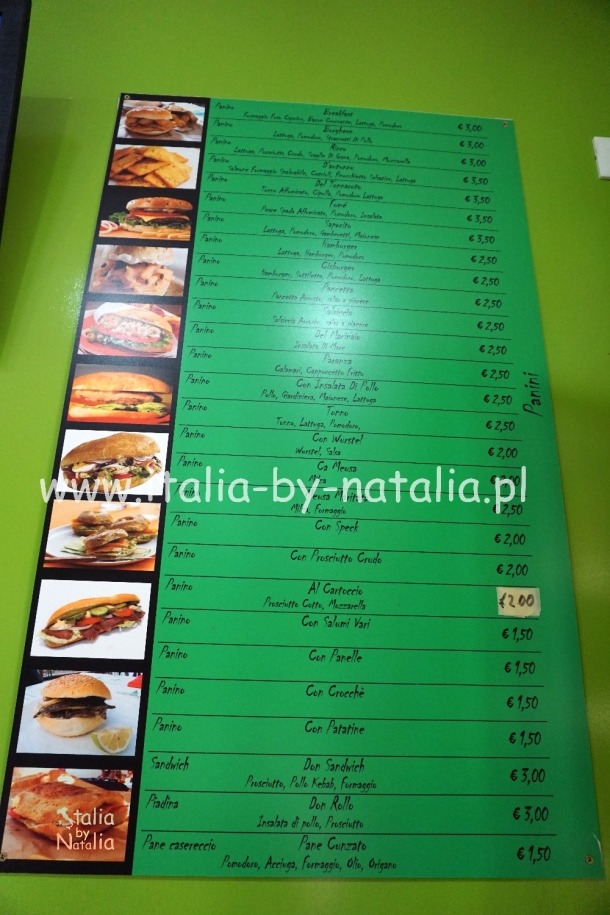 Fritti misto di mare, or a mix of fried seafood, here small version for 4 euros, composition: gamberi (shrimp), calamari (squid) and polpo (octopus). In Sicily it's a cheap and common dish;)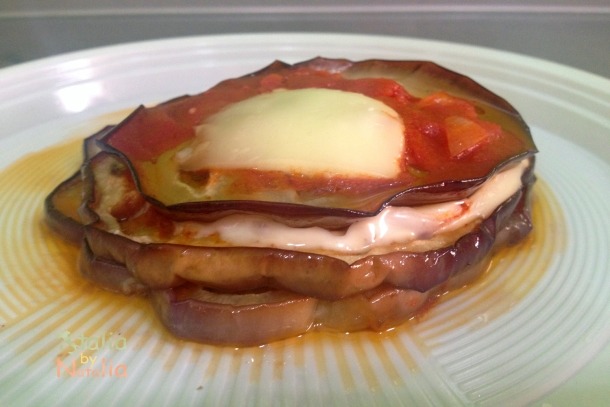 Eggplant baked with tomatoes and mozzarella cheese. Cost 2€, I paid only 1€, the connections 😉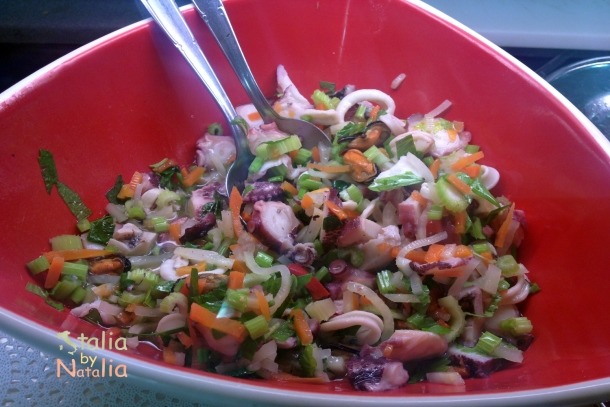 salad with calamari and octopus, didn't eat, but it looked insanely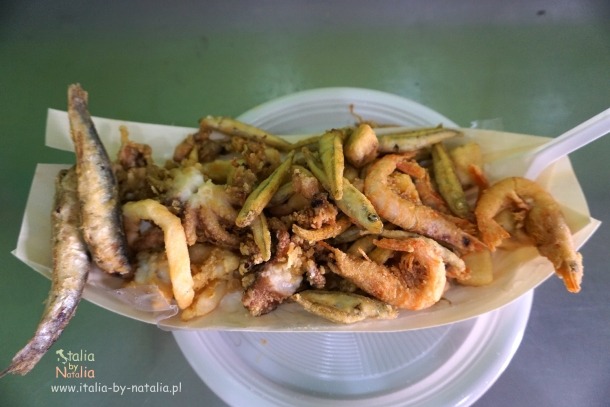 This is larger version of the fritti misto di mare, enriched by two types of small fishes, one is probably the anchovies, do not like, so I wasn't able to handle complete portion just left my uneaten fishes on a cardboard plate. The price of this course is 7€.
And finally this a curiosity. What is it?

Well, this is my next "discovery" of this trip, namely arancino without rice! This is the best example, that even an old Sicilian stager like me also can be taking in. "This is arancino al ragu, but you must still try the big one!" Uuu… this is an arancino uuu… a Big One, like an arancino XXL preparing by Bar Touring in Palermo. "But why costs the same as a small one?" "Because it's arancino, only without the rice, it's NEW IN MENU! Only 2€!" Well, why not, after all that's what I came for – to discovernew experiences, new goodies. So the guy packed this "miracle', and I went to the beach. Just imagine my surprise, when I bit it.  I bought a donut with meat – vegetable sauce : o
All new readers I invite to like my page Italia by Natalia on Facebook and follow me on Instagram. I'll also proud if you add a comment or you share this post with your friends.
Natalia
The copyright to the text belong to Italia by Natalia. Copy text or fragment, as well as rewriting with the change of the individual words in accordance with the blog regulations will result in law – financial consequence to the thief and also with stigmatization on the internet.