What to buy in Sicily? I wanted to write a post about this topic a few years ago, but somehow I always came to the conclusion that this is not the right time, it is worth waiting for the next and yet another journey. Today, after returning from the eleventh expedition to Sicily and doing very nice shopping during it, during which I discovered new possibilities to transfer a bit of the island to my own home, I will show you what I buy in Sicily, what I try and bring back home, including for gifts for loved ones. I also suggest what pregnant women should not eat in Sicily.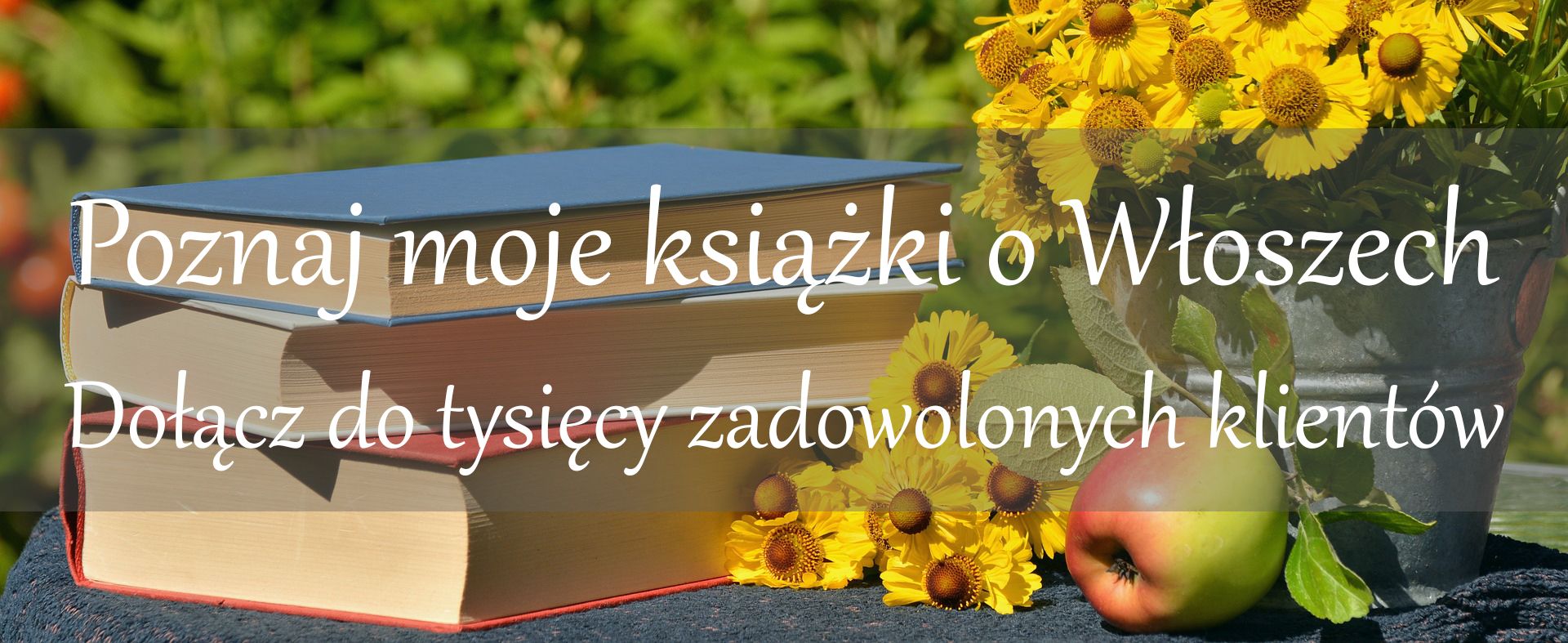 Where to look for what you want to buy in Sicily?
The basic rule – souvenir shops in popular tourist spots, try to avoid the wide arc. Well, unless you're on an organized trip, which only has such places in the program. However, if you travel on your own and decide for yourself what and when you visit, it's best to skip the tourist shops. Where to look and buy, then?
Network supermarkets and discount stores
In April 2019, I did great shopping in Lidl in Trapani and Carrefour in Palermo. Seriously. Although they are chain network stores, you can find a lot of local products and products in them, including very good wines from renowned producers. In Carrefour in the center of Palermo, I bought wines from Cantine Pellegrino in Marsala, as well as some decorative elements with Sicilian motifs (more later in the post). In Lidl, Trapani, on the other hand, I bought an excellent and cheap pistachio cream. Who of you does not know crema di pistachio? More on this too. In 2014, I bought several good quality local products in Auchan, Syracuse.
Ordinary small shops called alimentari
I like to visit alimentari, which is an ordinary small grocery store, where next to mineral water and pasta you will find toilet paper and washing powder. Such stores often offer products of small, local manufacturers, which you will not find in large network shops. Recently in alimentari I bought pasta, ready-made sauces in a jar and salami.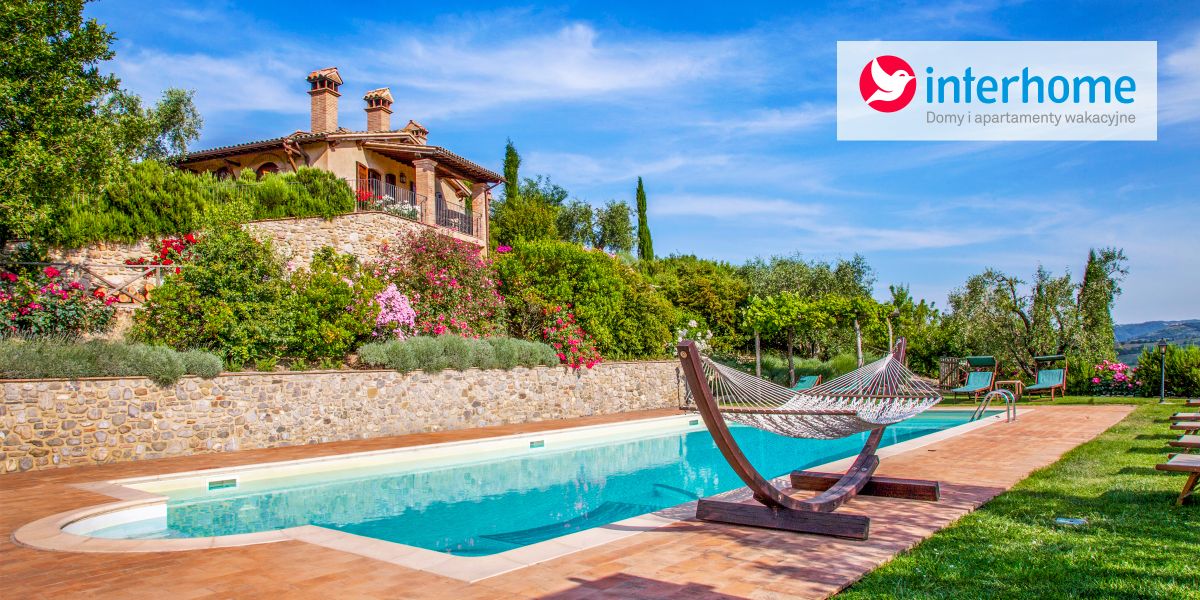 Markets and bazaars
What can you eat at the bazaar? For example, fish straight from the grill. Market in Syracuse
I love it! When I was seventeen and came to Sicily for the first time, mercato in Syracuse was the place where I firsttime encountered the culture of the Sicilian market. I also tasted granites there. It was sold by a guy from a three-wheeler, after prior preparation probably at home. At the market, I buy fish and seafood, cheese, dried fruit, and spices, but recently, for example, I bought cheap nice pants  and a beautiful piece of lemon cloth. I also saw used clothes – each piece for 1 euro – and they were not torn, washed rags. Markets and bazaars can be found in every major city. Some of them take place every day, some once a week. In smaller cities and towns, the market is organized once or twice a week. Just ask at the tourist information desk or at the first bar on the edge.
Vineyards and wine shops
Wine is best tasted and bought directly in the winery and this rule applies to every region of Italy. Wine shops are not all worth visiting because of the prices. It is better to look for small stores in non-touristic places, instead of buying a bottle of liquor at Corso Umberto in Taormina, which is probably the most expensive address in Sicily. I also recommend supermarkets, as I mentioned above, but there, before you choose wine based on an attractive-looking bottle and label, it is worth at least to find out what opinions the vineyard from which this drink originates.
What to buy in Sicily and try on-site?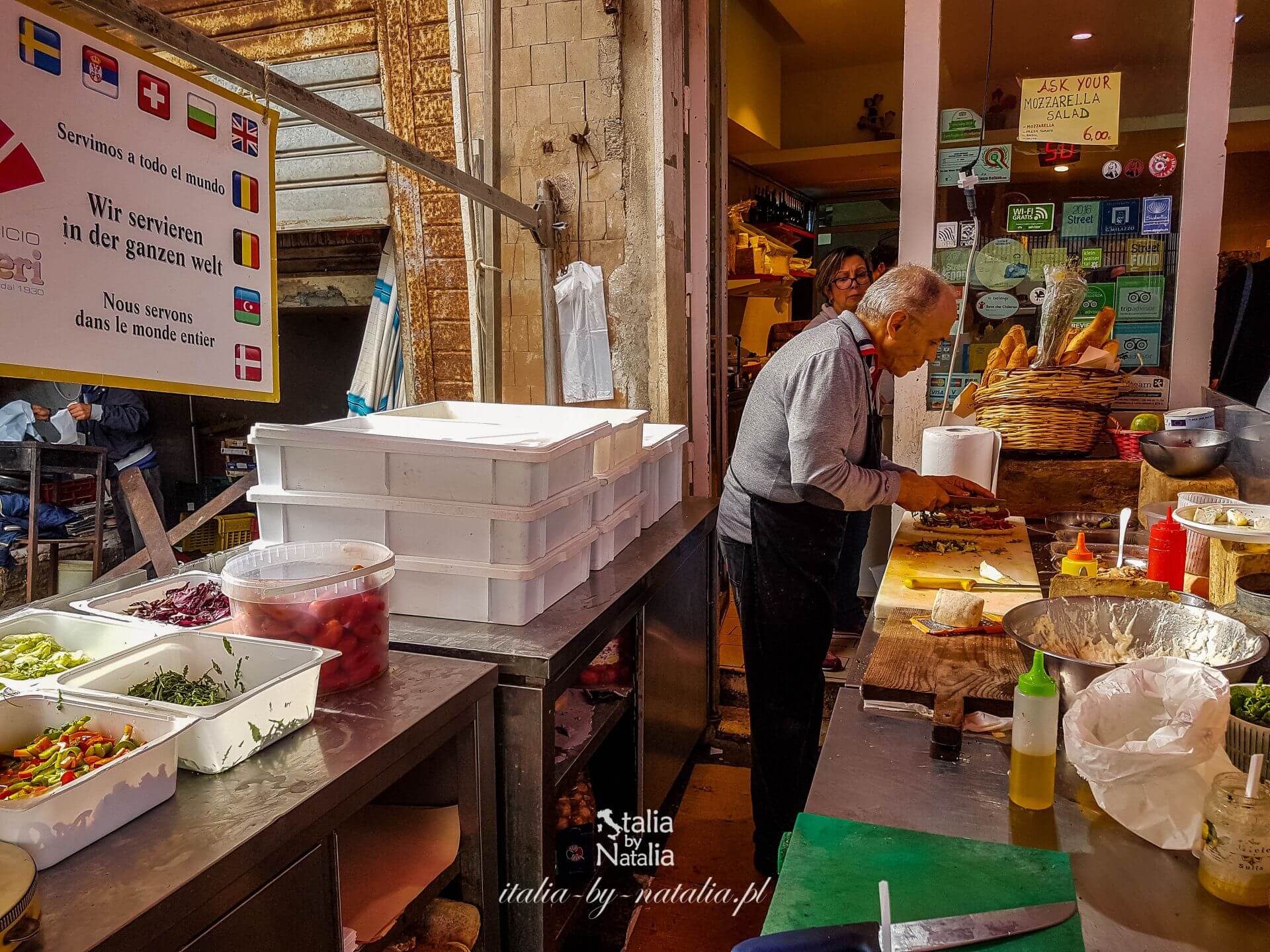 The guy at the Syracuse market makes sandwiches. With what? With what he wants, if he has it in his store!
In this part of the post, I will show you dishes and products that you must try while your stay in Sicily because they are an important element of local cuisine. At the same time, most of them cannot be – or it would be very difficult – to bring to Country, and even if you brought it, only to eat immediately.
Cornetto with ricotta and cornetto with pistachio cream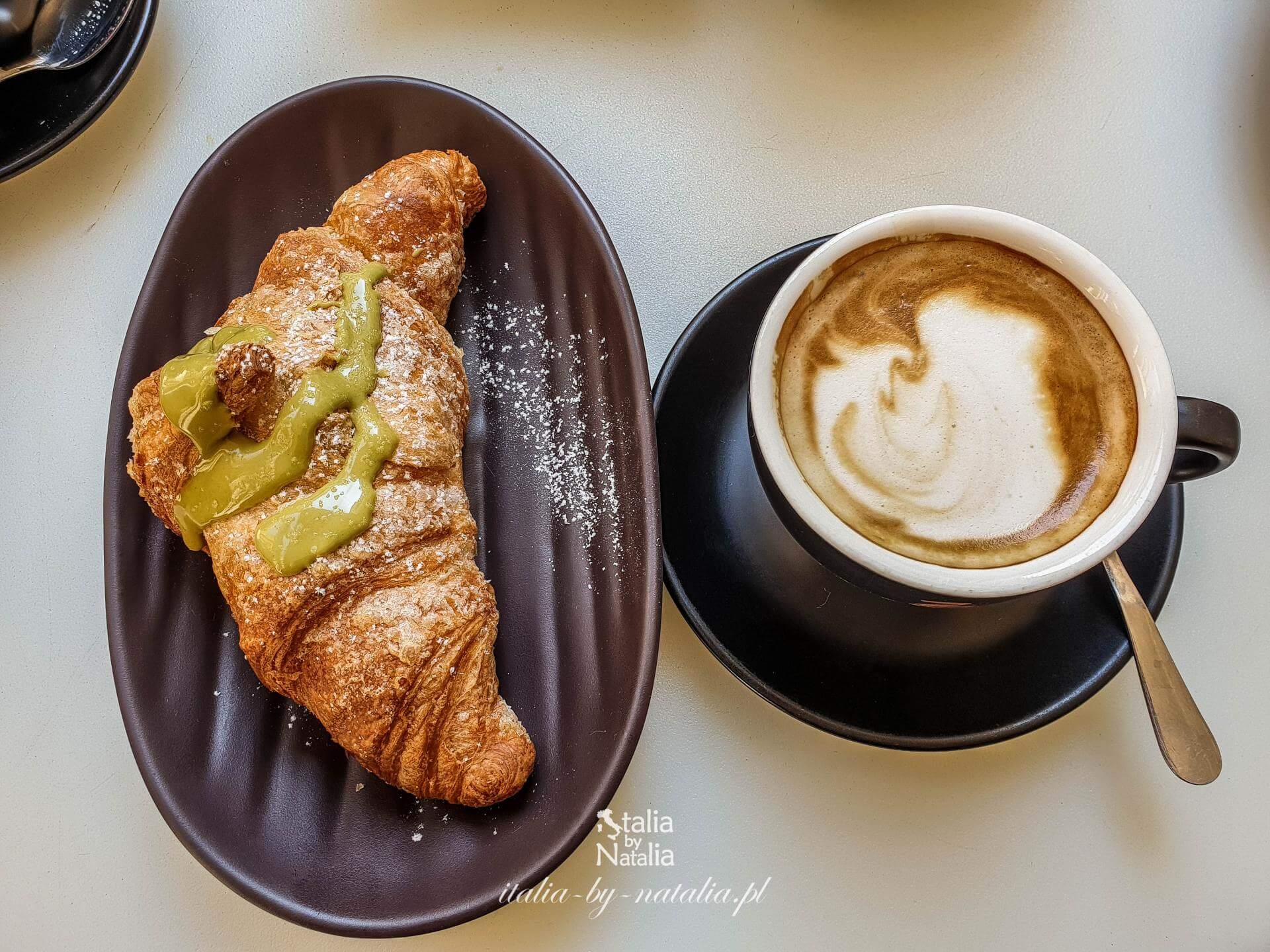 Cornetto con crema di pistacchio & cappuccino, which is a very Sicilian breakfast
A fresh, fragrant croissant with inside filling, often straight from the oven, here in the south of Italy called cornetto. It is stuffed with chocolate, marmalade, cream, but in Sicily ruled cornetto con ricotta (stuffed with ricotta cheese) and cornetto con crema di pistacchio (with pistachio cream). Always sweet, it's the basis of a Sicilian breakfast, right after the coffee.
Fishes and seafood
The real richness of Sicilian cuisine is fresh fish and seafood. Here they are relatively cheap because they are caught and collected daily. At fairs and fish shops you can buy and then prepare such delicacies as shrimps, swordfish, tuna, mussels. But don't even think about buying shells and transporting them to your country. I used to have such an idea, but I quickly realized that it was very stupid. I ignore the transport conditions and bad smell for traveling companions, because the most important reason is more serious. Why this is a terrible idea will find out in the last part of the post. Note! Seafood is eaten in cities located by the sea, possibly a few to several kilometers from the coast. Deep inside the island you won't find them on the restaurant's menu, and if so, it's worth thinking about the chances that they arrived that day from the coast. Special refrigerated cars come to towns far from the sea on a market day, from which locals buy fish and seafood. There are no commercial towns in the interior of the island in Sicily, so it is unlikely that frozen fish and crustaceans for tourists will be offered. However, with such a solution to customer expectations I met, for example, on Lake Garda.
Fresh (and ordinary) seafood pasta
Fresh busiate pasta with shrimps and pistachio pesto. You can only eat such miracles in Trapani and the surrounding area
Pasta fresca, which is fresh pasta made on the spot. If you notice something like this on the menu, this is the first signal that you probably have come to a good restayrant or pub. However, not only fresh pasta tastes great with seafood, but the key is to prepare the sauce and crustaceans. Pasta (common spaghetti) alle cozze (with mussels), vongole (mussels), allo scoglio (with a shellfish crustacean), sometimes also called Frutti di mare. One of the ingredients used to prepare the dish is white wine.
Frittura mista (fritto misto) di pesce e frutti di mare – a mix of breaded and fried seafood and small fishes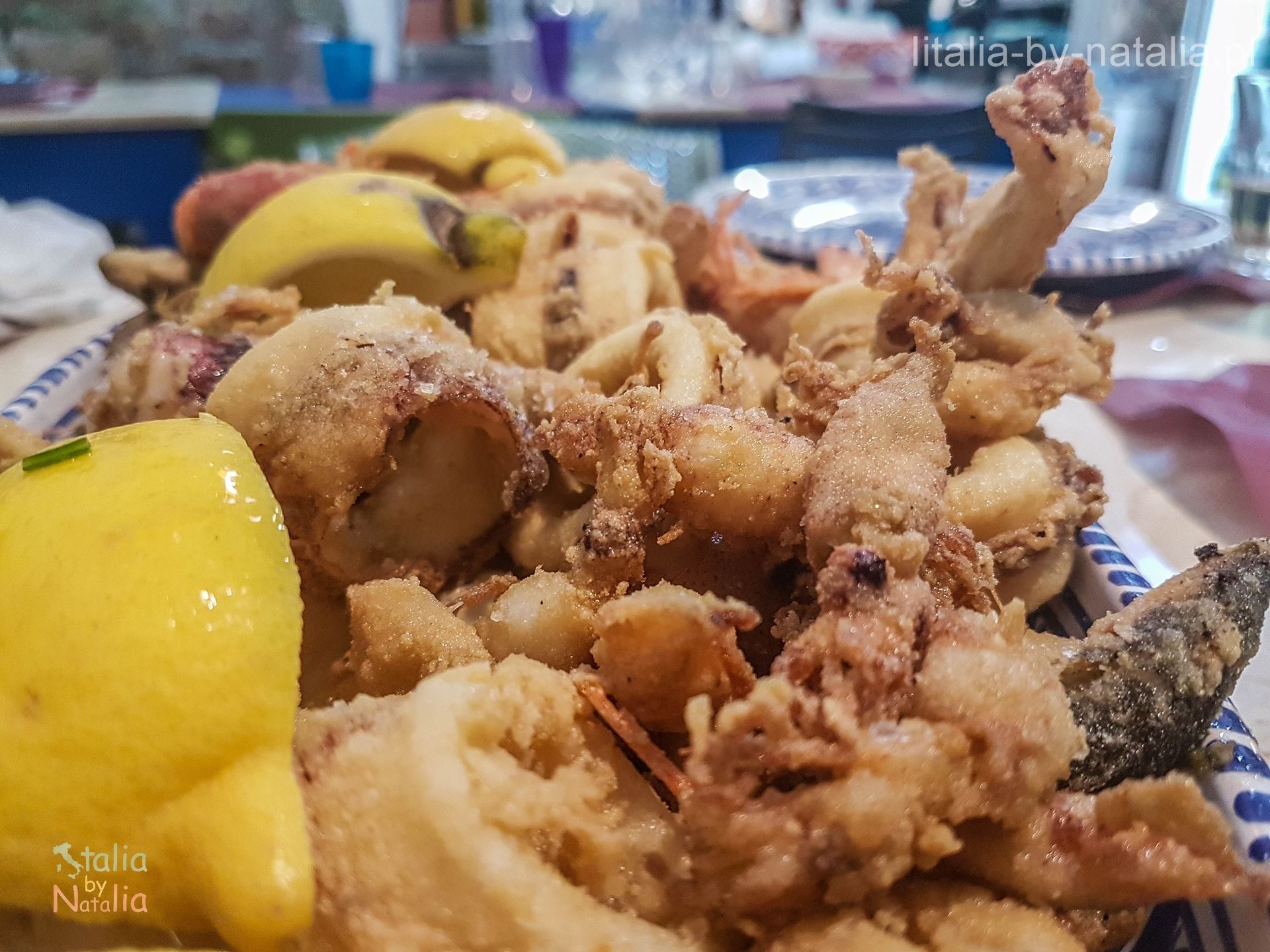 The composition of the mix varies depending on the place that serves it, but the basic version consists of calmari (calamari), moscardini (octopus) or / and cappuccetti (a type of small squid) and gamberi (large shrimp) or gamberetti (small shrimp). Often in the composition of frittura mista you can also find small fish (usual sardines) served whole. They are coated in breadcrumbs and then deep-fried. Served on a plate with a piece of lemon and believe me, they taste better if you sprinkle it with juice. Yummy! This is a very filling dish. And now pay attention. In most places (and in every fish one) you can find simply fritto misto or frittura mista on the menu and it means a dish similar to what you see in the picture. But there are also pubs (not typically fish ones) in which fritto misto may contain French fries and panelle (chickpea fritters). Therefore, if you are unsure, it's better to ask. Frutti di mare is of course seafood, while the word pesce [pronounced "peshe"] means fish.
Pasta alla norma
Pasta with norma sauce, a typical Sicilian dish. The sauce consists mainly of passata pomodoro (tomato sauce) and melanzana (eggplant). Of course, you can prepare this dish at home, but while staying in Sicily it is worth trying the original one. In the picture busiate alla norma.
Caponata
Caponata in fish and vegetable versions are another traditional Sicilian cuisine that can be recreated at home, but you should try the original in Sicily. The best caponata I have eaten so far has been prepared for me by Antonio Tony Savoca from Palermo – a guy who the local cuisine has no secrets for.
Tony Savoca in his place, where you mainly buy take-out, but you can also eat on-site at one of two tables
If anyone was interested, you can try his dishes not only in the pub, to which I gave the link but also at dinners organized in the Polish-Sicilian house. I provide a contact in the paragraph about shopping in the bazaar.
Panelle – Chickpea fritters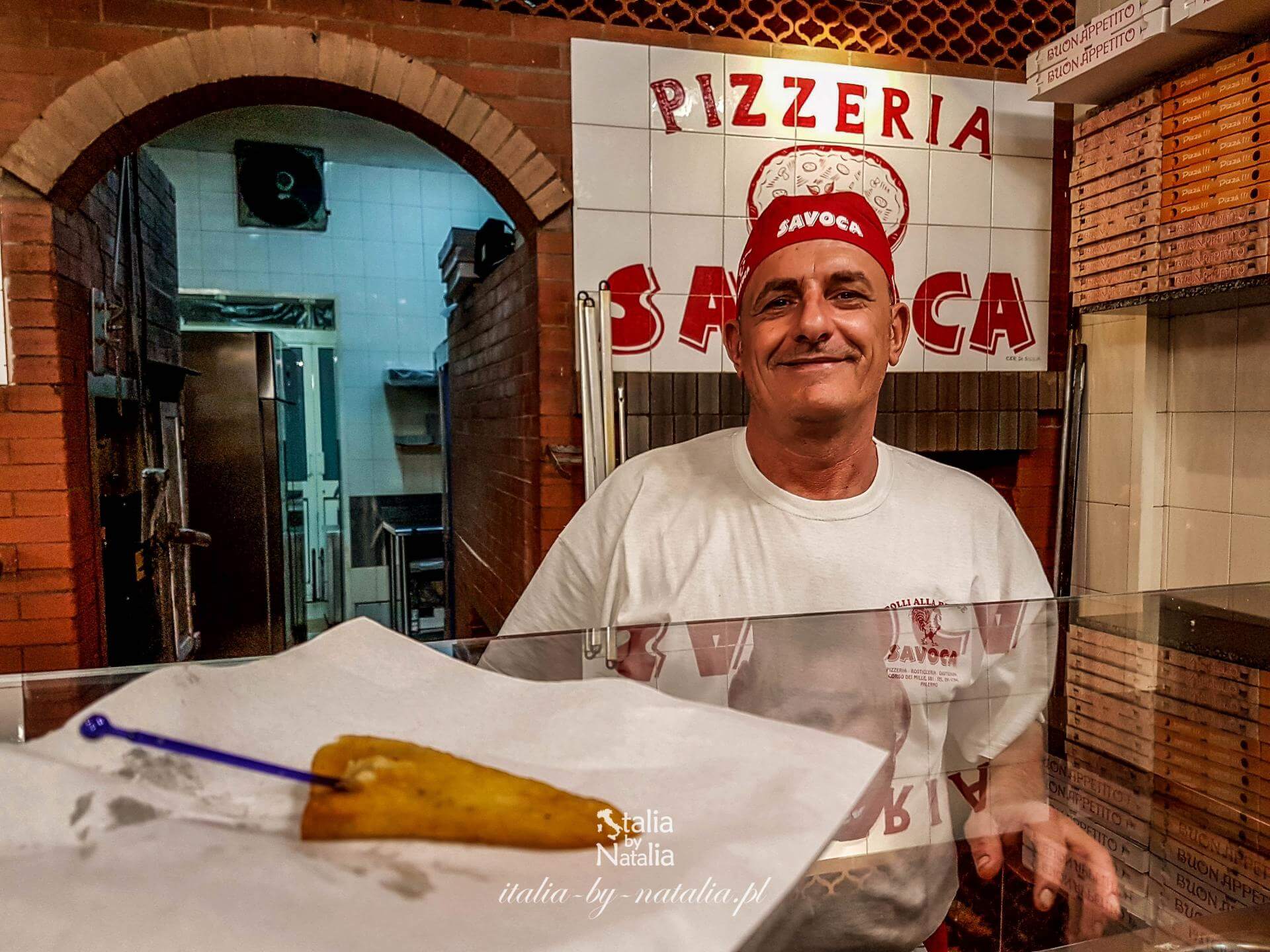 Small chickpea pies fried in oil, sometimes served in a sesame bun, sometimes in an aluminum tray. Yummy! Very filling.
Unusual pizza from Trapani
Thick dough drizzled with olive oil, slightly fatter and more filling than in the traditional version, as well as a selection of different combinations of toppings. Here's a pizza from Trapani in the west of Sicily, you can find more about it in the post "Where to eat in Trapani?"
Fresh Tuna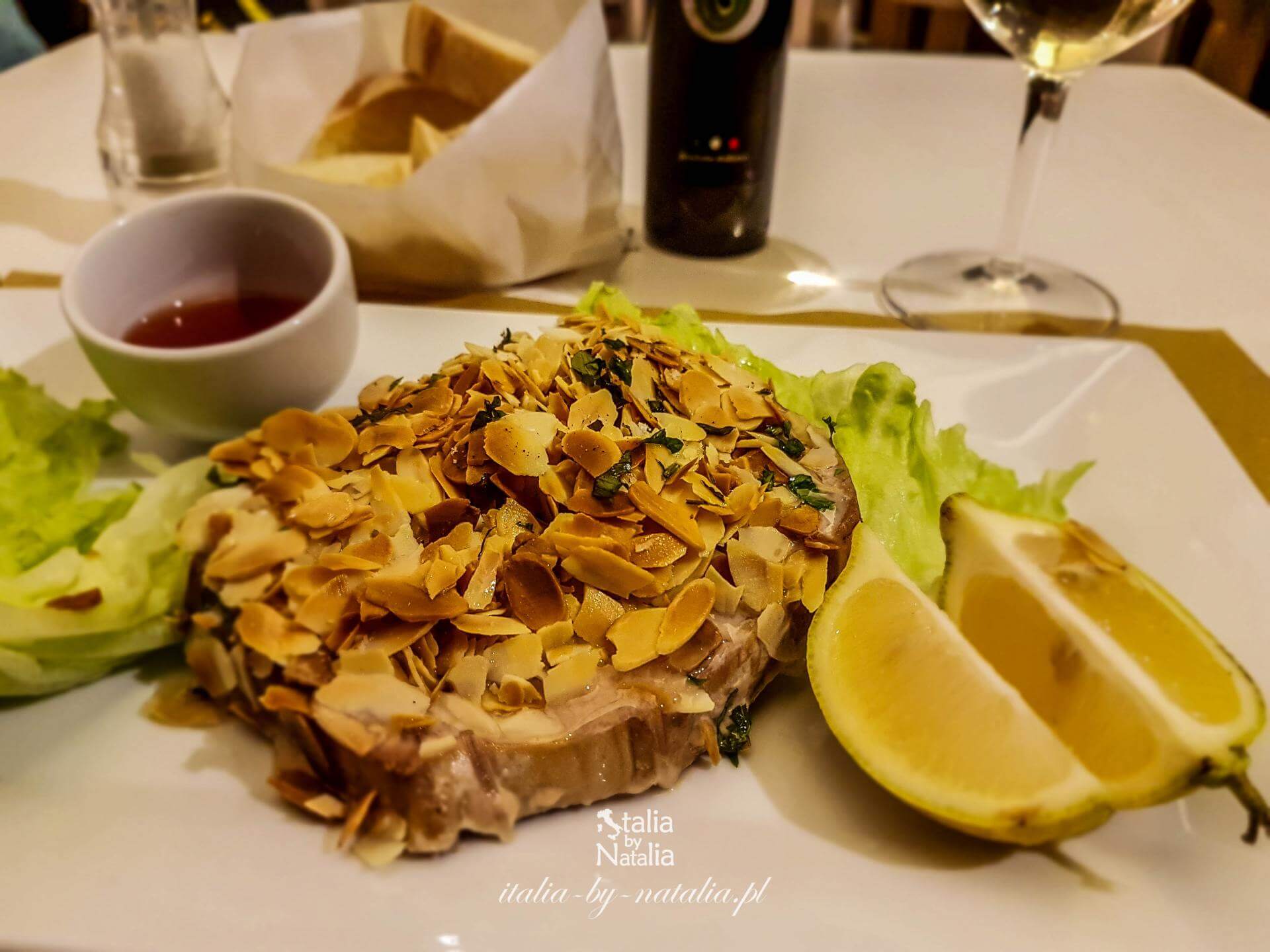 Grilled tonno rosso (red tuna) steak sprinkled with almonds
The culture and history of Sicily are strongly associated with tuna fishing and processing. Being on the island you can not taste the exquisite meat of this fish, valued for centuries. Fresh tuna is available in spring (May and June) because then this huge fish comes to spawn on the waters around Sicily. In what form is tuna served in restaurants? Usually, these are grilled steaks, sometimes only with olive oil, sometimes with toppings like the one in the picture. I also ate tuna sausage and tuna marinated with onions. Tuna is easiest to find in typical fish restaurants and trattorias.
Arancini rice balls
A cult snack of Sicilian cuisine, very tasty and full. Rice balls coated in breadcrumbs and deep-fried. The rice is first cooked, then the filling is placed inside (usually a meat and vegetable ragu sauce). Arancini come in many filling variants, versions with spinach, ham, and mozzarella are popular. The cost is about 2 – 2.5 euros.
Pane con la milza and Sicilian street food
The iconic dish of the Palermian street, which can also be found even in Catania. Milza is a mixture of sheep's lungs and spleen, first cooked, then fried. Not everyone will like it, for example, I tried and could not eat, the smell rejected me. More about pane con la milza, which is colloquially a roll with the spleen, can be found in the post about street food in Palermo. Noteg! For about two years, this event has not been taking place with the momentum as I described in the post based on the experience of 2014. Most of the stalls that decomposed there functioned illegally. For two years, the Palermo authorities have been fighting the gray economy in gastronomy, which in turn is associated with frequent checks by the financial police. Today it is difficult to find street food in the Vucciria district in the form I described. On the one hand, it was good that it was decided to make an order because of the owners of premises operating officially suffered losses. On the other hand, it's a shame that a nice piece of city history is dying.
Cookies and confectionery in Sicilian pasticceria
Sicilians are not lacking in fantasy, and in confectionery, they are simply masters. I honestly admit that I do not like everything, but visually almost every product encourages me to taste it. See for yourself a short video in which I showed the contents of a store fridge in a bakery in Trapani. And what do you have to try?
Cannoli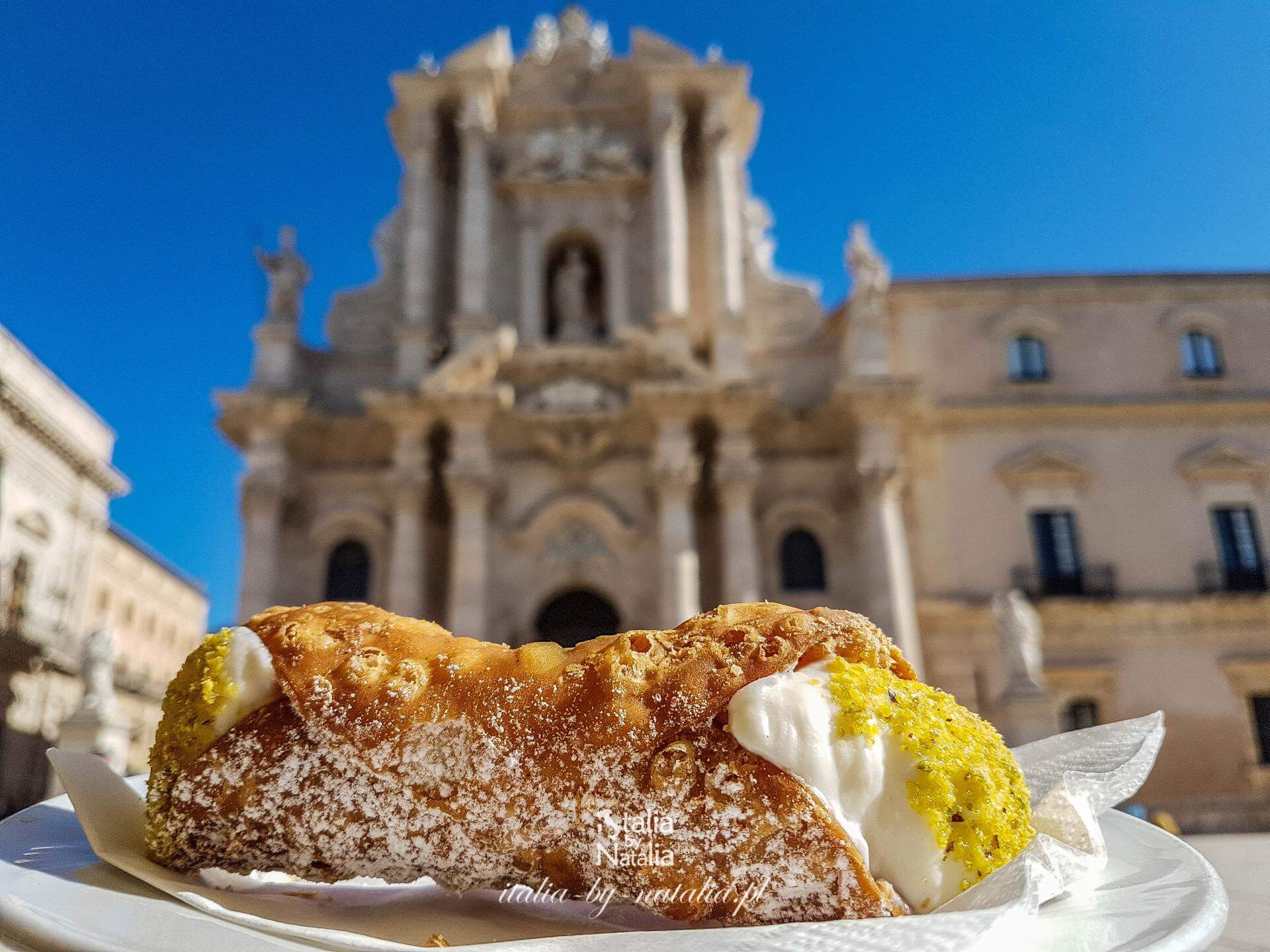 Cannoli are iconic sweets that are the confectionery symbol of Sicily. The brittle tube usually filled with cream based on ricotta cheese, sometimes interchangeably with pistachio cream, is a delight for the palate. I wrote more about cannoli in the last part of the post, where I explain what to look for in order not to get poisoned and how to distinguish fresh filling from the old one.
Granita
Cold and delicious granita is the best possible solutions for a snack on a hot day. In Sicily, granita is eaten for breakfast in summer, followed by a sweet roll called brioche. What flavors of granites can you find? In Sicily, you have to try almond granite first of all, but it's hard to find a good one. I ate the best granita di mandorla in Syracuse, very good also near Catania, but generally south-eastern Sicily, which is the part of the island where the most almond trees are grown. What's next? My husband loves strawberry (fragola) and mulberry (gelsi), available only in the season. In addition to almond, I often choose pistachio, if it is available. The most popular granite is lemon (limone), and my latest discovery is mandarin (mandarino), peach (pesca) and raspberry (lampone). Where are such miracles? In Bam Bar in Taormina, where – attention – the owner will list you available flavors in Polish, and Zbigniew Boniek himself taught him our language.
Coffee and crema di caffe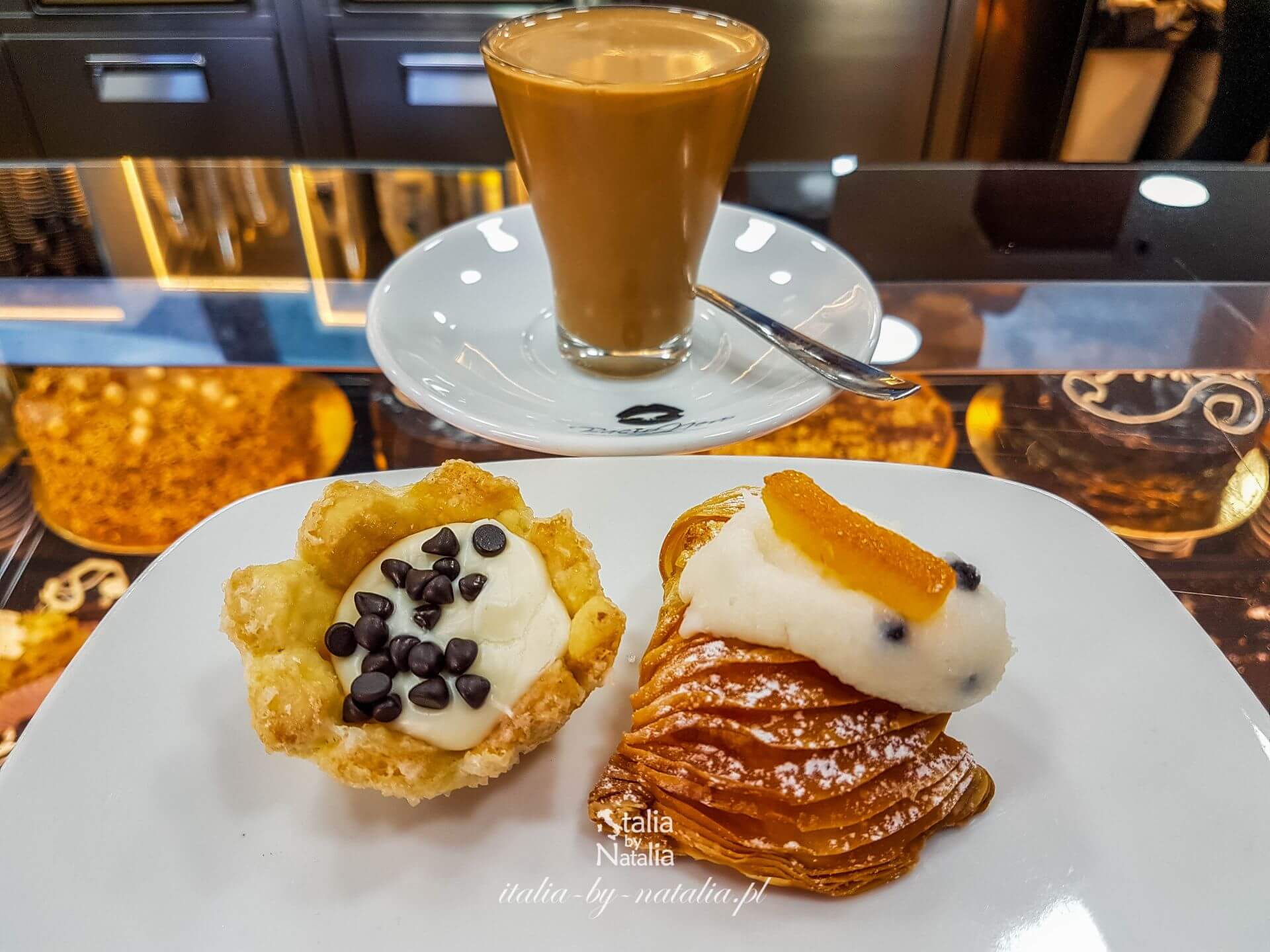 Coffee does not require a recommendation, certainly, every lover of black brew does not need encouragement. For novice lovers of Italy, I will only add that there is a difference in price between coffee standing at the bar and coffee ordered at the table, where is added so-called coperto, i.e. the service fee. What about crema di caffe? A coffee cream containing an espresso is available in the summer, but this issue is interpreted loosely in Sicily (like almost anything else). And so crema di caffe enjoyed my palate at the end of November and mid-April. In Trentino, on the other hand, I asked for cream on the first day of the autumn calendar and the guy had eaten: "we already have autumn, madam!" Nevertheless, in January you probably won't find crema di caffe, even in Sicily. And how to make this delicious dessert yourself at home? Below is a recipe straight from Sicily.
Crema di caffe (cremino di caffe) – krem kawowy idealny na upał. Oryginalny przepis z Włoch
Ice creams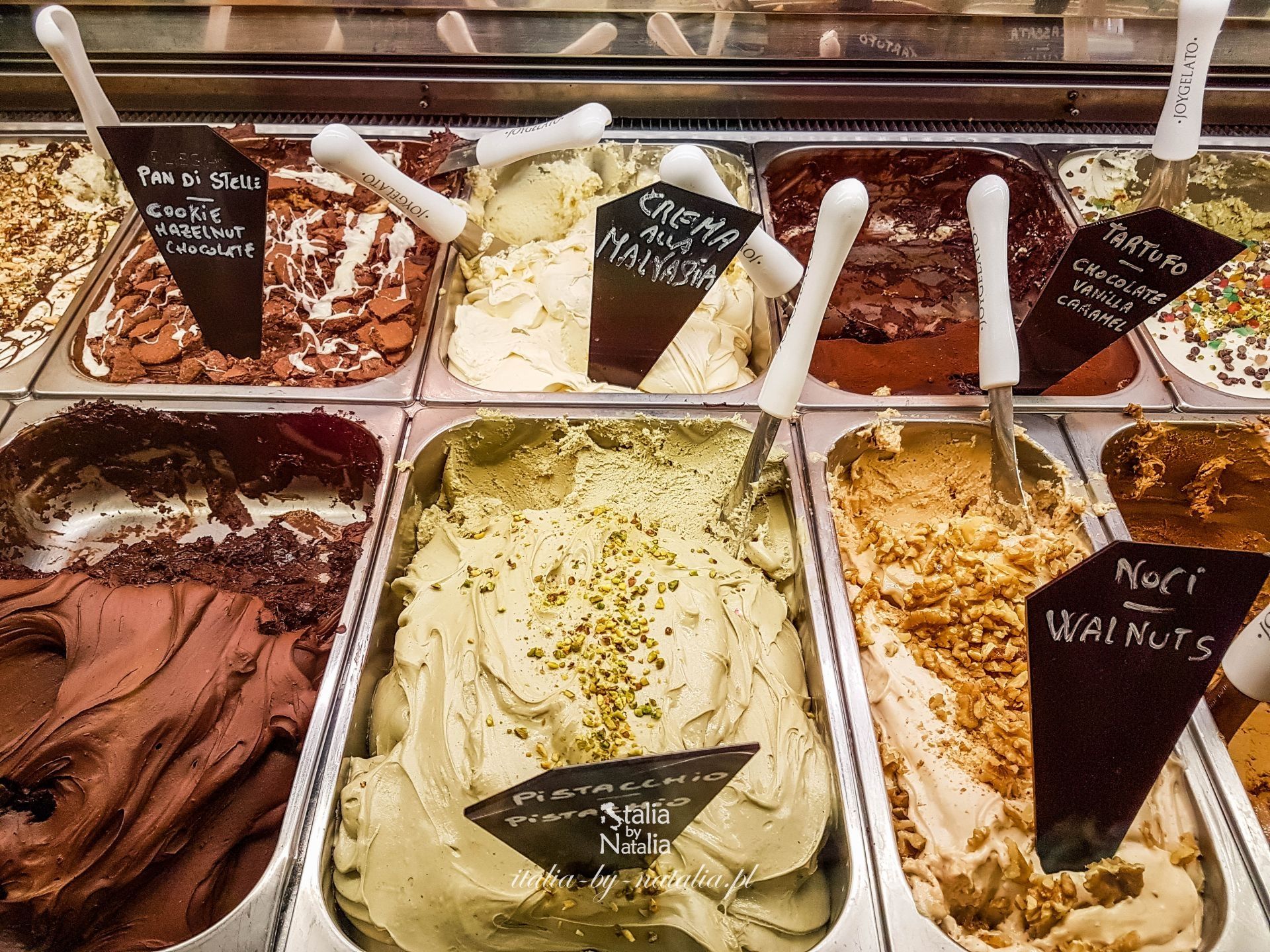 Do you need any comment here? Probably only one and only for people who are going to the south of Italy for the first time. Spoon instead of the knobs, more on this topic in the post about how some Italians cheat tourists.
What to buy in Sicily and bring back home?
It will depend a lot on what part of Sicily you will be in. Although it is one region, several parts can be distinguished, where some products and cuisine specialties are only available locally.
Chocolate from the city of Modica
Click on a post about the city of Modica.
Busiate pasta from Trapani
Busiate is a local pasta from the province of Trapani, I showed you above dishes using this paste. Of course, you can also buy a busiate in pre-packaged form and take it home. We distinguish among others classic and long busiate (lunga). And while on the subject of Trapani, have you read my post about the #TravelTrapani action? If not, I strongly encourage you, the project started less than a week ago, and the response is already considerable, day by day.
Pomóżmy Trapani, które umiera. Poznajcie szczegóły akcji #TravelTrapani
Pistachio pesto, pistachio cream and pistachios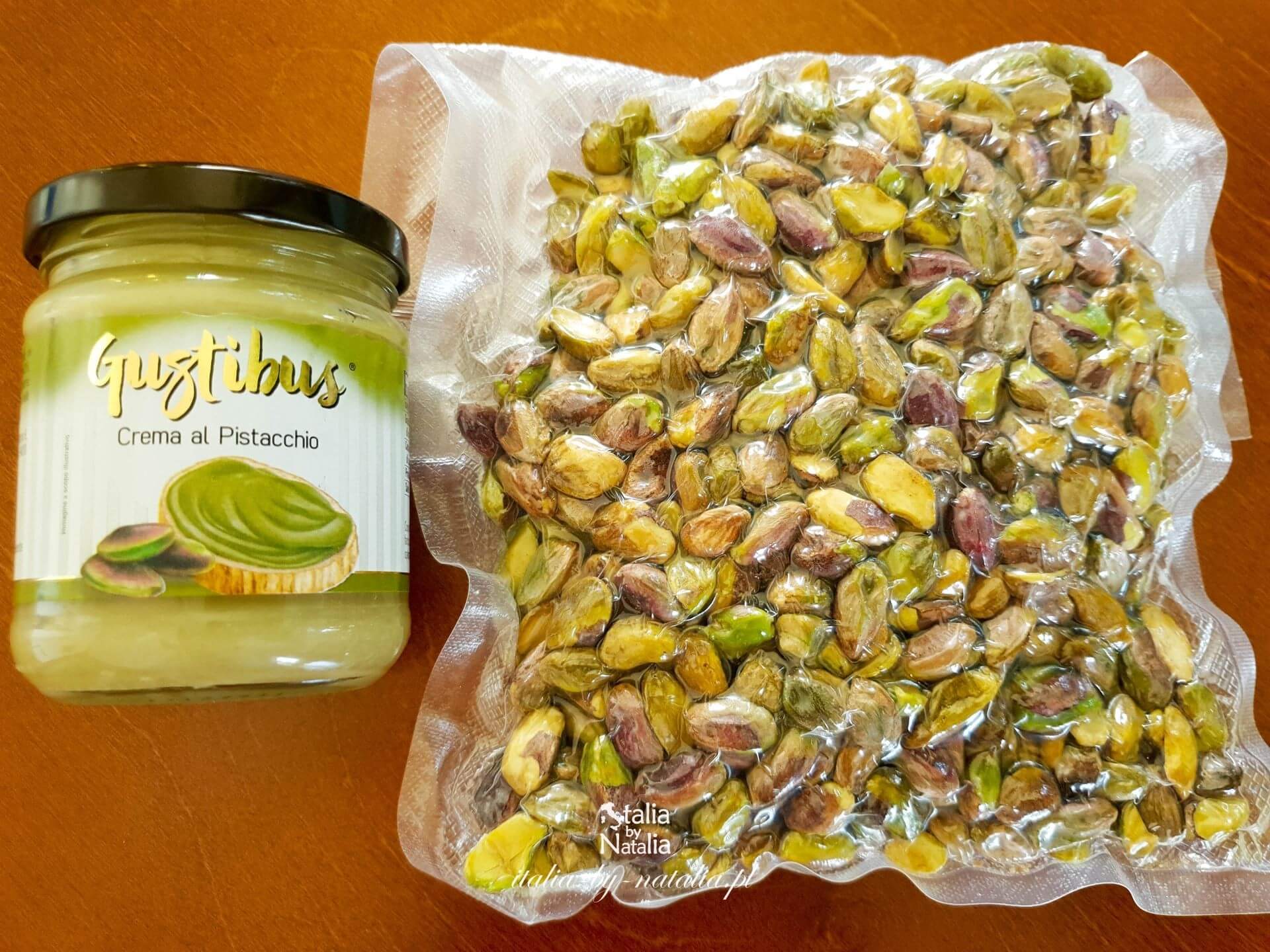 Yes, this is the Lidl pistachio cream I wrote about at the beginning of the post. Next to some 40 dag pistachios bought and vacuum-packed at a market in Palermo. The cost of such pistachios in the bazaar is 30 euros/kg. Why is it worth to buy pistachios in Sicily, especially the most famous – from the town of Bronte? Bronte pistachios are considered one of the best in the world. Fertile volcanic soil and proximity to the sea, and therefore sea air, create a unique microclimate for growing pistachios in and around Bronte. If you are in Catania, Bronte is a short drive (route around Etna), you can also get there in the summer season by the Circumetnea train.
Already prepared pasta sauces
Alla norma dressing sauce, as well as many other good quality sauces, can be bought and brought back home.
Salt from Marsala
Between Trapani and Marsala, there are salines – places of natural salt extraction by evaporation of seawater. Such salt is very healthy, and at the same time cheap to buy. Of course, it is not sold straight from the heap, but previously cleaned and packaged, or the highest class – for di sale – packed in jars.
Olives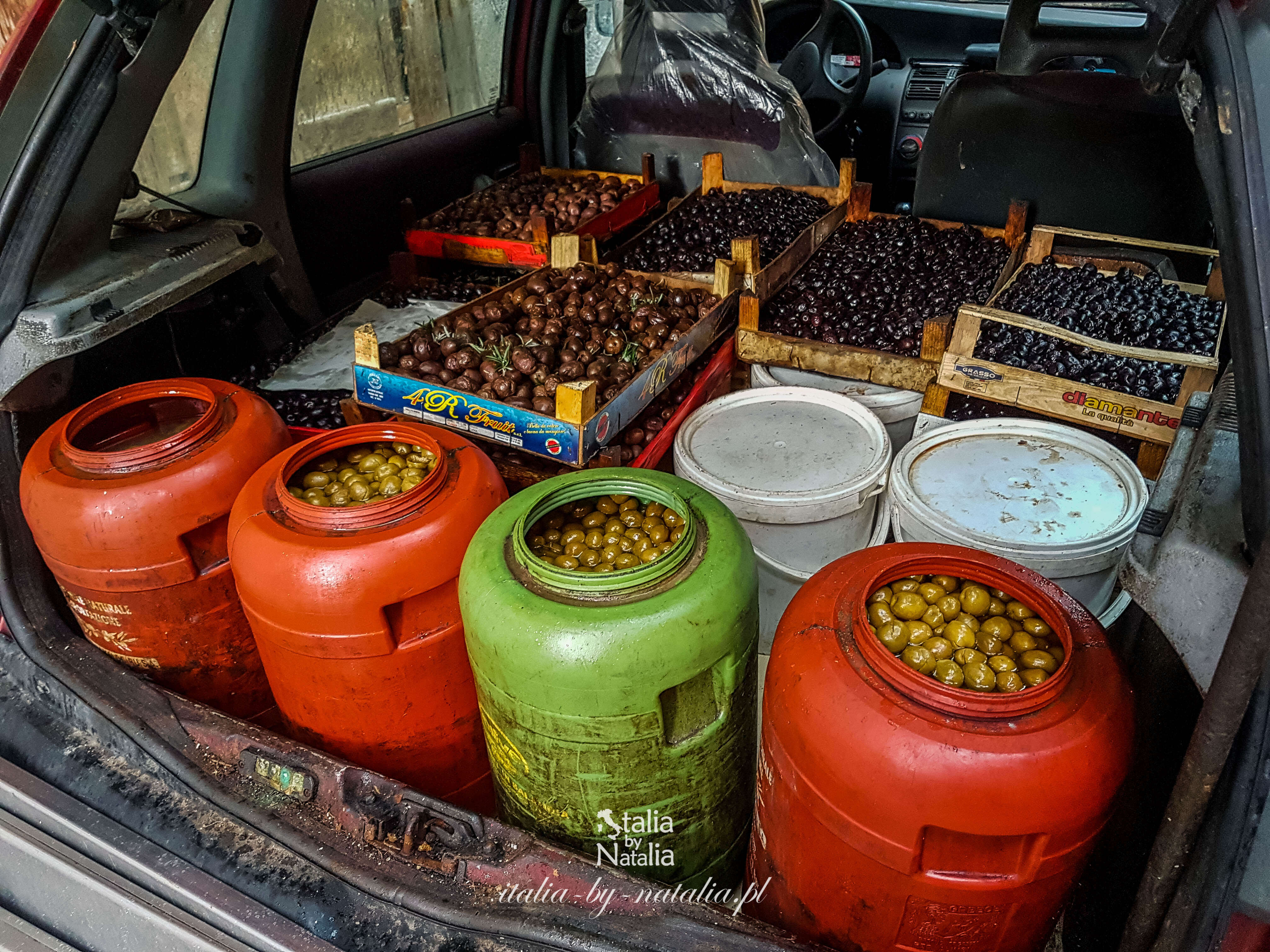 Olives are a product that is worth trying being on the spot and bringing back home. Different varieties of olives are available in bazaars, often with toppings and spices. Ask for packing for travel, even sellers at the stalls have the right vacuum packaging machine. I have not encountered an additional fee.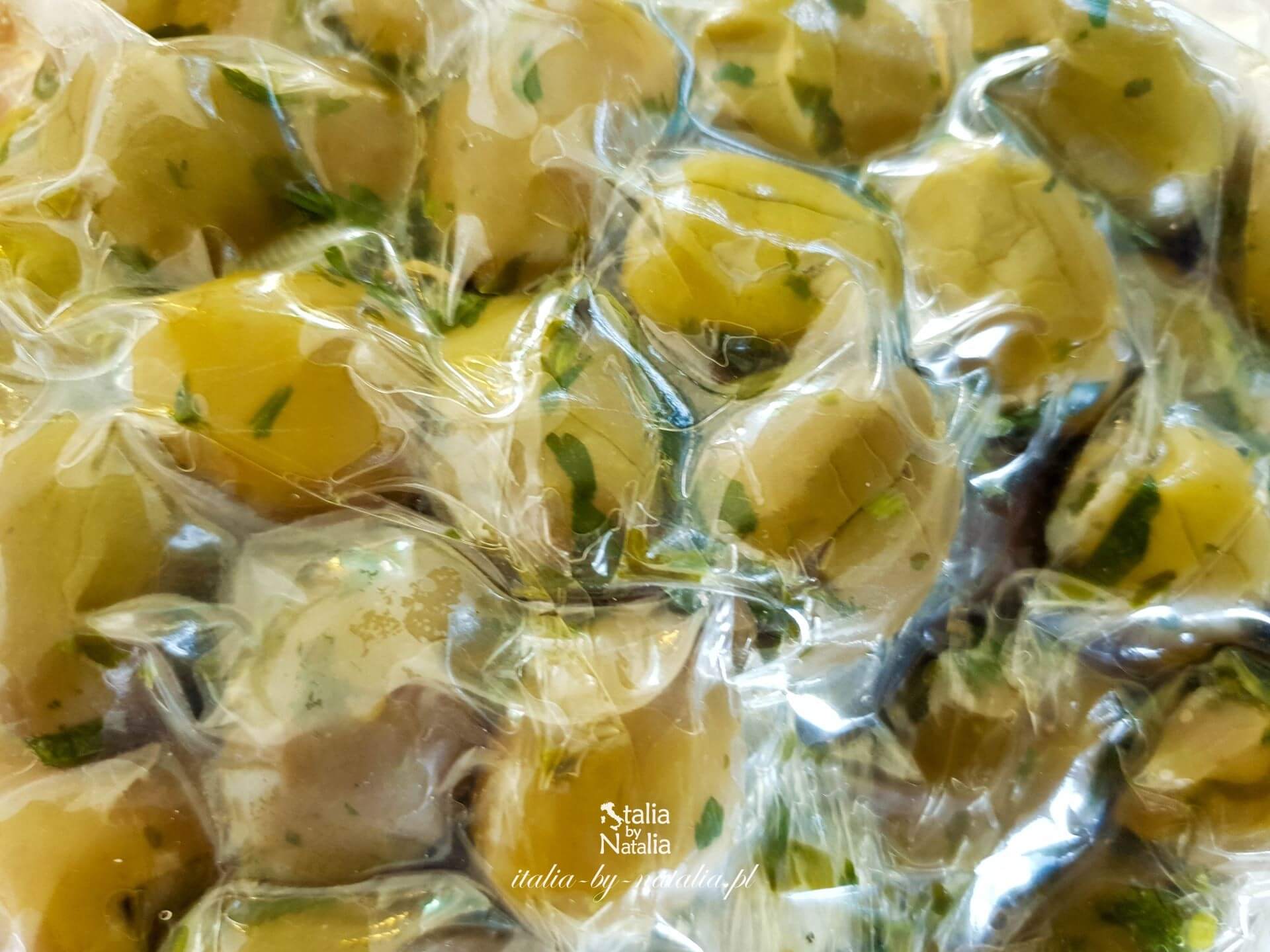 Olives bought at the market and packed on the road there at no extra charge
Local cheese and cold cuts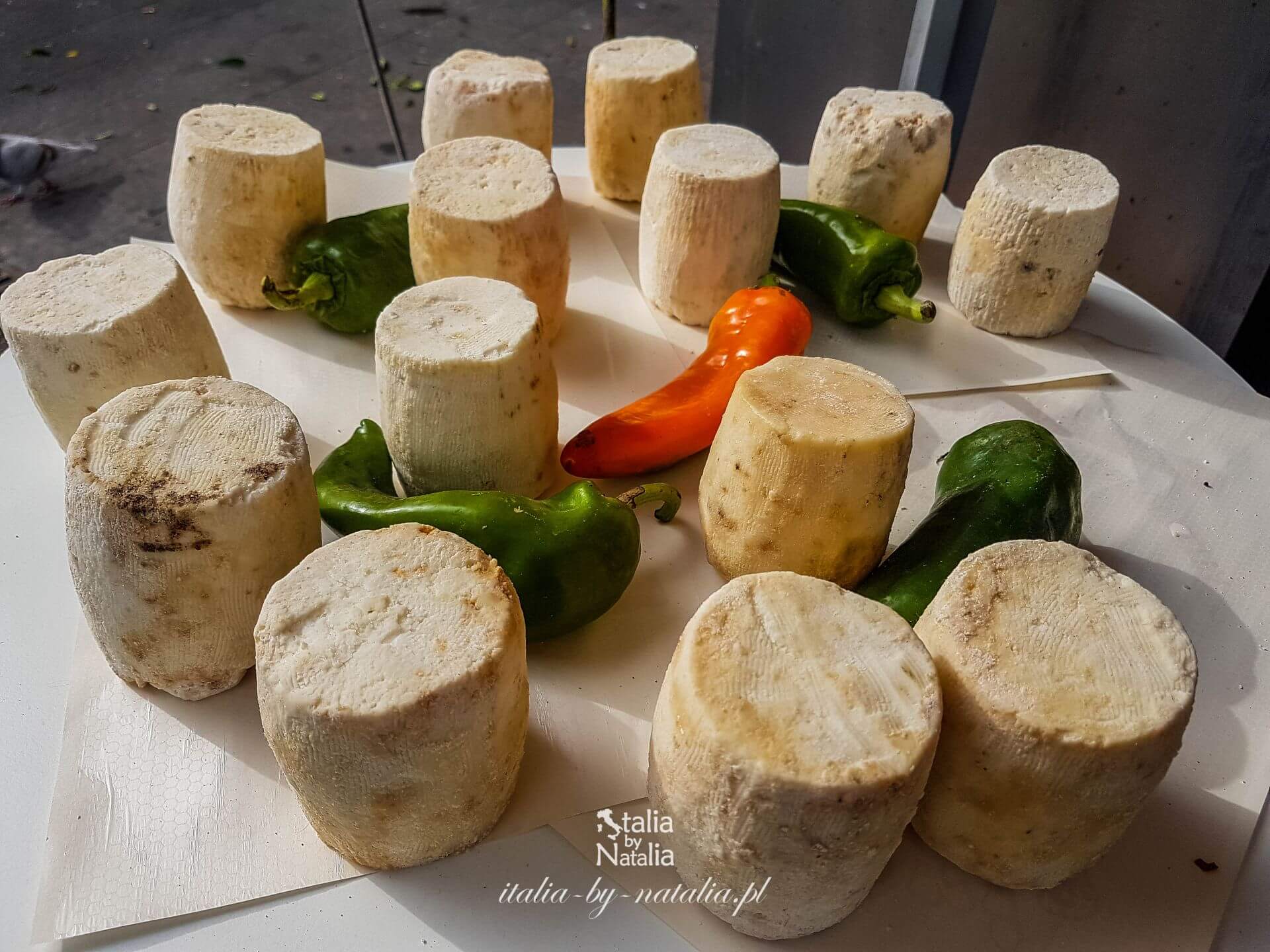 I don't know if anyone has ever undertaken to count the number of species and types of cheese produced in Italy. Immensity and, as usual, each region has its local products. You could write a book about cheese varieties, so skipping this topic I will add as a curiosity that in Sicily some cheeses are eaten – attention – with honey and jams, for example, recently I had cheese with tangerine jam, which had a bitter-sweet taste! Try the cheese, in Sicilian bazaars, the sellers will cut a piece and press it in their hand to encourage you to buy. Just get interested, sometimes ask, but it's not a problem for them.
Home decoration accessories
Kto zgadnie, cóż to jest? Wygląda jak ręcznie malowana porcelana, prawda? To są – Kochani – podkładki pod talerze, 1,5 euro za sztukę, kupione w Carrefourze w Palermo. Takie cudo do domu przywiozłam z ostatniej podróży, ale nie jest to wcale moja najlepsza zdobycz tego wyjazdu.
Who will guess what it is? It looks like hand-painted porcelain, right? These are – plate pads, 1.5 euros per item, bought at Carrefour in Palermo. I brought such a miracle home from my last trip, but it is not my best hunt of this trip.
Sicilian almonds
I have mentioned many times about the Sicilian almonds and I always (if I find) buy and bring them home. In my family it is a great gift, my mother and sister love almonds from Sicily, it have higher quality than almonds from the USA available in Poland, and those bought from a bag at the bazaar are not preserved. Natural, roasted, peeled or sugar-glazed almonds are available. Price of Sicilian almonds at the market? From 10 to 15 euros per kg. Note! Almonds available in stores in Sicily are often imported, for example from California, which is the same as what you can buy in Poland. Now a word about the season. Almonds ripen in full summer and then the season begins for them. In spring and winter, it is difficult to find them in bazaars.
Spices, dried pepper, dried tomatoes
Spices, but why I write about tomatoes? Well, who whoever tastes a tomato which grow in the sun of southern Italy, from a market stall and not from a supermarket, will understand it. In Sicily, Calabria, Apulia or the Basilicata, tomatoes are dried in the sun and then used in the kitchen. That would probably be enough for me to encourage you, but there is something else. Tomatoes from Pachino IGP, i.e. exceptionally sweet and very valued cocktail tomatoes from the town of Pachino and its immediate surroundings. You can buy them dried in bazaars, among others in Syracuse.
Olive oil
In Sicily – as most Italian regions – excellent olive oil is produced. The only problem is transporting more, but there will always be room in a suitcase for one or two bottles. Well, when planning shopping in Sicily it is worth coming with a suitcase, which will be half empty for goodies.
Citruses in the winter
Capo market in Palermo, the second half of December. Do you see this box of tangerines just picked from the tree, still having leaves? I took the volume of two such boxes by a plane home in hand luggage, straight to the X-Mass table. Who has not sniffed citrus freshly ripped from the tree, does not know how they can smell. Such market items that ripen only after breaking up is a completely different story. And the price? from 0.5 to 1.0 euros per kg. At the airport, no one was surprised, probably security control employees have already seen everything. If you are in the second half of November, December, January or February in Sicily or other regions of southern Italy, then you can buy such fresh citruses and take home. In Sicily, you can also buy the famous red oranges.
Wine, liqueurs, limoncello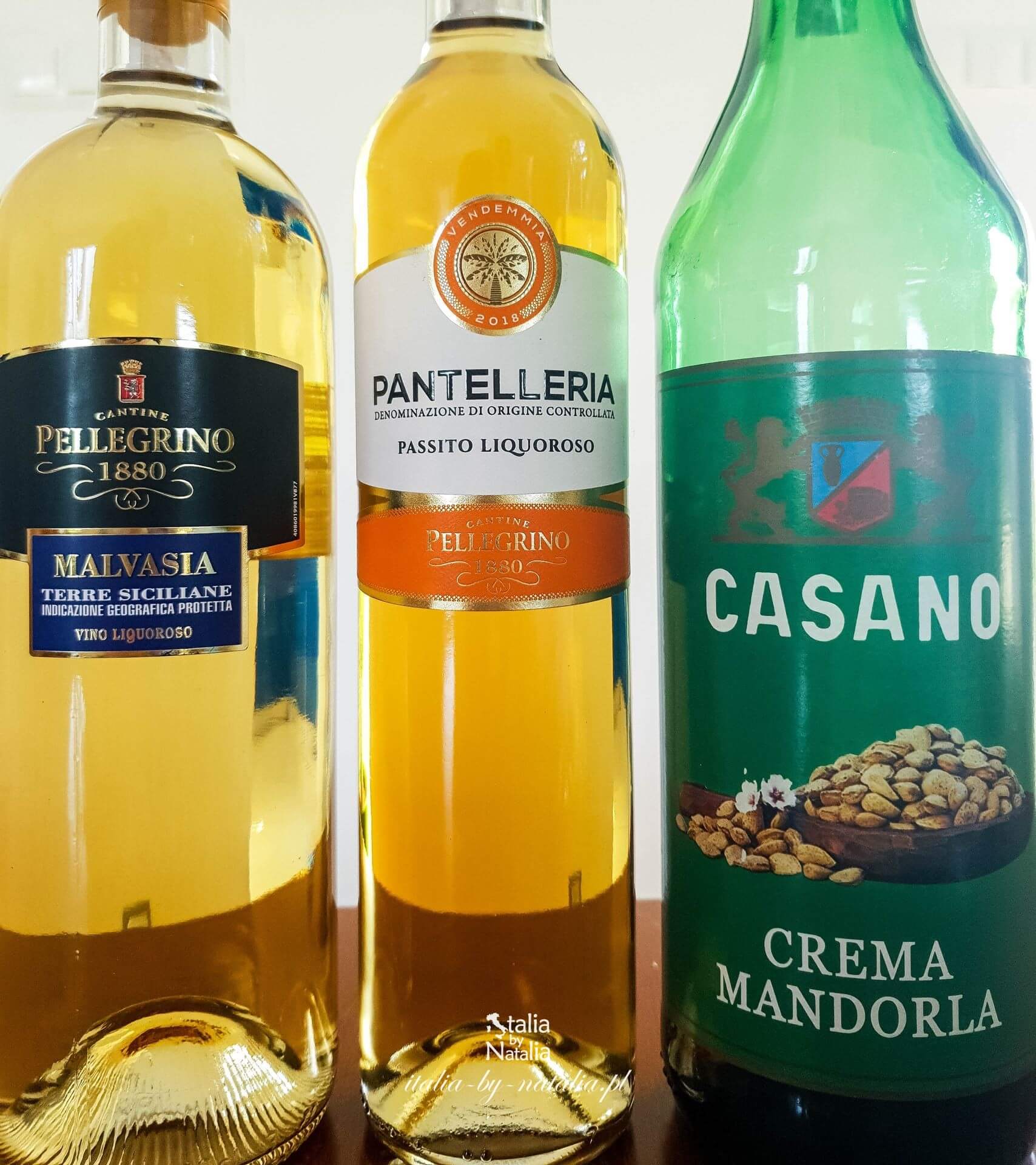 Wines and alcohols is a very broad subject. In general, in Sicily, it is worth paying attention to:
Nero d'Avola;
Marsala wines, both red and white;
Zibibbo;
Grillo from the province of Trapani;
Almond wine found in various parts of the island, including Castelmola near Taormina or in Trapani – click the store map.
But you can also find good wines from various parts of the Sicily region in supermarkets. I have recently bought Cantine Pellegrino products from Marsala recently bought in Carrefour in Palermo. Almond wine is from Trapani.
Clothes in bazaars
Inexpensive, new togs, trousers, and blouses or cheap, used clothes. Your preferences, but certainly there is no shortage of choice. This dress from the photo on the left had a tag and it cost 30 euros, the skirt on the right was available for 1 euro, just like the whole pile under it. Next to it lay a green scarf with brown cows, so if you like such an unusual atmosphere, you will feel like in paradise. The bazaars outside the historic center of Palermo are spread each day in a different district. Tourists do not reach here, for example, the famous Ballaro, where some sellers have already ventured the business and apply two price lists.
Material for tablecloth or curtains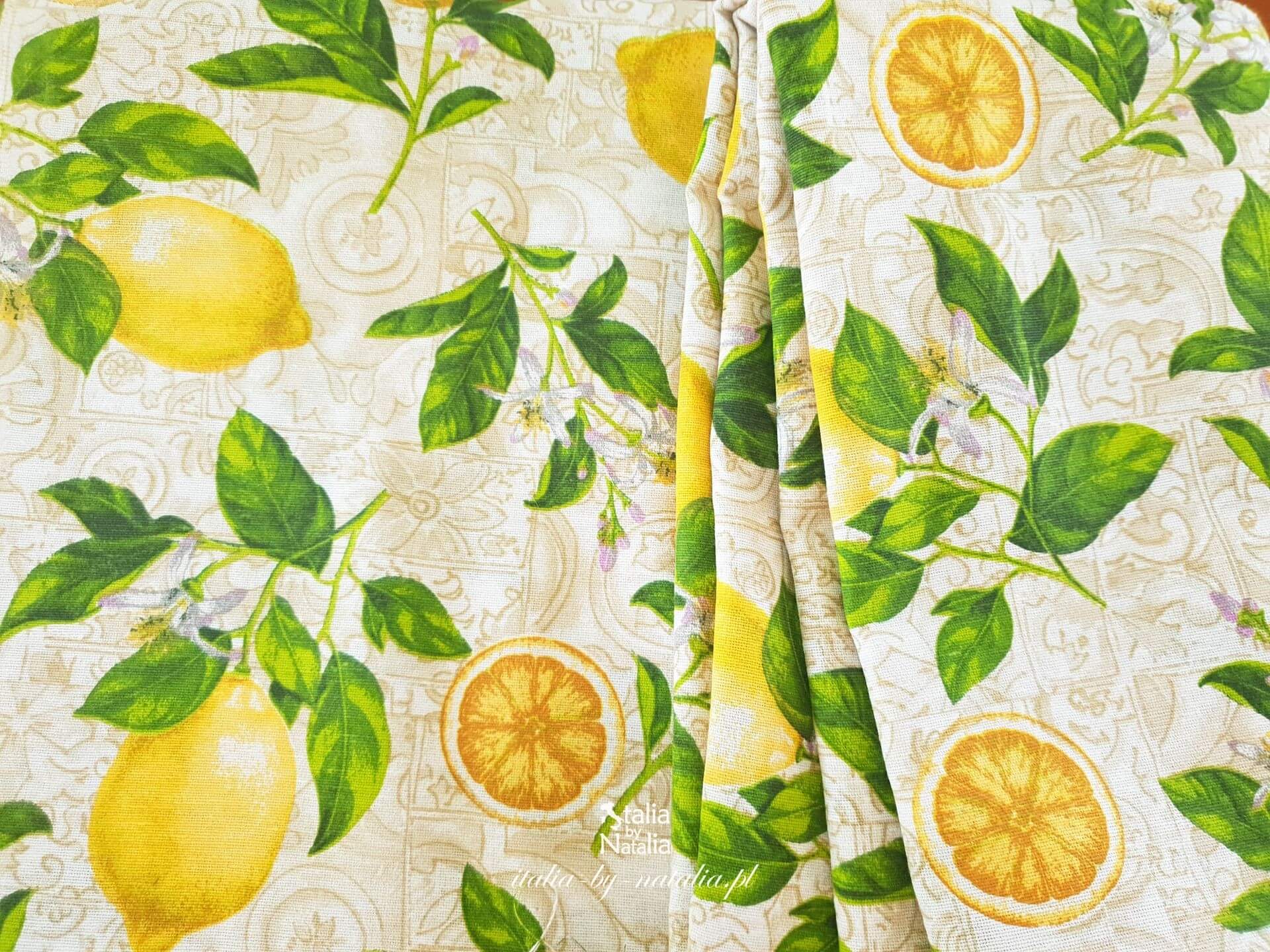 In the same bazaar, I bought a strong, thick material, which, according to the seller, would be perfect for curtains. However, from the beginning, I saw a different purpose for him and so for a 3 x 3 m canvas guy called 15 euros and I paid around 14. I write around because I don't know myself, it was the last day of my trip and I poured all the tin in him it was 13 euros plus a little ten and five-cent. Then in Poland, I outsource to sew two tablecloths for the dining room table and two tablecloths for the bench in the living room, nine square meters just enough, the service was PLN 70 (somethin like 20 bucks), and how cool they look. I have already told Kasia Strycharska that she should take willing tourists to these bazaars who arrange a walk with her in Palermo. So, if you would like to find similar miracles or take part in a Sicilian dinner, please write to Kasia katarzyna-strycharska@wp.pl or Jedziemy do Palermo on Facebook.
What to buy in Sicily for a gift for loved ones?
I will skip strange, funny and extravagant gifts, such as toilet paper with the image of a disliked politician or other public person, which I sometimes see in southern Italy. What normal and not very personal can be bought in Sicily and given to loved ones, friends or colleagues as a gift?
Sicilian marzipan fruit – frutta di martorana
It's not just fruit, because I've already seen marzipan with vegetables and even seafood. I am not a fan of the taste of this marzipan, but I always love the visual side of these products. I wrote about the marzipan fruit, its origin and the production process in a first post about visiting Palermo.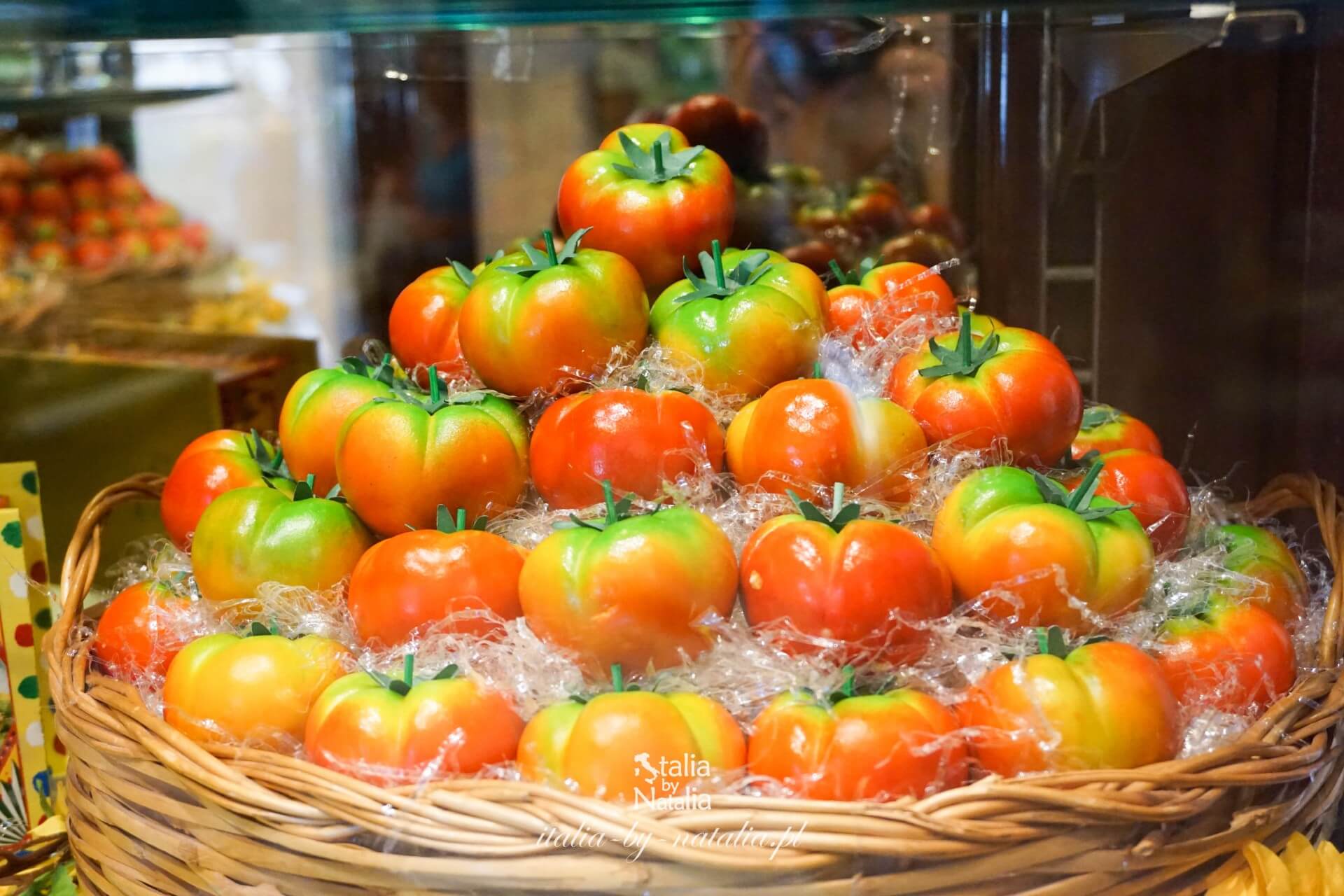 Wine, liqueurs and Sicilian limoncello
Perfect for myself, perfect for a gift. I wrote more about Sicilian wines. I would like to add that although it has been accepted that the best limoncello comes from Amalfi and Sorrento, it is also made in Sicily and is not inferior to liqueurs from the Campania region.
Ceramics
Ceramics is one of the products that Sicily is known for. These products – usually hand-made and painted – are expensive and heavy, but beautiful and perfect as a gift. You can already buy small items such as wine stoppers, cups, and small dishes. The imagination of the producers of Sicilian ceramics knows no bounds.
What to buy in Sicily from a guy from Ape? When not to buy
Ape, or a three-wheeler – a scooter with three wheels with a pitch in the back, very popular in the south of Italy, in Sicily even an inseparable element of the landscape. In addition to transport functions, Ape also has other applications, including the sale of ready food. You can buy fruit, vegetables, granite, ice cream, confectionery, quick panelle type snacks (pictured above), etc. And now an important matter. When and what to buy from a guy from Ape (a woman selling tricycles I saw only once), and when is better to avoid. I am always concerned about sanitary considerations when I see food from Ape. Of course, vegetables and fruits are not a problem, neither is food hot, but products that require a fridge? I'm very careful here. If I saw a guy selling cream cakes in August at a beach in a tourist resort, I wouldn't take it, even if he wanted to pay extra for it. When I see a guy selling granite in a bazaar outside the center of Palermo, such as the one where I bought the lemon material, knowing that he is offering this granite locally, I wouldn't have any problems If he once sold the goods after which these people would get sick, he would have no more to look for there. If he sold spoiled cakes to tourists, he loses little, because a tourist usually buys only once. And now back to the cream cakes. November 2018, the town of Noto in the province of Syracuse. Several tourists cross, although there are plenty of them during the season. The weather has just broken. I am waiting for the bus when a guy suddenly pulls up a tiny car (but on four wheels), which rear has been converted into a shop counter with a fridge behind the glass. There cannoli and cakes similar to our donuts, cream inside. And suddenly women run out of the surrounding houses and get this guy as if he gave away at least for free. Although, considering that one such cake cost 1 euro when compared with confectionery it is almost free. Seeing this, I already know that it is worth buying. I buy, try, delicious! I buy some for friends and take to Syracuse.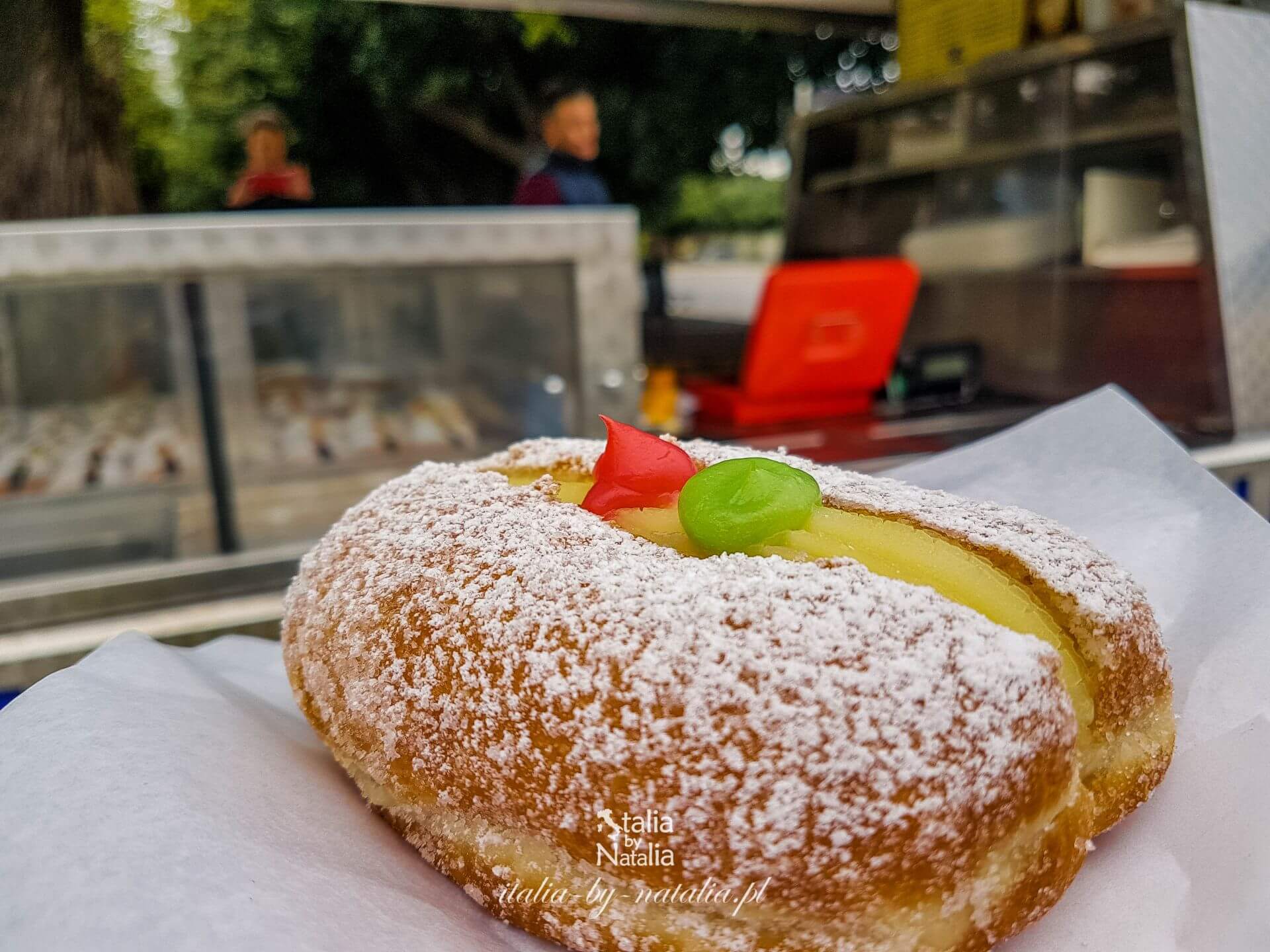 What to buy in Sicily at the airport in Palermo?
"Duty-free bags are allowed in the cabin along with regular cabin baggage." Such information appears on the day of publication of this post on the Ryanair website and means that purchases made at the airport, packed in the grids of local stores, can be carried onboard the aircraft outside the baggage allowance. I flew from Palermo several times with a duty-free net and it was never a problem. I do not write about the airport in Catania, because I flew from it once, without shopping, so I have no insight into the stores there. If this changes and I have something interesting for you, I will add a paragraph in this post. Returning to Palermo.
Duty free – pasta, sauces, pistachio cream, pistachio pesto, perfumes
Aelia store at the airport in Palermo is a place where I always look and buy water for travel. But you can do nice shopping there, both food and cosmetics. Wines, liqueurs, pistachio pesto, pistachio cream, olive oil, pasta, as well as perfumes, not only of world-known companies but also of local producers such as Ortigia brands. However, I do not recommend buying confectionery there, I once looked into the local fridge and when I saw cannoli bent from old age, now I do not approach it at all. Because cannoli – delicious and cheap – you can buy a few steps away and take it nicely packed to take on a plane.
Cannoli and other sweets
Right here. This store is located next to gate number 16. You can get very tasty cannoli, already filled with cream, but fresh. This is the best opportunity to bring cannoli to the family to try. Those bought in the evening before the evening flight are already a little soft, while those bought in the morning remain fragile for the next hours. What else can you buy here? Several other local confectionery specialties, as well as alcohol, ceramics, and pasta. Cannoli are at a standard price comparable with a pastry shop in the city, while other regional products are more expensive.
What shouldn't pregnant women eat in Sicily?
I am not a doctor and I do not intend to give medical advice in any way, but I would like to draw attention to a few products that can be hard poisoned, and such poisoning can be dangerous for a child. Consult your doctor, it is the most important thing, although I am aware that a Polish doctor who does not know Sicilian cuisine will not always show you specific dishes and products.
Seafood
A dokładnie skorupiaki. Pasta allo scoglio, alle cozze, vongole, frutti di mare bądź same frutti di mare. Nieświeże cozze (mule) powodują bardzo silne zatrucie pokarmowe. Moja koleżanka mieszkająca na Sycylii miała zakaz jedzenia wszelkich owoców morza wydany przez lekarza, gdy była w ciąży, właśnie ze względu na możliwość zatrucia. Oczywiście surowe owoce morza i ryby tym bardziej.
Shellfish, to be exact. Pasta allo scoglio, alle cozze, vongole, frutti di mare or frutti di mare alone. Bad cozze (mussels) cause very strong food poisoning. My friend who lived in Sicily was banned from eating any seafood by a doctor when she was pregnant because of the possibility of poisoning. Of course, raw seafood and fish more.
Whipped cream
Granita – as if it was not debauchery for itself, is often served with whipped cream. Granita con panna is not a good idea for anyone when it is hot outside. I heard the story of strong poisoning with whipped cream served to granite on a hot day quite recently from a resident of the island who is well versed, where to look for good products and what places to avoid. Still, she didn't protect herself from poisoning.
Confectionery with fresh ricotta, such as cannolo
These cannoli are freshly filled, the cream is wet, glows and fills the tube to the brim. If the cream is dry and sticks out from the tube – don't eat it!
My beloved cannoli! I like them so much that once while in Naples I was tempted to one piece smiling at me from behind the glass of a pastry shop. The tube already filled with cream based on ricotta cheese may not have looked as tasty as in Sicily, but I still ate. I have never poisoned myself as much as I never had before and then I alternately vomited and lost consciousness. Since then I have never eaten cannoli outside Sicily. Fresh ricotta is a product that breaks down quickly. I still remember how a few years ago a cheese seller in Matera refused to sell me fresh ricotta when I said that I was going to take her to Poland by plane the next day. He gave me a lecture on cheese. I learned that it is fresh only for three days after production and only if it is kept in the fridge. What to buy in Sicily and bring home? Certainly not fresh ricotta.
I also wrote a similar post about Tuscany
I hope that I have answered your frequently asked questions about what to buy in Sicily, what to try and what to bring home. Or maybe I forgot something? Go ahead and share your experiences in the comments.
I invite all new readers to like Italia by Natalia on Facebook, follow the Instagram profile as well as on Twitter and subscribe to the YouTube channel. I will also be pleased if you add a comment or share this post with your friends.
All the best
Natalia
Teraz Twoja kolej! Dołącz do społeczności Italia by Natalia:
Będzie mi również bardzo miło, jeśli zostawisz komentarz pod postem. Możesz też zapisać się na newsletter w oknie poniżej.