Terme di Saturnia, geothermal sulfur springs in Saturnia are the most known attraction of this type in Tuscany. Their popularity is primarily due to the fact that access to them is completely free, and the mineral-rich water has therapeutic and therapeutic properties, also affects the appearance of the skin. When the water in the sea isn't encouraging with its temperature to splash, the pools in Saturnia always offer a nice bath.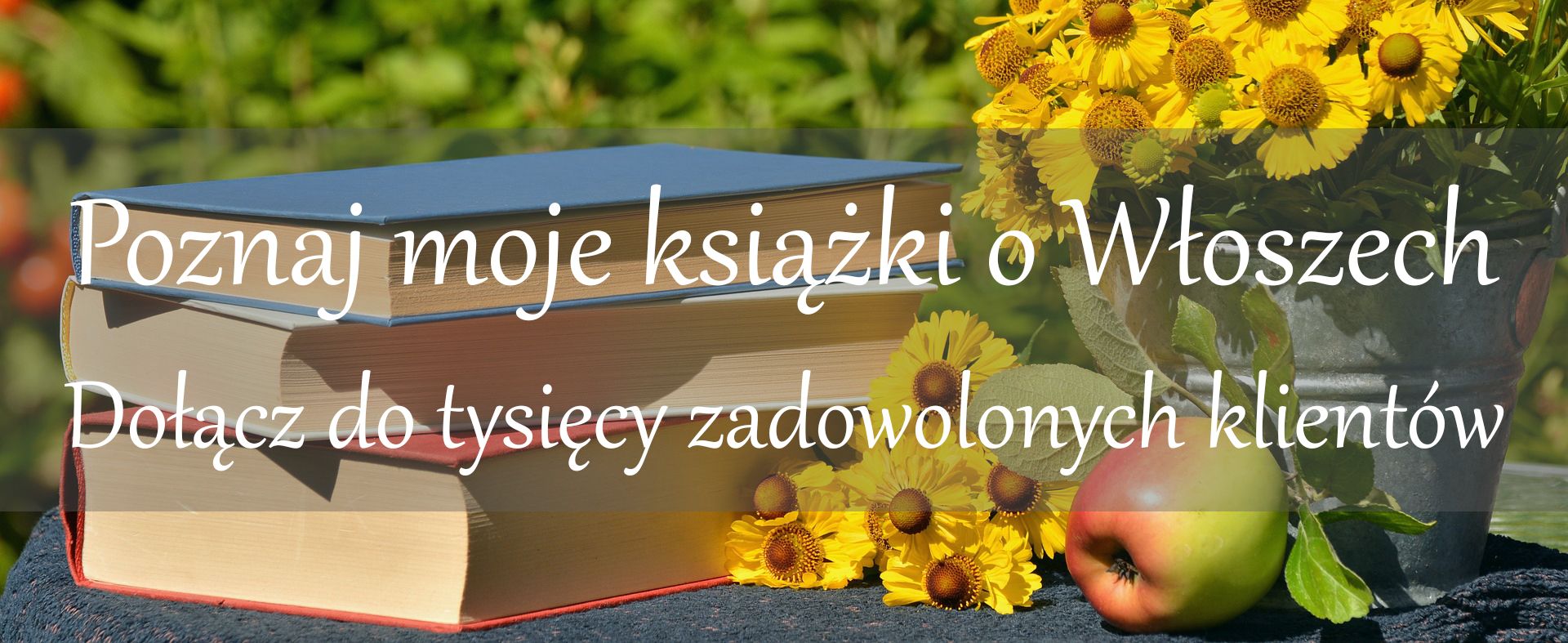 The establishment of Terme di Saturnia – legend vs science
Legend says that the spring flows in the place where the lightning casted by Jupiter hit during the encounter with Saturn. Geologists, on the other hand, argue that rainwater gets through the rock crevices around the extinct volcano of Monte Amiata, then is heated underground and saturated with mineral compounds so it flows to the surface after about 30 km (exactly where the swimming pool of a luxury hotel Terme  di Saturnia SPA & Golf Resort is located ). Then, after about 1000 m, near the old Tuscan mill, it accumulates as Cascate del Mulino. The water is heated to a temperature of 37.5 °C flowing down first forms a waterfall, and then poured over travertine pits in the amount of about 800 liters / second to create spectacular thermal pools called Cascate del Gorello, and finally downstream to connect with the Albegna River.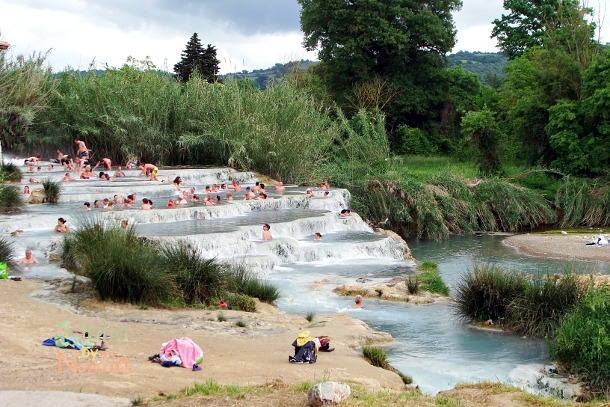 Viewpoint at Terme di Saturnia
Valuable properties of Saturnia source were known and used by the ancient Romans and Etruscans. Etruscans are considered as the founders of the nearby town of Saturnia, not very interesting in terms of tourism. If you aren't hungry and don't look for a gastronomic place, I recommend spending more time soaking in a hot spring. To take advantage of this blessing you have to go to the Municipality of Manciano in the Province of Grosseto (130 km south of Siena) and from there head north on the SP10 through Montemerano. About 3.5 km after leaving Montemerano, you will see a creek sheltered from the road by wooden barriers with benches. This is a must have for a few minute stopovers because from there you can see the old mill and the whole cascade, there was also shot a photo that you saw at the beginning of the article.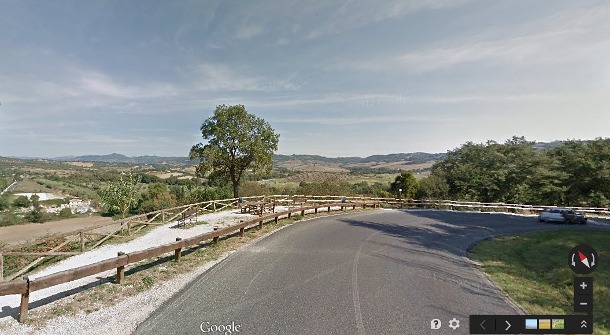 Viewpoint from which is visible the panorama at the beginning of the post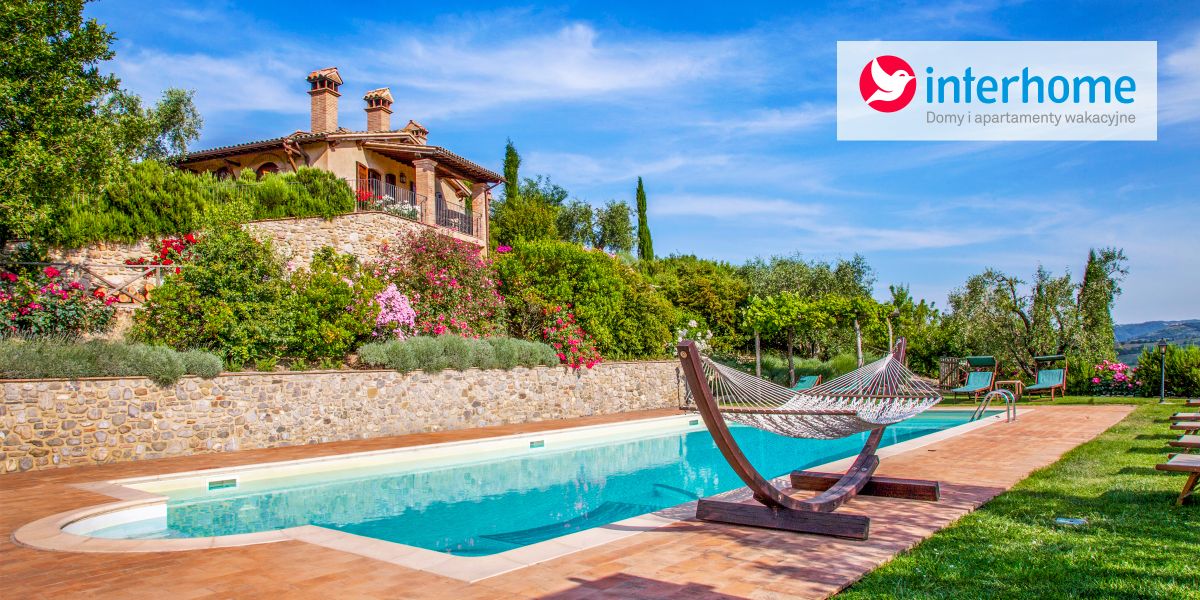 How to reach Terme di Saturnia
To reach the thermal pools, continue drive along the SP10 road for about 1 km, and then follow the brown signs with a white arrow (typical Italian tourist signs) turn sharply left onto Cascate del Gorello.

A bit further to the right there is a parking lot, according to the information I have, also free of charge during the season. It takes about 2 minutes to reach the destination, you certainly don't miss it, just follow the smell of hydrogen sulfide. It isn't, contrary to popular opinion, too intense, in my opinion quite intensive and tolerable even for an extremely sensitive nose. I advise you to remove any jewelry, especially silver, before entering the water, as there is a risk of blackening as a result of reaction with sulfur. You don't need special wading shoes, because the surface of the rocks forming the thermal pools is smooth. A bath near the old mill is an amazing attraction and I heartily recommend it to anyone who intends to visit the southern ends of Tuscany. For those with a wealthier wallet, an interesting proposal can be located near the cascades of the luxurious Terme di Saturnia Spa & Golf Resort offering, among other things, beauty treatments and baths in luxurious pools filled with thermal water.
Damage to travertine pools in Saturnia
When I was preparing this text there was an unpleasant event, namely heavy rains, which in recent days wreaked havoc in many regions of Italy caused unprecedented damage to Terme di Saturnia. The Cascate del Gorello has been damaged, more precisely two of the several travertine pools. At first I was very saddened by this fact, but fortunately, a repair was planned, it will take place on 10 – 17/11/2014, and then access to Terme di Saturnia will not be possible. Only natural materials of local origin will be used for repair. I keep my fingers crossed for the success of the action 🙂
source of photos and information about damage and planned repair: https://www.facebook.com/MaremmaTuscany
We have already written about the experience of visiting the thermal springs in Saturnia, as well as about three other free spas in Tuscany:
If you have any questions, please, ask them in the comments below this post, I will try to answer and advise everyone. I would also like to read about your experiences from traveling to Italy, do not hesitate to share information, they will definitely help those who are just planning a trip.
I invite all new readers to like Italia by Natalia on Facebooku and follow Instagram's profile and to subscribe the YouTube Channel. It will also be very nice if you add a comment or share this post with your friends.
All the best
Natalia
Teraz Twoja kolej! Dołącz do społeczności Italia by Natalia:
Będzie mi również bardzo miło, jeśli zostawisz komentarz pod postem. Możesz też zapisać się na newsletter w oknie poniżej.