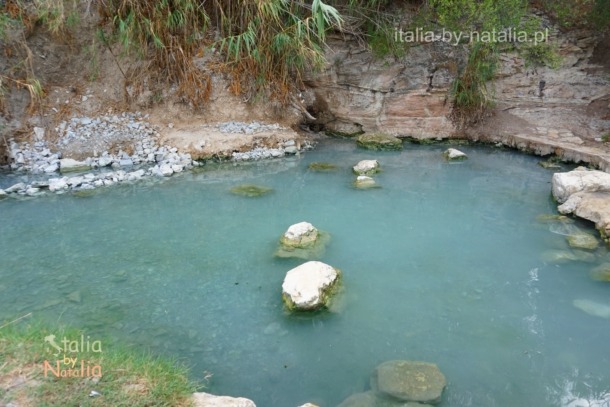 I know you love hot thermal springs, which can be used free of charge in the wild ponds hidden from mass tourism. Baths in Tuscany, described by me almost four years ago, enjoying great popularity among you, that's why today I present another termal spring. If someone is dizzy, because wants to go to Sicily, but at the same time dreaming to soak in the hot, health and stinking puddle in the Tuscan bushes, then I hasten to help and present the bushes at the foot of Segesta in the Province of Trapani. Terme di Segesta, or the hot thermal spring in Sicily, are available free of charge.
About 42km east of Trapani and about 8 km south of Castellammare del Golfo, almost at the foot of known and described in every guide archaeological sites of Segesta, from the ground takes hot spring baths. As usually happens in such places next to hot spring was created hotel with SPA which use a boon of nature, but for the average traveler with limited resources the most important information is that just behind the hotel, in the bushes surrounding a small ravine with high, travertine rocks in ivory and pink, flows a small river. To that river, flows down water from hot spring, but firstflows through partially artificially formed little puddle, where locals and a few initiate tourists with delight joy dip in the hot water with temp. +47°C and the fumes of hydrogen sulfide, although not as intense as in the Tuscan source of Bagni di Petriolo, or in swamps on the Island of Vulcano.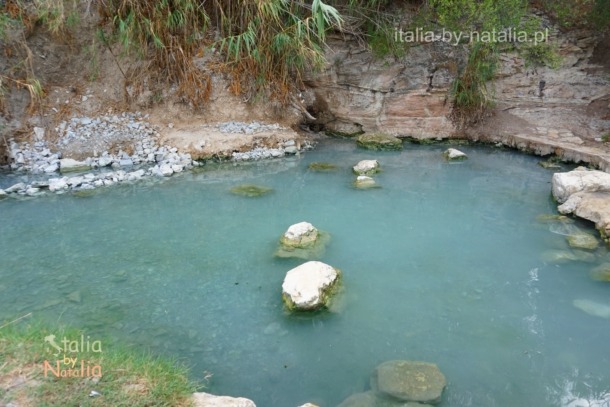 Geothermal waters are known for their medicinal properties. These puddle near Segesta reportedly help treat rheumatism, arthritis, osteoarthritis, sciatica, allergies and skin diseases. Their temperature is in my opinion simply perfect, not too low, not too high, but I wasn't bath in a hot day. It was in mid-September 2014, air temperature was approx. 27°C.
How to get to Terme Segestane?
Take the SP2 of the Castellammare del Golfo keep an eye out for hotel advertisement.
Then you have to turn into an alley leading to the gate, but once you do it, pass it and ride ahead.
Immediately you come to fork road. Take this narrower straight uphill. Note! The road to further section is in poor condition, driving low suspension car you should be very careful.

When you reach the area shown in the picture below, you should park your car and continue trip on foot for about 100 meters towards the high rock visible in this photo behind cars.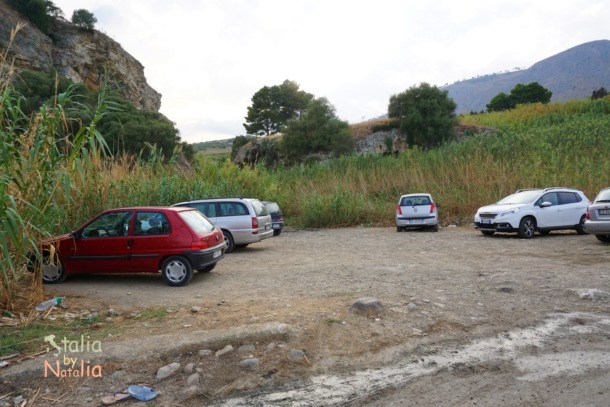 Along the way you pass a stream.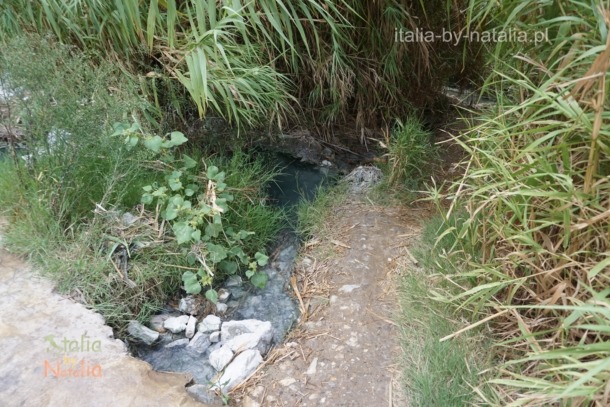 We're here : )
On the right side of the main spring you'll find the river surrounded by travertine rocks. Beware of snakes. My first time face to face with Sicilian snake took place just in September, although not in Terme Segestane, but on the opposite side of the Island, what fear I ate you can only imagine : ) it's difficult to transfer it the written word ; ) it wasn't very thick, but all black – worse – the same type of snake I met a few days later, so it's probably a popular one: by the way, and just in case, the snake in Italian is serpente.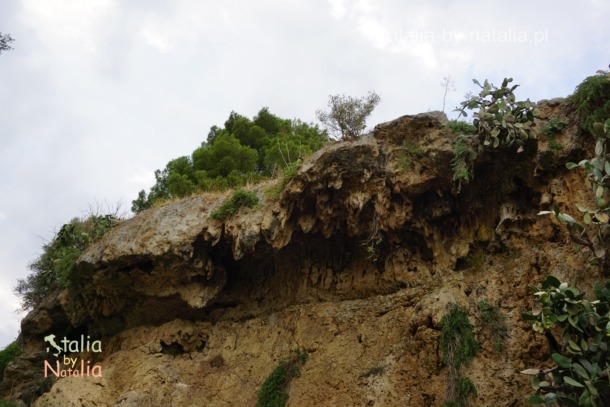 At the end I'll add, that people come here also in campers or break small tents and spend the night in the wild, and at night bathed by the light of torches.
All new readers I invite to like my page Italia by Natalia on Facebook and follow me on Instagram.
I'll also be proud if you add a comment or you share this post with your friends.
Natalia
The copyright to the text belong to Italia by Natalia. Copy text or fragment, as well as rewriting with the change of the individual words in accordance with the blog regulations will result in law – financial consequence to the thief and also with stigmatization on the internet.