In the very center of the old town of Trapani, close to the most beautiful monuments, but also in a short distance from: the market, supermarket, the harbor, many restaurants and the place from which you can enjoy fabulous sunsets over the Egadi Islands, is located a cozy Bed & Breakfast run by a very sympathetic Sicilian. Decorated in completely renovated old house was captivated me with pleasant climate, small but functional room with a large, comfortable bathroom, roof terrace with views of the sea and one of the best breakfasts I have ever had in southern Italy. Come with me to visit GranVeliero.
History of Bed and Breakfast GranVeliero is short. Established and opened in 2015 in an old house, which previously required a full renovation. However, "Tall Ship" (gran veliero) isn't the first success on account thirty-three years, Giovanni Surdo, a native Sicilian, a graduate of tourism marketing. After graduating and gaining experience in Trento and London, Giovanni returned to his beloved Sicily with a dream to create your own business related to tourism and to contribute thereby to the promotion hometown. In 2010, together with his sister Veronica opened the first B & B called Belveliero ("Beautiful tall ship") on the third floor of the house built by their grandfather, Giovanni Battista Surdo, next to the port. As in the case Belveliero also Granveliero is not just a place, that welcomes guests for the night, but also advises them and helps you discover interesting places, not only in terms of landscapes but also culture. This is a mission, which was born – says Giovanni – "from passion to Sicily to love to Trapani".
When I arrived to GranVeliero the clock has almost reached two a.m. and had a rough day. I got up at four in the morning, till noon I was at work, then try to travel by train from Poznan city to Warsaw, but just that very day was the failure of traffic management system on the main railway station, in which my train departed with a delay of 110 minutes! As if this wasn't bad enough, it turned out, that in my wagon the rail company sold the same seat twice: once via the Internet, and the second time at the ticket office. The situation was even more embarrassing, because the same seat was sold to foreigner guy and despite my best intentions, I couldn't explain to him this absurd. So, after all I was finally reach  GranVeliero at two a.m. and after a brief conversation with Giovanni I've rolled up groggy to my room after almost 22 hours on my feet and I've decided to sacrificed my body for Morpheus' sweet embrace.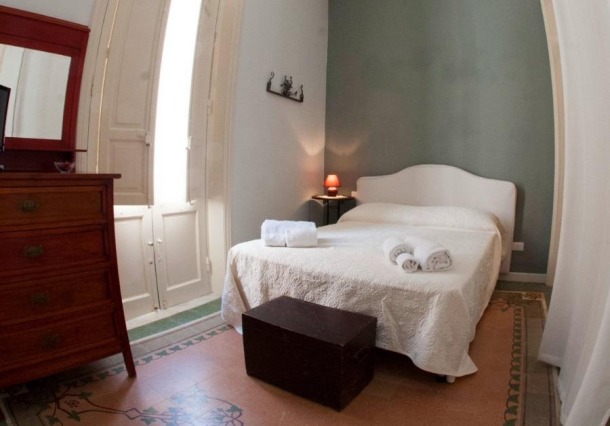 My room in GranVeliero. Photo is taken from the B&B 
My room in GranVeliero. Photo is taken from the B&B 
Bathroom
The first morning I was awakened by the wonderful sound of the roaring scooter. Yes, yes, I love it, even when it interrupted sleep during the vacation, but it has probably every fan of Italy, especially the South Italy. I get up, open the shutters then in front of me appears insanely blue sky, tightly parked cars on a narrow street under my balcony and the wonderful smell of the sea, which impressed me at last midnight, after leaving the plane. Although this was my seventh trip to Sicily, the first time I came here by plane, and it's a completely different feeling, than the arrival by ferry from Calabria or even from Naples. My room was small, but very functional. Comfortable bed, dresser with mirror, niche developed for a small wardrobe, large and wisely decorated bathroom with a big top around the sink, where I could easily set all the cosmetics. Another advantage of the bathroom in GranVeliero for me was awesome water pressure at the tap, which given that I was on the third floor of an old building in Sicily, was a big surprise.
That day I had planned only a leisurely wandering the streets of Trapani with a break to relax on the beach. Location GranVeliero is very beneficial for people who want to explore the town and surrounding countryside. Two minutes walk from the front door is a bus stop, from which can be reached a beautiful long beach on the outskirts of Trapani, extending along Via Dante Alighieri. Five minutes is needed to reach the fish market and the harbor, which is full of fishing boats. In fifteen minutes I reached the port, from which hydrofoils depart for the Aegadian. The main street of the old town – Corso Vittorio Emanuele – runs right next to the building GranVeliero, while some seven minutes it took me to reach the headland with the tower Torre di Lygny – a place where you can enjoy beautiful sunsets over the Egadi Islands.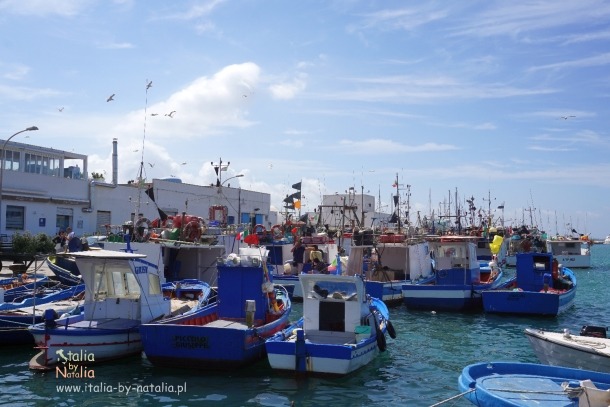 Port with fishing boats, on the left side there is a fish market, prior to the entry into the market are facing numerous stalls with fruit and vegetables.
Corso Vittorio Emanuele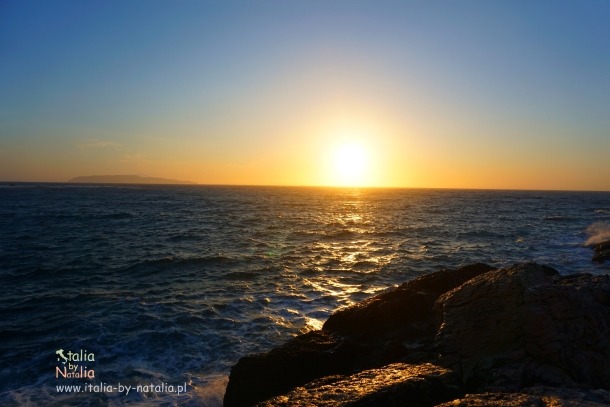 Sunset captured near the Torre di Ligny, at the background the island of Levanzo.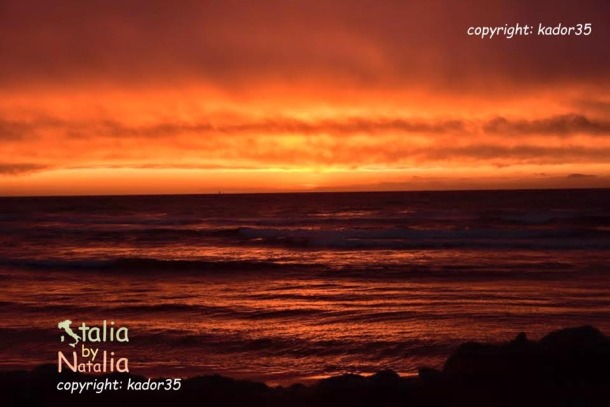 Sunset captured near the Torre di Ligny
Good location of GranVeliero terms to Trapani attractions wasn't surprise me, but the real one was the breakfast. Who doesn't love a typical breakfast from the south of Italy, or coffee and sweet croissant?Although hotels and pensions from the south are aimed at serving to foreign tourists in the morning also cheeses, meats, various kinds of breads and even eggs, is very rarely to see tomatoes, which in here are cheap and extremely delicious. Therefore, the red balls was the first thing, that caught my eyes at the entrance to a small, stylish dining room. But what amazed me was the ricotta, fresh and delicious. God I love this cheese! in combination with tomatoes! Nowhere in Italy – except only two agritourism in Tuscany – I havn't seen ricotta at breakfast. Later I found out, that Giovanni and his colleagues ensure that their guests can enjoy various specialties of local cuisine. Sweet pastries in here are diverse and change during a week. From time to time, you can enjoy at breakfast famouscannolo siciliano. I was happy like a child when one day I found in a basket cornetto with a sweet ricotta. This is my beloved Sicilian baking, popular on the east coast of the Island, especially in Syracuse.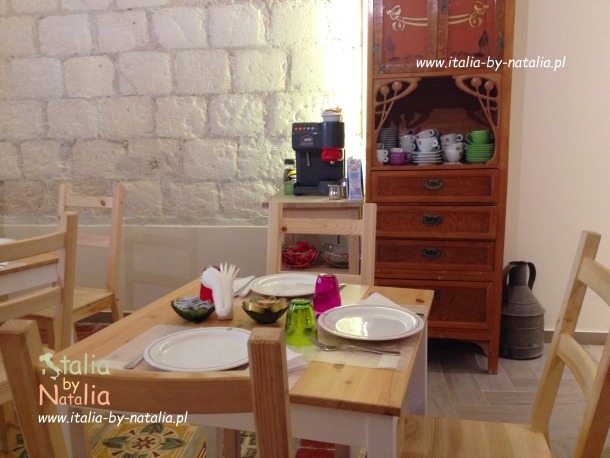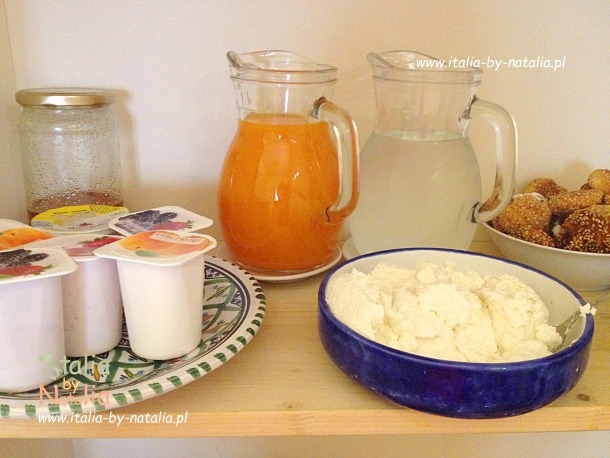 My breakfast in GranVeliero: ricotta, tomatoes and finally cornetto con ricotta.
GranVeliero building was completely renovated, but still you can feel the atmosphere of the past years. The staircase is decorated with hand-painted tiles, so characteristic to Sicily, wall with small chapel and a straw basket on a rope hanging from the ceiling, referring to popular in Southern Italy purchases without leaving home.
a href="https://italia-by-natalia.pl/wp-content/uploads/2016/06/IMG_4701.jpg" rel="attachment wp-att-11138″>
During my stay in May was still under construction, but now it's available. Terrace on the roof of the building, where you can relax and look at the turquoise sea flowing around the old town.
© GranVeliero
© GranVeliero
Note! For all who make direct booking for accommodation by sending an e-mail to granveliero@gmial.com and referring in it on the blog Italia by Natalia, will receive an attractive discount on the entire stay 🙂
Internet page www.granvelierotrapani.com
All the best
Natalia
The article was the result of cooperation with the B & B GranVeliero, at the invitation of which I hosted for four days in Trapani in May 2016.
All new readers I invite to like my page Italia by Natalia on Facebook and follow me on Instagram. I'll also be proud if you add a comment or share this post with your friends.
Natalia
The copyright to the text belong to Italia by Natalia. Copy text or fragment, as well as rewriting with the change of the individual words in accordance with the blog regulations will result in law – financial consequence to the thief and also with stigmatization on the internet.