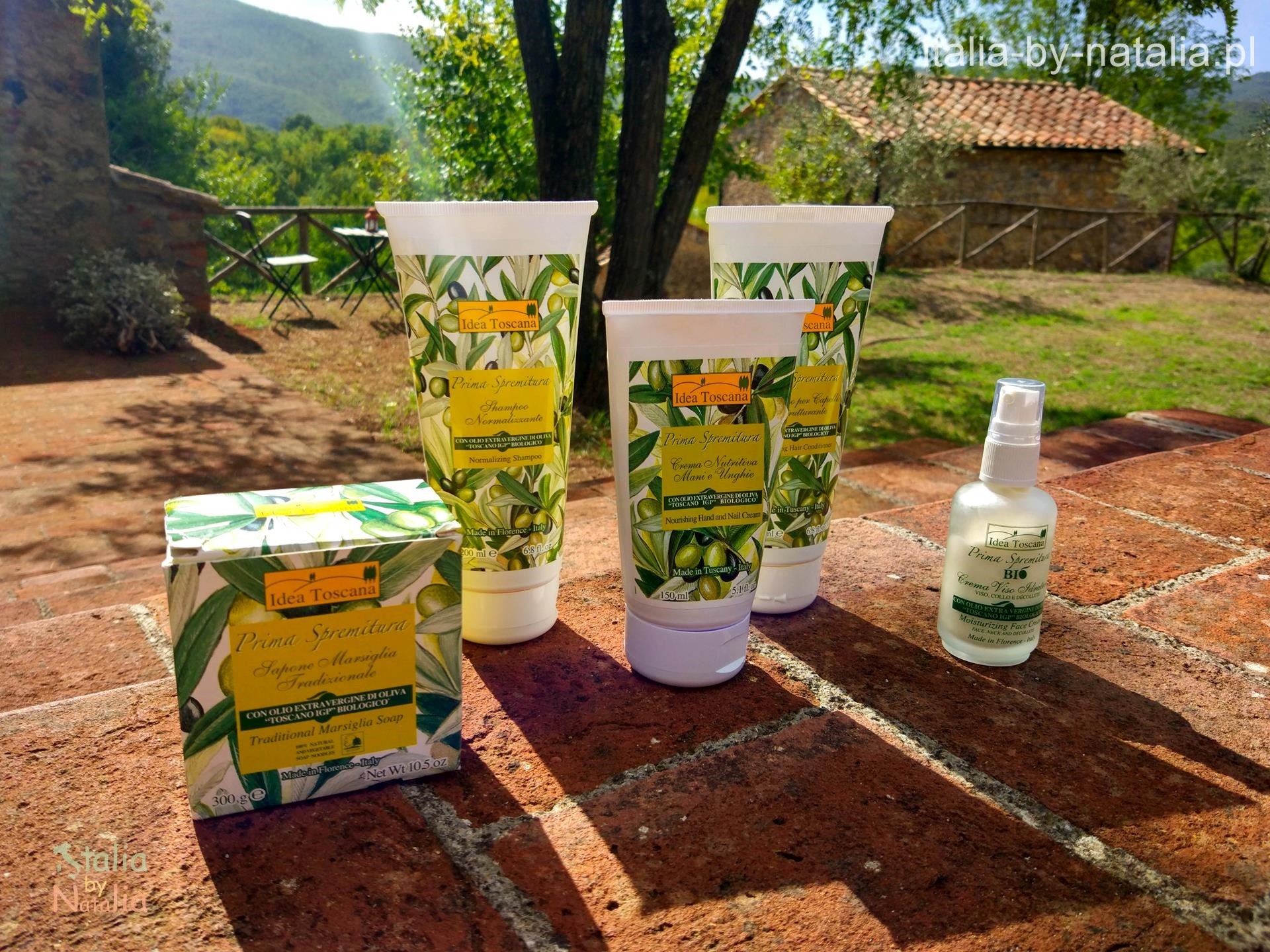 Beneficial effect of Tuscany green gold extra virgine olive oil known and appreciated through centuries, not only in the kitchen, but also on the skin and hair. Biological olive oil, rich in valuable fatty acids and vitamins, moisturizing care help protect against aging, is one of the main components of produced in Tuscany natural cosmetics, don't containing parabens, silicone or artificial dye and fragrance. Perhaps you already had the contact with products of Idea Toscana – often as cosmetics intended for guests in good hotels and agroturisms in Tuscany. Few years ago, you can buy it only in Italy, but today, already in Poland, conquering hearts, not only Italian lovers.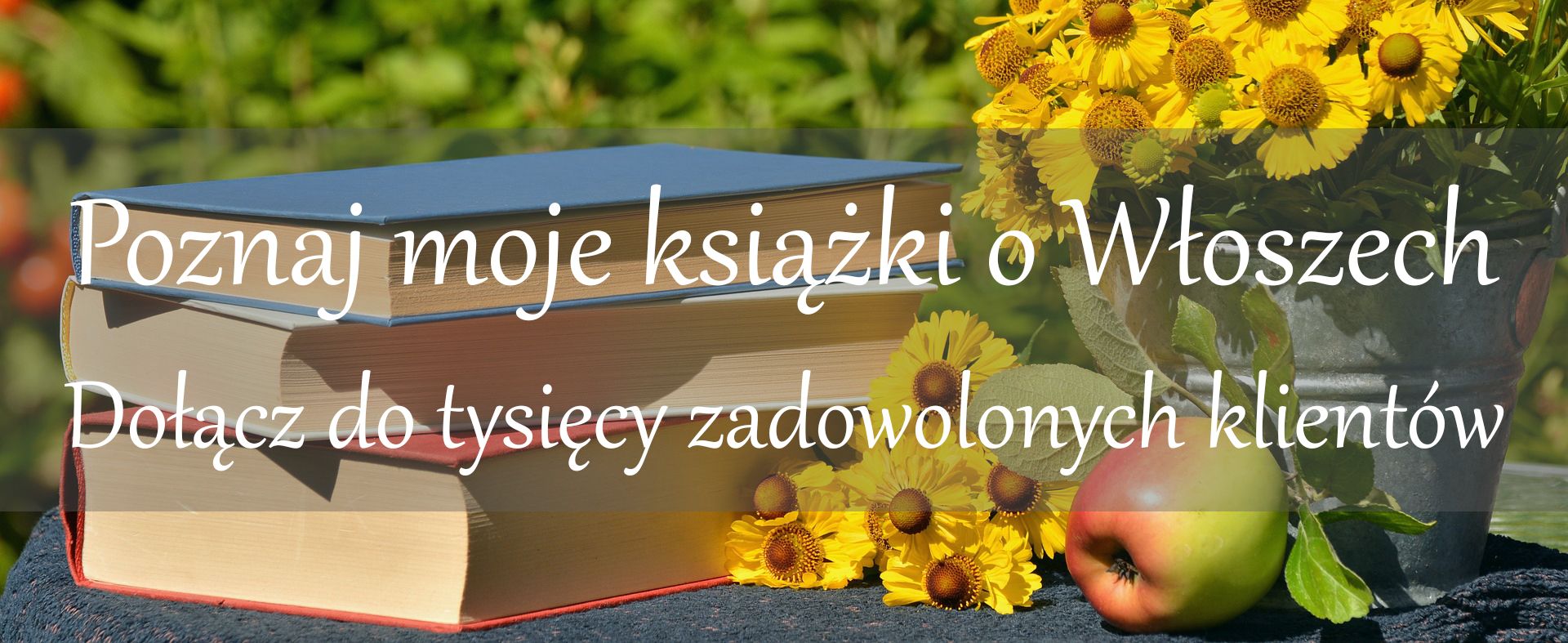 Idea Toscana – natural cosmetics from Tuscany
Idea Toscana was founded under the sun of Italy in 2002 with the intention of producing and selling natural and organic cosmetics and home accessories. Natural cosmetics from Tuscany are a great selection of face care products certified by NATRUE and BIO ORGANIC lines of Prima Spremitura BIO, such as moisturizing, regenerating and anti-wrinkle face creams, tonic or cleansing milk, as well as Natural Body Care cosmetics, intended for body and hair care. In addition, there are natural Marseille soaps in cubes of various sizes and vegetable liquid soap. Natural cosmetics Idea Toscana, and in particular the Prima Spremitura Bio line, plays a very important role in the market of organic cosmetics. The manufacturer takes care of every production step, as evidenced by the IGP Certificate, which guarantees their highest quality and originality.
Idea Toscana cosmetics first time I had the opportunity on a trip to Tuscany, in the hotel we stop for a night. I received them in a package of small samples. Later, I noticed that good local agritourism and hotels often choose Idea Toscana cosmetics for use by their guests.
Idea Toscana mini set designed for guests of beautiful rural agritourism Podere di Santa Maria near Chiusdino
Idea of ​​Toscana in my beautician
Start testing on Lake Garda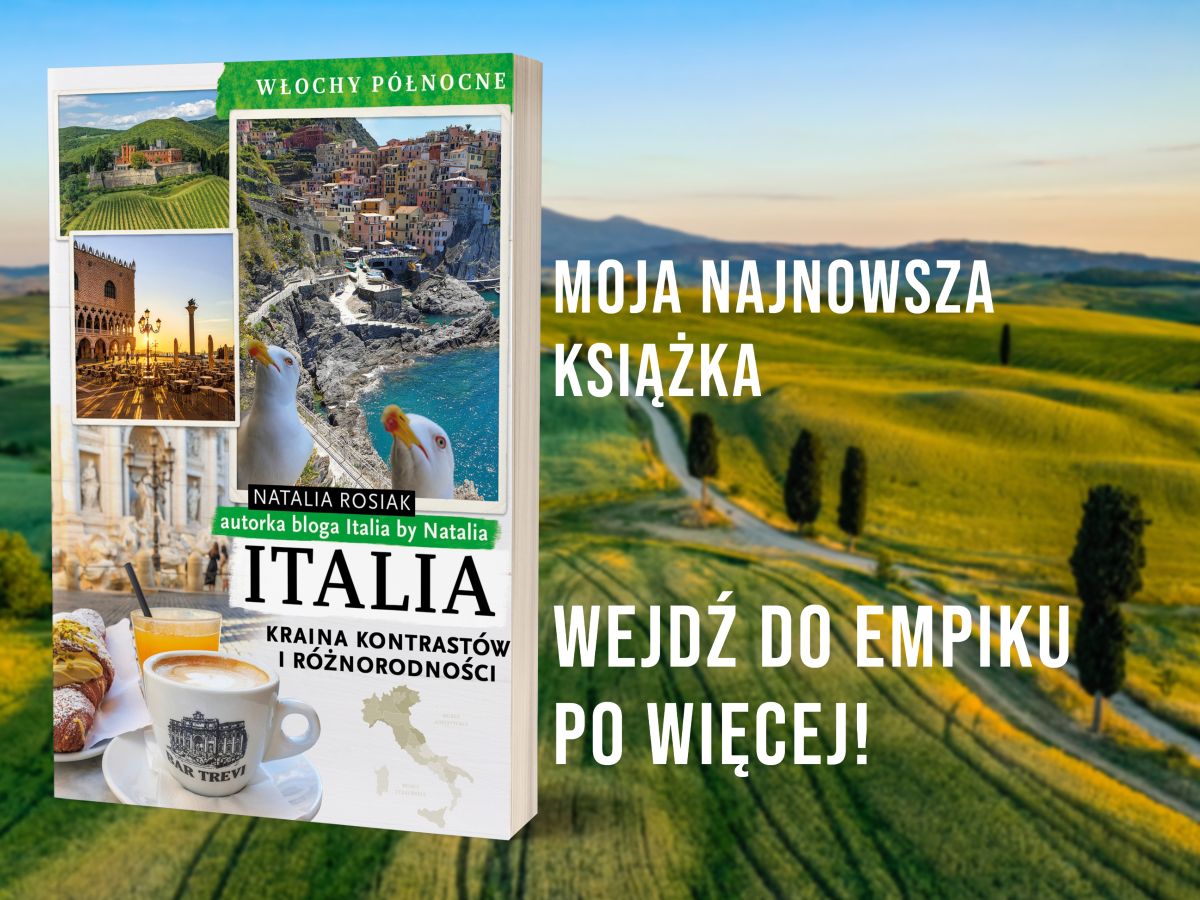 At the end of August, I set out for a four-week trip to Italy, where my beautician was based on Idea Toscana cosmetics: moisturizing face cream, hair shampoo, conditioner, hand and nail cream and a large cube of marshy soap. Cosmetics I used every day, regardless of weather or where I was. Testing was continued after returning home in total of more than two months until the first two cosmetics were completely consumed. You have to know that I have a very sensitive and prone to dry skin, and skin of head is a long story. When I was about 11 years old, the problem starts. After years of lubricating on had some crap medicaments spending hours on dermatologists room, it turned out my problem is an allergy to detergents. It is enough to wash my hair once with a shampoo filled with chemicals and my skin starts to itch, and after a few such washing my skin starts fill with dandruff. The rescue to my skin of head seams shampoos with the superiority of natural ingredients, although these products are not equal. So I did not worry about getting a new shampoo. Although, as I mentioned above, I used to use Shampoo Idea Toscana for a short time, at lasted for three or four days. Now it was almost four weeks. At the last minute I packed up to my beautician the shampoo I used before, just in case the skin of head did not accept the change. Below I will tell you about experiences with each of the five cosmetics separately.restores the natural balance alleviates the scalp extends the freshness reflects hair from the base gives hair gloss and vitality improves the condition hair makes it easy to rozczesywanie moisturizes strengthens protects.
Idea Toscana natural shampoo
information from the manufacturer's: 
restores the natural balance
soothes the scalp
extends freshness
it reflects the hair from the root
gives hair shine and vitality
improves the general condition of the hair
makes combing easy
moisturizes
strengthens
protects
Do not contain: 
SLS / SLES
parabens
silicones
mineral oils
izotiazolinons
artificial dyes
artificial fragrances
Shampoo added in any case fortunately, remained at the bottom of the luggage. Idea Toscana product I used from departure until it was finished. And ended up quickly, because due to problems with skin I wash my hair every day. The skin of my head felt good, that's the largest pros for me, therefore, with a clean conscience I confirm restore the natural balance and mitigation. in addition, shampoos has a Pleasant smell and well distributes is efficient. I can't while confirm extended freshness, but in my case of any shampoo not makes instead of every day I could Wash hair twice a week.
Idea Toscana hair conditioner
information from the manufacturer's:
nourishes hair
rebuilds damaged hair
prevents split ends of hair
makes combing easy
gives vitality and softness
Do not contain:
SLS / SLES
parabens
silikones
mineral oils
izotiazolinons
artificial dyes
artificial fragrances
I really love the hair condition since the first use. Just like the shampoo, it smells nice, it spreads easily and it is very effective, I have it till now, despite everyday use and the end of the tube fortunately not seen yet. Hair is great, although it is difficult to judge unequivocally whether it is after shampoo, hair conditioner or maybe both used together. I confirm vitality and softness, prevention of split and nourishment, it feels very well. Combing? I use the oil on my wet hair, which has a positive effect on the ease of combing, so it is difficult to judge.
Continued testing – Tuscan hills near Volterra
Moisturizing hand and nail Idea Toscana cream
information from the manufacturer's:
properly moisturizes the skin of the hand
prevents skin irritation
prevents cracks in the skin
strengthens the nails
nourishes the skin of the hand
Do not contain:
SLS / SLES
parabens
silikones
mineral oils
izotiazolinons
artificial dyes
artificial fragrances
I also applied hands and nails cream to my feet. And you know what? Feet was just grateful to me! Indeed, this cream proved to be better than many creams specifically for feet. They were fresh and moisturized all day (the foot cream I always use after a morning shower), and skin was also smooth. As for the hands, it certainly has a good effect on the nails, strengthen it and nourish it. It has a pleasant smell, is quickly absorbed, hands are dry after a while, and fingers do not leave greasy marks, even on the pages of the book. The cream is effective. I still have it although I use it twice.
Traditional Marseille Idea Toscana soap
information from the manufacturer's:
cleanses the skin
moisturizes and nourishes
Do not contain:
SLS / SLES
parabens
silikones
mineral oils
izotiazolinons
artificial dyes
artificial fragrances
If I had to choose from the five products that I liked the least, it would be the soap, which doesn't mean that you will don't like it. The skin after use is really cleansed, although it remains slightly dry and immediately calls for a moisturizer. Therefore, with very dry skin I cannot confirm the moisturizing properties, in my case better are soap cubes with addition of creams, but they do not leave such a clear feeling, the first time I saw such a thing. The smell is pleasant, not too intense.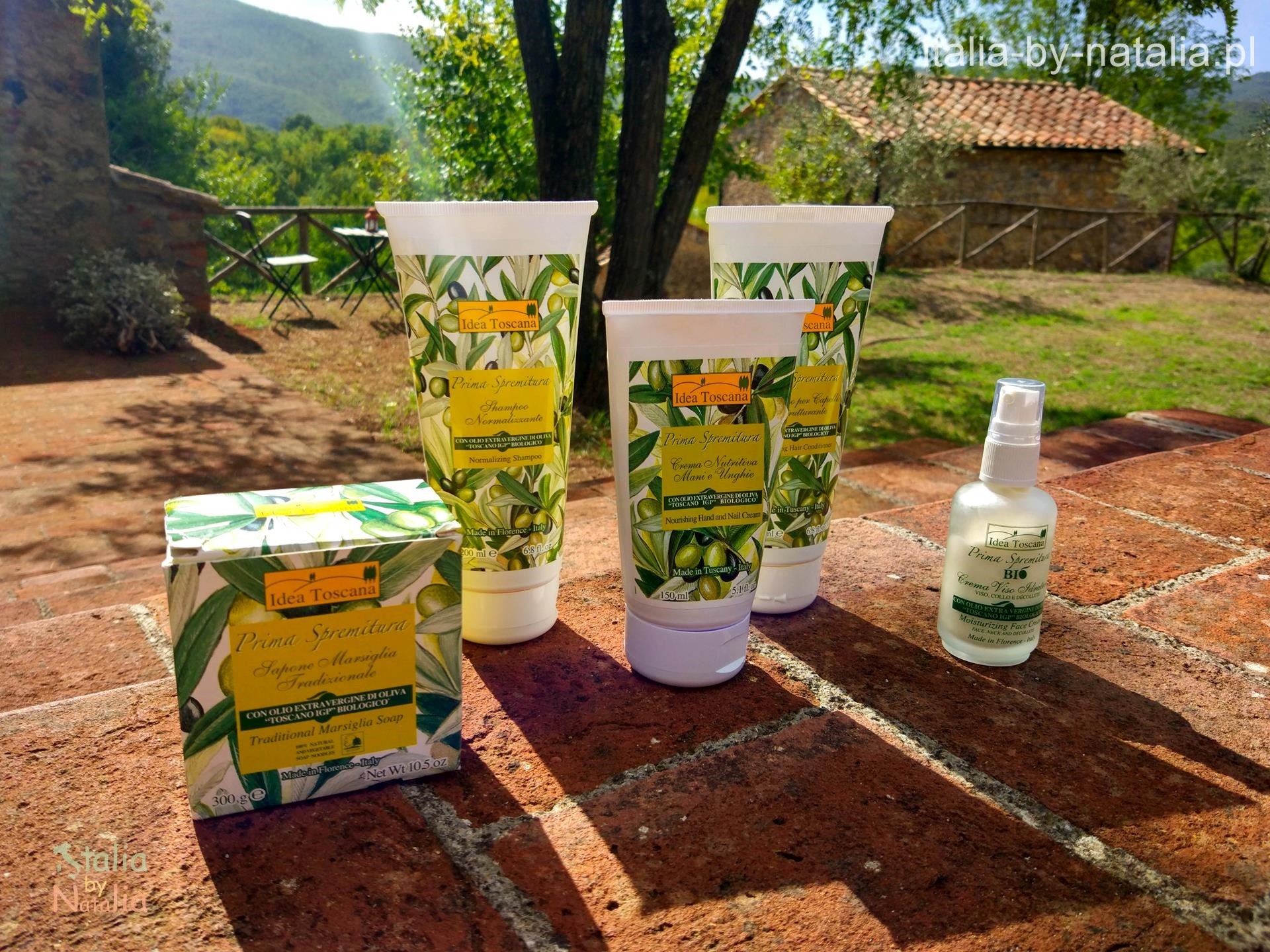 Testing continued – Val di Merse in Tuscany
Moisturizing Idea Toscana face cream
information from the manufacturer's:
restores proper skin hydration
protects against external factors (light, sun, frost, dust and smog)
slows the aging process of the skin
gives the skin a healthy and natural look
smoothes and smoothes the skin
Do not contain:
SLS / SLES
parabens
silikones
mineral oils
izotiazolinons
artificial dyes
artificial fragrances
100% natural ingredients
95% organic ingredients
Face Cream is after a shampoo the second cosmetic in terms of difficulty to properly select for me. I'm looking for highly moisturizing creams. Fine moisturizing is the basis of facial care, and in my case, when I wash the hair and shampoo foam spread on my face every day, I need a really good cosmetic. The Idea Toscana cream moisturizes my skin well. It moisturizes and at the same time was quickly absorbed, and the skin of the face is not lit, which makes this cream a good base for makeup. The feeling of silky skin is clear. The cream tube is an interesting subject. I don't know if you know but face creams should be used in such a way, not to put inside the finger tip, but pick it up with a special stick attached to the cream, at least in the better creams have it. The point is that, by putting inside fingers we supposedly let in bacteria, that destroy the properties of the cream. In any case, the fun with a stick that requires cleaning every time is certainly not a comfortable solution on the go, so the pump bottle with Idea Toscana cream is a perfect idea. Only pity that the last parts are almost impossible to extract. When I write these words, my cream is finished. It took two and a half month of daily use to end the tube.
Coastal climate scene – Palinuro on the Cilento Coast, Campania
Where to buy Idea Toscana cosmetics and how to get a 20% discount?
Only for readers of the Italian blog by Natalia 20% discount until the end of the year for the entire range of cosmetics Idea Toscana CLICK and GO TO SHOP
It's very easy! The discount is intended for every Italian reader of my blog, who decides to purchase cosmetics by the end of 2017.
Click on the banner to link Biolinea.pl 
Choose any of the Idea Toscana toiletries and go to the summary
In the "discount coupon" box enter the password: italiabynatalia and click ACTIVATE
The value of your purchases will be reduced by 20%
I am convinced that this wonderful piece of Tuscany will forever be in your home!
If you have any questions, please write them in the comments under this post, I will try to answer and advise each other. I would also like to read about your experience traveling through Italy, confidently sharing information, they will certainly help those who are planning to leave.
Post was created in cooperation with Biolinea.pl
The copyright of the text belongs to Italia by Natalia. Copying text or a portion of it, as well as rewriting the words according to the blog's rules, will result in legal and financial consequences for the thief and stigmatizing him in the web.
Teraz Twoja kolej! Dołącz do społeczności Italia by Natalia:
Będzie mi również bardzo miło, jeśli zostawisz komentarz pod postem. Możesz też zapisać się na newsletter w oknie poniżej.