Puglia is a region boasting some of the most beautiful beaches in Italy. The most popular ones on the peninsulas Gargano (spur of the Italian boot) and Salento (heel), which doesn't mean that central part of the region is less well endowed by nature. Coast between Bari and Brindisi in fact hides many treasures. One of them is the Reserve of Torre Guaceto, located less than an hour's drive from fairytale Alberobello. It's the perfect place for a break from sightseeing and relaxation among beautiful Apulian nature.
"Are you going to the beach? You should go to Torre Guaceto" With these words reacted Liliana, the owner of B&B Podere Papilio in Alberobello, when we told her we were going to the beach to Rosa Marina, because although we had plans Torre Guaceto, but there's a little too far for us, and we want just lie on the sand. Lili was right and I'm delighted that we listened to her.

Riserva Naturale Marina Torre Guaceto created in 1991, covers an area of ​​approximately 1 200 hectares, has 20 km of coastline and is one of the special protected areas. There aren't no buildings, only beaches, dunes, small lagoons and swamps, among which shelter are numerous species of migratory birds, amphibians, insects, and turtles that life need areas exceptionally clean, as I mentioned describing Reserve Torre Salsa on Sicily. The focal point of the Reserve in Aragonese observation tower (torre – Tower) from the turn of the fifteenth and sixteenth century.
Torre Guaceto protected area is divided into three zones:
Zone A is located near the tower and includes five small islands. Here are allowed only research and hiking.
Zone B covers the area north of the tower to Punta Penna Grossa. Here are allowed sunbathing and swimming.
Zona C extends from the beach Penna Grossa beach Apani. Permitted fishing and boating with the prior license.
© Torre Guaceto
© Italian Botanical Heritage
© Italian Botanical Heritage
© Italian Botanical Heritage
Torre Guaceto is a great place not only for lovers of lazing on the beach. In high season you can rent a bike and take a ride on defined routes, you can also walk at any time of year, which can be found in the pictures below. When I started working on post Liliana showed me these pictures, taken while walking in the last days of February.
© Liliana Tresoldi
© Liliana Tresoldi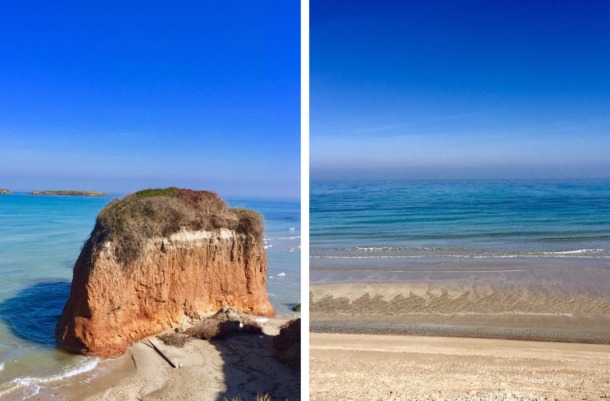 © Liliana Tresoldi
Okay, if you've decided you will spend at least a few hours in this beautiful oasis of peace, you have to know the details associated with transport. There're two entrances to the Reserve, on both are large parking lots with classical accompanying infrastructure (the toilet, ice cream parlor, inflatable crocodiles and other freaky things).
North entrance – Area Servizi Punta Penna Grossa
Take the SS 379 exit to Serranova, then you direct to Punta Penna Grossa – Torre Guaceto.
Parking prices:
car 4 euro / day
motorbike 2 euro /day
RVs 7 euro / day
Facilities: bike rental, shuttle to the beach of Punta Penna Grossa in the price of the parking lot;
Additional services: transfer to Torre Guaceto from 9 to 17, cost 2 euros per person.
South entrance – Area Servizi Apani
Take the SS 379 exit at Apani, then you direct to Apani Torre Guaceto.
Parking prices:
car 3 euro / day
motorbike 2 euro / day
RVs 5 euro / day
Facilities: bar with an outdoor picnic area, bicycle rental, sunbeds and umbrellas;
Additional services: transfer to the beach (do not know the price of the parking lot, or free for it).
We chose the northern entrance. If you're looking for something more intimate, I recommend this solution. South entrance (as shown on the map when zoomed) is a cluster of a few Lido, or the beaches with infrastructure, sunbeds, umbrellas. I hate it.
Parking lot
Shuttle to the beach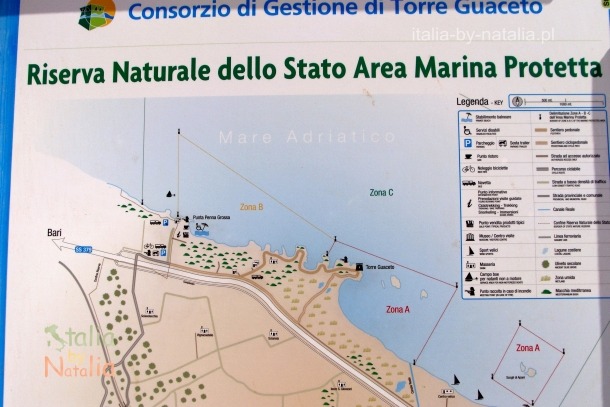 On the right side from the place where shuttle bus ends is a beach with umbrellas, brrr. You can go in that direction of seeking a small cove. There, on the horizon, in the heart of the Reserve is visible tower, which offers a surcharge shuttle bus from the northern entrance. We went to the left.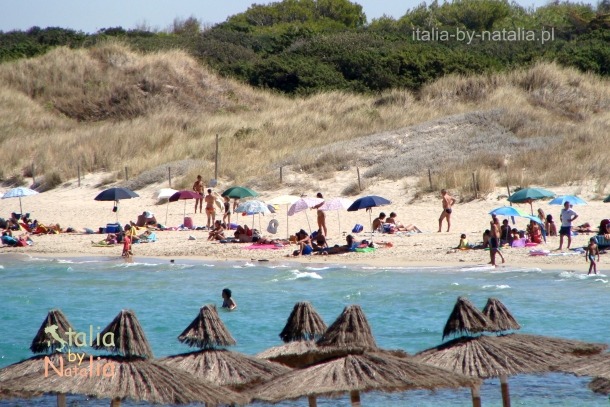 Look at this beach. Isn't she beautiful? It was the first week of September, in addition Friday afternoon, and I counted only a dozen people. We wish we had more time. It was our last day in Puglia, next morning we departed to Rome, where we had a plane. After a week of sightseeing I dreamed just to relax. Very fond memories of those moments in Torre Guaceto. Maybe it was the silence? Only the sound of the waves? Or maybe it was clean, the heated water? Be sure to add Reserve to your Apulian list.
Additional information:
Main photo © Liliana Tresoldi;
entrance to the Reserve is free.
If you have any questions, please, ask them in the comments on this post, I will try to answer each and advise. I'll be happy to read your experiences, the weather in Sicily, go ahead and share the information, I'm sure it will help those who just planning to go there 😉
All new readers I invite to like my page Italia by Natalia on Facebook and follow me on Instagram.
I'll also be proud if you add a comment or you share this post with your friends.
Natalia
The copyright to the text belong to Italia by Natalia. Copy text or fragment, as well as rewriting with the change of the individual words in accordance with the blog regulations will result in law – financial consequence to the thief and also with stigmatization on the internet./strong>