I arrive to Naples for the tenth time and doesn't expect anything but new places which surprise him. Wrong! I will tell you how I booked a cheap night accommodation for 40 euros in one of the historical town center houses, which I wouldn't trade today for the most luxurious hotel. Included in the package are the positively twisted Valerio, Monica and her homemade tiramisu served for breakfast and the amazing charm of an apartment in an old building where the Naples heart beats.
My last trip to Campania was a little problematic as I dragged a luggage weighing over 20 kg and traveled alone this time. Looking for a one night stay in the center of Naples, My attention was caught by Napoli Retro which offers a great deal because guests are offered a transfer from the airport to the door for € 15. I never spent money on this type of luxury, but this time – because of my luggage – I decided to make an exception. Besides, I liked the room. I don't reserve rooms without a private bathroom, but this time I made an exception. Just this place told me: "book me up". I chose the Deluxe room with a bath which was 2 euro more expensive than the one without the bath, and I laughed a good laugh. I marked in the contact form that I request a transfer and after a few days I received the first email. Valerio seemed very happy, just like I'm going to stay there for two whole weeks. Two days before my departure we made an appointment at the airport. Valerio wrote, "I will come for you, I will keep a card with your name and surname, I'm a boy with black hair." OK. I'm leaving the arrivals hall and looking for a black-haired boy. I'm looking, I'm looking … no one stay there. After a while, I notice, that a checkered card is holding by 60-something guy with hair which were black maybe two decades ago. Well, that's the Naples, there's nothing impossible here, right? Ciao! Super that you are here. We drive. On the way I listen to stories: "here we see our Vesuvius, here is Vomero, and here beginscentro storico…". It's nothing, I said earlier that it is my tenth stay in Naples. "… here on the right side, behind the wall, is the botanical garden…" OK. We reach the place.
Valerio parked the car about 200 meters from the old palace, where his huge apartment is. He explains, that only here (200m down the street) is the possibility of renting a garage. We walk on foot, and he pulls my luggage. We reach a lovely but small square hidden in the dense building of the historic center. Next to it is a church and a small square of greenery, planted with palm trees. We stand in front of an enormous wooden gate, about 4 meters high, in which only a small gate is used for pedestrians.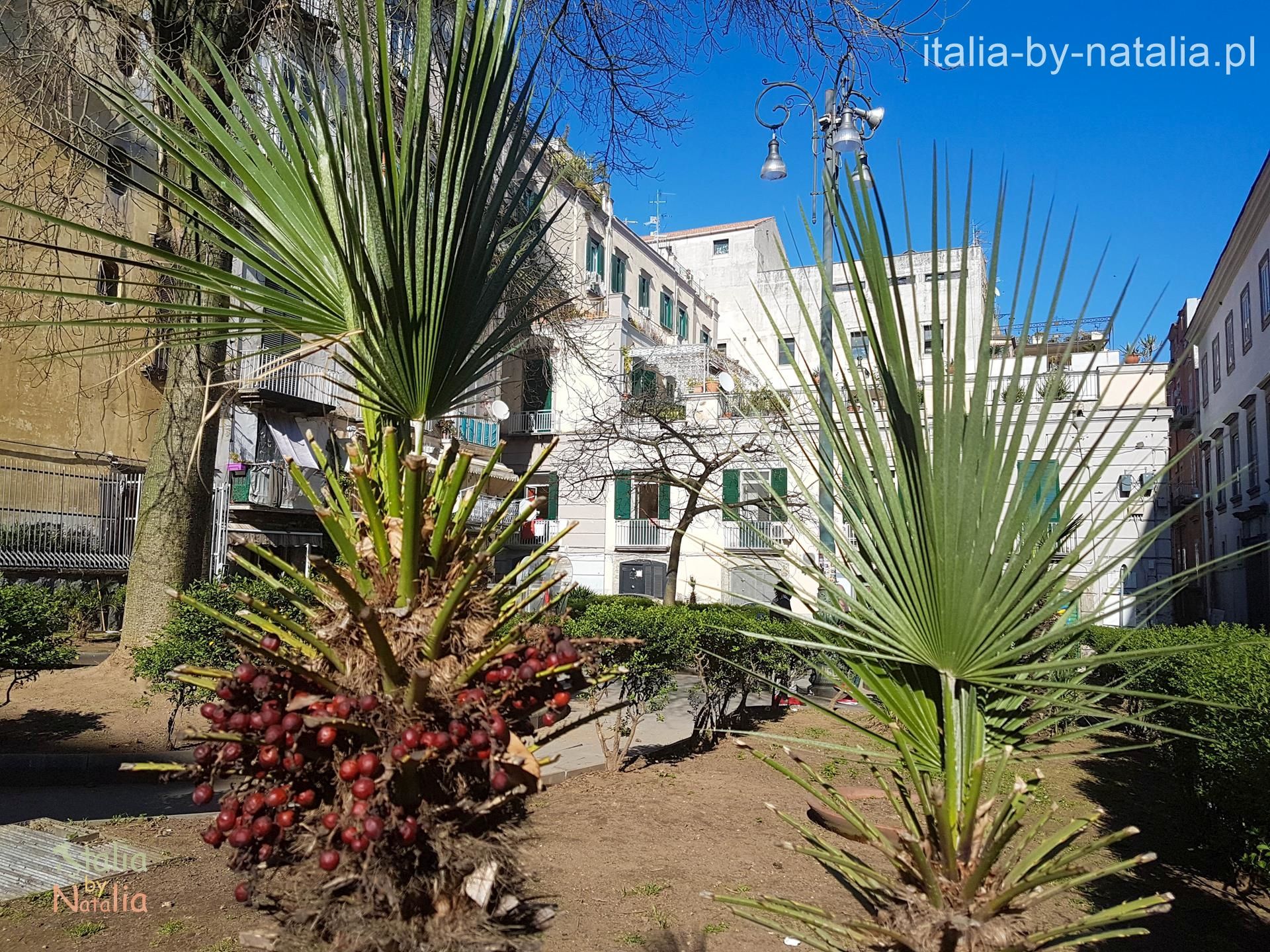 This arched gate in the distance is the entrance to the palace courtyard
With a relieved I discover, that the third floor will be accessible by the elevator. As it turns out, the elevator work only after inserting a special key into the control panel. Luckily, the guest keys also feature this benefit. We go inside and greet me a young boy: "Hi, I'm Valerio". Really? He points to an older gentleman and adds, that it is his father. He didn't have time to write me, but he couldn't go to the airport and send Dad to replace him. No matter, it doesn't matter because I already feel as I came to visit family. Napoli Retro is made in a private, large apartment, as a resulting of division of the palace. The rooms and two shared bathrooms for guests go along a large corridor. My room "deluxe with tub" is at the end. I still don't put off my backpack when Monica asks "Will you I drink coffee? Or maybe juice?" I choose juice, but I get juice and a portion of homemade cake. After all, I'm definitely hungry after the trip. I already regret, that I will only be here for one night.

It turns out, that because of adding palace to the list of monuments and protected it by the conservator, Valerio and Monica have imposed a lot of restrictions. That is why the rooms didn't manage a separate private bathroom, although it was such an idea, and the place could also be found. For the moment there is also no air conditioning, which absolutely didn't bother me (it was March) but it can be annoying for guests staying here in the middle of Summer. Air conditioners are expected to appear in 2018. Wireless internet also works fine.

An hour after my arrival I go out site seeing to the city,After 23 I was already back in hotel. I let the water into the tub. Hmm … Valerio mentioned, that you need to let water go and wait for hot, because before it reaches the floor, it'll pass from 5 or even 10 minutes. Pass 15, the water is still cold, 20 minutes later water is finally hot. Calm down Natalie, it's Naples. It's really nice and pleasantly to soak in the tub and jump off into the royal bed. That day, I got up at 3am to get to Katowice and fly away after 10am. There's no option to wake me up, I do not set the alarm, I sleep until the next day, I had to sleep, especially next night I will have a long treat with friends in Ravello on the Amalfi Coast.
It's about 6am in the morning when I jump out of my feet. What the hell? Leisurely, it's just the bells from the neighboring church calling for the first mass. I think I'll be the first one at breakfast … I'm getting to the exit and entering the kitchen. I think I'm still standing up. Tiramisu? For breakfast? WOW…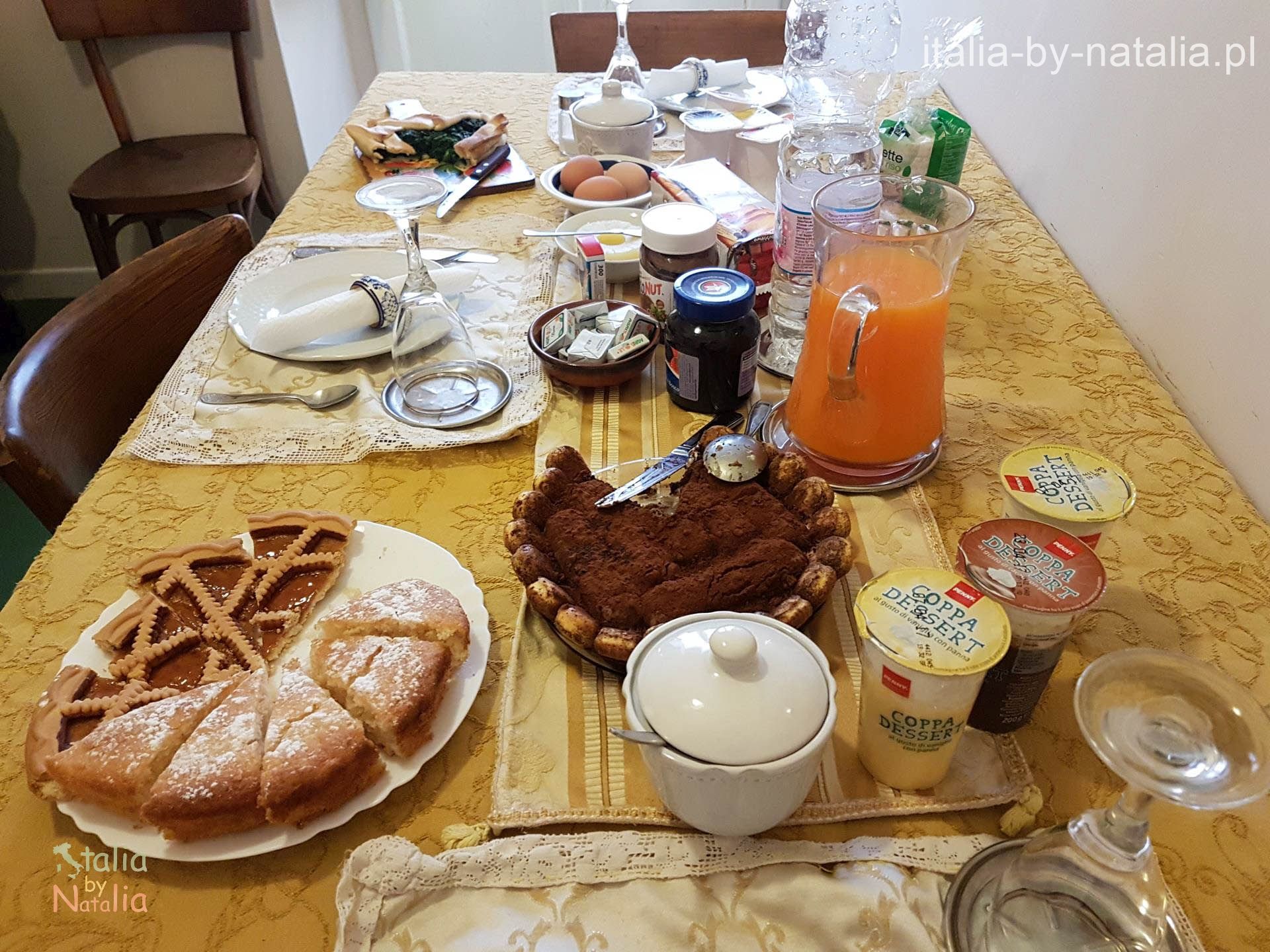 Monica is waiting in the kitchen. Buongiorno! Un caffe? Cappuccino? No, not jet. First, please give me a little bit of boiling water. The day I always starts with green leafy tea and later I would like to ask for a cup of coffee, which – as it turns out – with its power could wake up dead man. That's why after breakfast I could walk around downtown and come back at noon.

That day the weather was wonderful, the sun shone and the jacket landed successfully in the luggage. I left the room. I opened the door at the gate and stood as a piece of salt. On the other side stood a huge dog and centrally looked at me like he was waiting all day there. He was well-groomed, has a nice collar, clean coat. Surely had a home, only what does he do alone here? We stood and looked in our eyes. He was so big, that his head ends at the height of my boobs. Not good – I thought – " when he wants to bite, he probably bite the tits". Closed the gate. I was waited a minute and opened the door again, and he was there and still looked at me. I closed door again, then I heared knocking. I lean awaythe door, and behind it is a nice old gentleman. "Ladie, do not be afraid" – he says. "It's your dog" – I asked. No, but it's local, we all know him, he's not biting. Finaly I left the palace. Later I met him a few more times as he walked the streets.
Valerio and Monica are giving a hug to me and say goodbye. The householder tells me that he is going to buy a bus and that he will organize a city tour for his guests from next year. Super, I'll definitely check it, I keep my fingers crossed. These two have a great deal of passion to their city and the work they given their heart. If you are looking for a place to stay in Naples where you can feel the true spirit of the city while spending time with warm, hospitable locals, I would recommend you to stay in Napoli very much.
 
If you have any questions, please, please post them in the comments under this post, I will try to answer each and every advise. I'm also very happy to read about your experience traveling through Italy, confidently sharing information, they will certainly help those who are planning to leave.
Below I add a direct link to the reservation web site. Hotel Napoli Retro
All new readers are welcome to like Italy by Natalia on Facebook and profile tracking on Instagram I will also be very happy if you add a comment or share this post with your friends. Happy reader is the best motivation 🙂
Natalie